E8 Funding is one of the new and fast rising prop firms in the prop industry which offers an innovative approach to providing funding to Forex and CFD traders around the globe with an amazing Elev8 package that yield a $100,000 capital increase every 30 days which is just the tip of the iceberg provisions the firm offers.
In addition to providing an objective evaluation of E8 Funding plans and packages, we also look at what traders have to say about them on Trustpilot.
Location: USA
Year of Establishment/ in Operation: 2021 / 1year and still counting
Licenses and Tax ID: Licensed by the American government || 32079163724
Number of verified traders: Not specified
Amount of  $ payouts : Not specified
Trading platform: META 4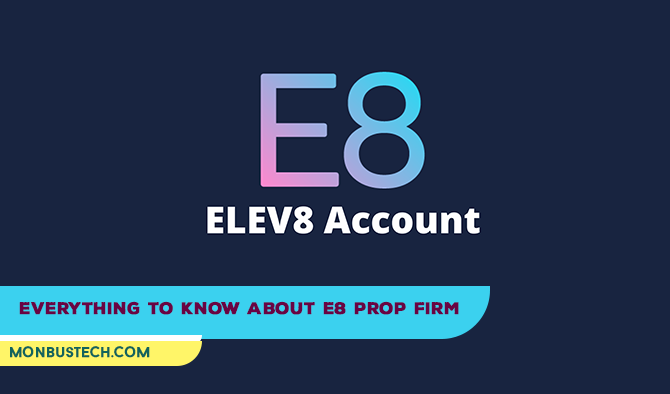 For Exclusive Details About E8 FUNDING, their trading policies, packages FAQs and lots more, please click here.
E8 Funding offers two kinds of packages: The E8 and the Elev8 account packages. While traders have the liberty of choosing whichever account size ranging from $25,000 t0 $250,000 that they wish to manage in the E8 account, traders who intend trading the Elev8 account begin with a $100,000 trading capital with an $100,000 increase if they meet up with the 16% profit target in 30 days.
E8 Account Size/Price
The $25,000 account costs a refundable fee of $228
The $50,000 account costs a refundable fee of$338
The $100,000 account costs a refundable fee of$588
The $250,000 account costs a refundable fee of$338
The $100,000 ELEV8 account costs $888
READ: SURGE TRADER – ONE OF UK'S BEST
E8 Funding Leverage
E8 Funding currently provides the following leverages on their trading instruments:
Major – 1:100
Exotics – 1:50
Commodities and Indices – 1:50
Bitcoin – 1:5
The stipulated profit targets in both stage 1 (8%) and stage 2 (5%) must be met to be offered a funded account
The 5% daily and overall 8% drawdown must be maintained on all  accounts
The Minimum trading days on the evaluation accounts must be adhered to
Traders must not do copy trading.
Here are a few characteristics of E8 Funding that traders adore and which set it apart from the vast majority of other prop organizations in existence:
Profit eligible as early as 8 days after being funded
Free trial accounts
Permissible weekend trading
No restrictions on all countries
Is E8 Funding A Scam Prop Firm?
With 4.8/5 stars on Trustpilot and an impressive 94% excellent trader reviews, E8 Funding is most certainly not a scam prop firm. We'll get to those reviews in a bit.
Do they allow EA and Copy Trader?
Yes, you may use EA or any indicator you like. However, copy trading is highly prohibited.
Click here to see the list of prop firms that allow copy trading.
E8 account traders are expected to make a 10% profit target to scale to a higher account balance, while Elev8 traders are expected to make a 16% profit on their account in 30 days to scale to a higher account. Below is a pictorial depiction of their scaling plan: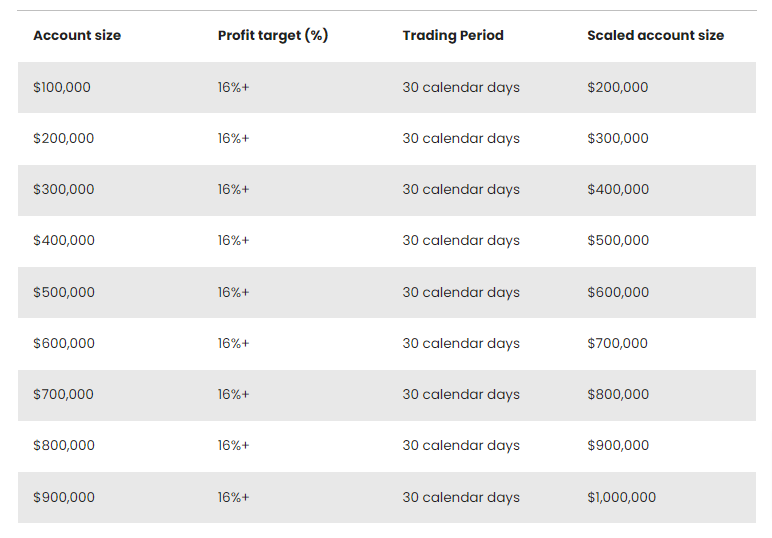 They provide a "Help Centre" tab on their website where they have uploaded several posts that rightly address some of the questions that traders may wish to ask. You can access their Help Center here
Trading Instrument / Platform
E8 Funding allow their traders to trade FX pairs, commodities, indices, equities, and cryptocurrencies. They trade using the well-known Metatrader4 platform.
READ: Finotive Funding: A revolutionary prop firm
E8 Funding Reviews – What Are Traders Saying?
For a report of the first-hand experiences of those who have traded with them, we head on over to the trusted Trustpilot.
Cee White
1 review US
---
Tarmo
7 reviews EE


A day ago
Insanely high commissions
I have been testing (trial) their system for 2 months before going live, and I really wanted to go live, but now I have second thoughts, I'll probably look elsewhere. Why? Their astronomical COMMISSIONS.
E8's commissions eat up a huge chunk of the profits. I read another review saying that those commissions were sometimes bigger than the actual profits!
On the good side, the E8 dashboard is probably the best in this industry. Very well laid out, awesome features and display of data. Their customer service is prompt, friendly, professional; not dry and mechanic like it is at some other prop firms.
---
Forex Trader
4 reviews US
A day ago
Commissions absolutely terrible
Great customer service, great website, but as a scalper on low TF E8 will take your profits quick! Watch out and for this reason I would NEVER get another challenge with them. Today was $900 profit, $470 commissions on US30 with several scalp commissions far out weighing profit! Maybe I just don't understand, How can I get $35 profit with $36 commissions on the trade??? I made ZERO profit on that scalp! They literally take a grand a week and even more in commissions from me! On the $250K challenge I ended up making $26K to get the $20K needed, $6K in commissions??? I'm really confused! But I passed $250K and $50K and I am funded on a $300K account!
---
Victor Tran
2 reviews US


1 days ago
Responsive and very helpful
I was surprised by how good the live support chat was. The rep that I talked with was very knowledgeable and walked me step by step what each account would be with in different scenarios. I'm very satisfied with my experience with them
---
T Trader
1 review NL
Trader Joe
1 review RO


2 days ago
Excellent experience
So far so good, tested the trial account before going in for the challenge.
Trading conditions are fair (spreads, swaps, commissions), no gaps / delays in market activity, orders get instantly filled.
Support Staff is prompt and accurate (any issue / question you might have gets clarified in a couple of minutes).
I just finished phase 1 of the account, phase 2 credentials got delivered within an hour.
Until now, everything is top notch, and I expect there will be no problems whatsoever
---
D MILLER
1 review US
---
Click here to view more E8 Funding reviews on Trustpilot.
Below are two videos reviews that could be of huge help to you in your understanding of E8 Funding packages. Here is the first by the TheJhonnyFx youtube channel:
Check out the second video by Jeffrey Benson below:
Conclusion
E8 Funding is another Prop Firm that has stayed faithful to its funding allegiance and has consistently been a source of joy to traders and quickly risen up the Best Prop Firm ranks. It's safe to say they are a good prop firm to trade with.
For a comprehensive detail about how to become one of their funded traders, click here
You may also check out our comprehensive and unbiased reviews of all other prop firms on this page >> Prop Firm Reviews.