FTMO and The5%ers are two dominant names in the prop market. It is not an overstatement if we tag them heavyweights, but we may not know which one provides traders with a better trading experience unless we examine their policies and packages side by side.
Shall we do that? Shall we examine the better prop-firm between the two based on a meticulous examination of their trading policies with no iota of sentiments?
You are about to read an objective comparison of these two prop firms which will at the long run help you make a choice in deciding which to trade with if the need arises.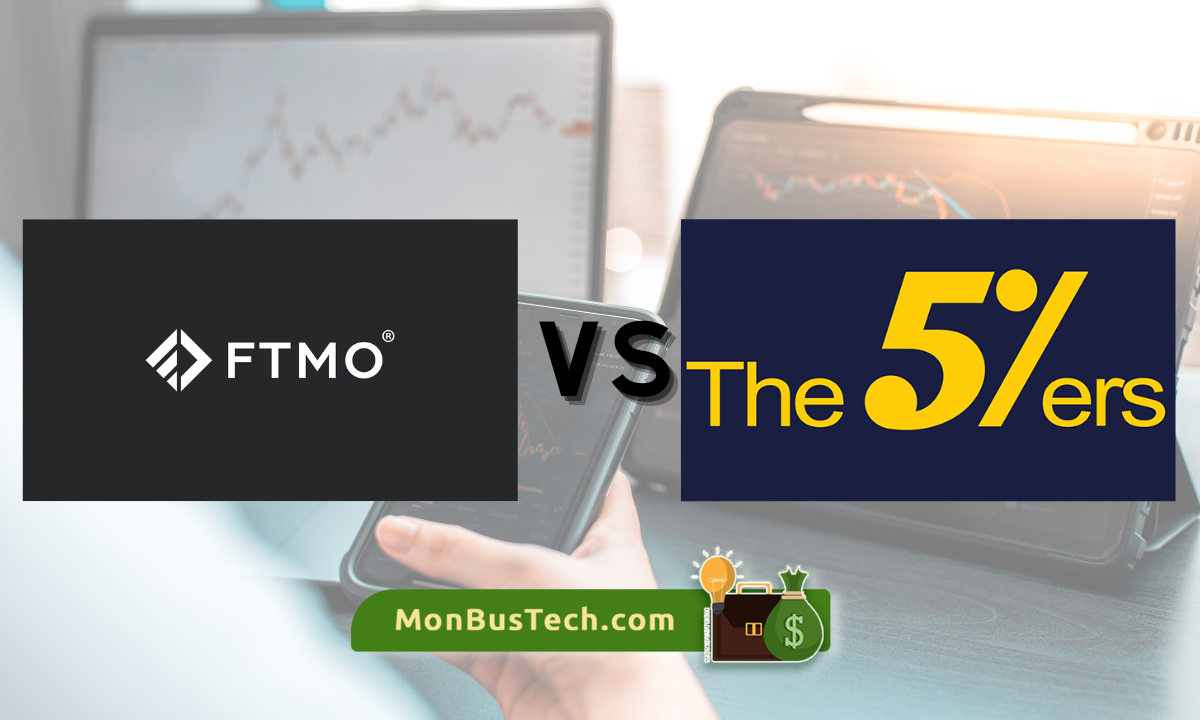 FTMO
5ERS
Debut Year
2015
2016
Evaluation Challenge
2 -step challenge
3-step $100k challenge

Instant Funding

Trading Instruments
All available instruments on Meta 4, 5 and CTrader
Forex

Metals

Indices

Trading Platform
Meta Trader 4

Meta Trader 5

CTrader

Meta Trader5
Broker
Tier-1 Liquidity Provider with Direct Market Access
Commercial Liquidity Provider
Profit Split
90%
50-100%
With seven years of continuous operation and counting, incredible trading terms and conditions, and one of the largest trader communities spread across more than 180 countries, FTMO is one of the best companies in the current market. Few prop firms offer better deals, especially with a substantial 90% profit split and the option of a free trial before committing to a funded account.
Having indeed read and understood that paragraph, you'd agree with me that something immediately feels right about FTMO. Discover all of those in my indepth post about FTMO profile below:
READ: FTMO – THE BEST PROP FIRM?
The5ers (The5%ers) is another prop that has been in steady operation for six years while providing fantastic and unique career enhancement programs for forex traders all over the world. This includes a hyper-growth approach to raise capital levels and generate income through low-risk trading, affordable account sizes, straightforward programming and the rare opportunity of instant funding. Their offer of up to $4 million in trading capital effectively sets them ahead, making them the largest funders in the industry!
That sounds mighty huge. For a thorough analysis of who they are and what they do, check out my comprehensive post on The5ers Profile below:
READ: 5ERS – THE HIGHEST FUNDING PROP FIRM?
If you are looking for a top prop firm to trade with, you certainly must not overlook these duo. With equally impressive accolades, how do these two prop firms compare in terms of their plans and packages?
Funding challenge, simply defined, is a paid official examination that prospective traders must undergo before receiving funding.
While FTMO outrightly adopts this policy for intending traders to be funded, they also provide a free trial option for traders who cannot afford to purchase an evaluation challenge account yet but hope to hone their trading skills while they wait.
This free trial option has hardly been matched by any other prop firm in the whole of prop industry!
The FTMO funding challenge has just two stages. In stage 1, a trader make a 10% profit in 30 days with daily drawdown of 5% loss and 10% total loss, and in stage 2, must achieve a 5% profit target in 60 days while maintaining the same daily and overall drawdown.
For an in-depth breakdown of the FTMO challenge, follow the link below:
READ: FTMO EVALUATION PROCESS – THE ULTIMATE BREAKDOWN
The5ers on the other hand also offers an evaluation challenge, but compliments it with the alluring  instant funding option; no demo accounts or months of avoidable waiting before you embark on your profitable trading journey!
5ers evaluation, dubbed The $100K Bootcamp, is in three phases that spans over a maximum period of 12 months. The conditions are a little easier as traders are required to make only a 6% profit target while avoiding a maximum 5% loss to move from one level of the challenge to the other. If a trader is able to scale through the three stages, they are rewarded with a fat $100,000 funded live account in return.
In my opinion, both firms score one over each other here, with each having an amazing policy that the other lacks. So, game on!
One of the primary concerns every trader wants addressed is how much a prop business charges for its available packages, and I've got you covered on that front.
FTMO offers 2 major funding programs: The Normal Risk and The Aggressive Risk programs.
The5ers on the other hand have a similar funding program under a slightly different name: The Low Risk and the Aggressive Trader. The major difference between both categories is the account sizes, the capital they are allowed to trade, the profit targets and the drawdown limits.
FTMO ACCOUNT PRICING
The $10,000 Normal risk account costs €155 and €250 for the Aggressive risk account
The $25,000 Normal risk account costs €250 and €345 for the Aggressive risk account
The $50,000 Normal risk account costs €345 and €540 for the Aggressive risk account
The $100,000 Normal risk account costs €540 and €1080 for the Aggressive risk account
The $200,000 Normal risk account costs €1080 but not available on the Aggressive risk account.
THE5ERS ACCOUNT SIZES AND THEIR PRICING
The $100k bootcamp cost just €85
Their $24,000 instant funding account costs €235
Their $40,000 instant funding account costs €385
Their $80,000 instant funding account costs €745
All of which have a guarantee of scaling to a staggering $4,000,000 trading capital!
Both firms have great account sizes and relatively cheap prices, but considering them objectively, The5ers have a little edge over FTMO in this regard with their cheaper prices and avenue to scale up to $4,000,000 for all accounts.
Trading Instruments: FTMO Vs 5ers
Trading instruments simply refers to the assortment of components that traders might select from when determining what to trade.
FTMO beats 5ers here with an abundance of all available instruments on Meta 4, 5 and CTrader 5 while 5ers offer only 3 trading instruments: Forex, Metals and Indices.
FTMO has one of the highest profit shares in the industry with an astounding 80-90% profit split offer on a fortnight withdrawal schedule.
Conversely, The5ers begin with a 50% profit split for their traders with the opportunity of a scaling increase up to an unbeatable 100% profit for traders that can stick out their necks in profitable trading at the long haul with the withdrawal also on a bi-weekly basis.
Without too many words, FTMO outrightly knocks out 5er's on this profit split policy.
READ ALSO: SURGETRADER VS FUNDED TRADER – The Comparison of "The Traders"
There are no firm guidelines for scaling plans from FTMO. Instead, they suggest that traders carefully weigh their options before determining the size of their trading account.
The5ers in contrast provide a fantastic, doable scaling strategy. Every level has a realistic milestone target that varies in accordance with the start-up money, and as each milestone is reached, your initial investment is doubled all the way up to the optimal $4,000,000. Easy-peasy!
5ers edge FTMO outrightly here without using too many words.
Regarding their rating on Trustpilot, a business review site renowned for its objectivity, FTMO comes in at an unbelievable 4.9/5 stars, while the5ers are right behind them at 4.8/5 stars, with 84% of their evaluations being rated "excellent," as opposed to the 94% for FTMO.
Click here to view FTMO reviews on Trustpilot
Click here  to view The5ers reviews on Trustpilot
In addition to those, I have unbiased reviews of both companies that you can read via the links below:
READ: FTMO REVIEW – AN UNBIASED EVALUATION OF FTMO
READ: 5ERS REVIEW – AN UNBIASED EVALUATION OF THE5ERS
The duo, FTMO and The5ers are balanced rivals in the prop industry, I'd still join the league of traders who have had first-hand experiences with both firms to judge FTMO as having some edge over 5ers. However, with equal edge over each other in terms of their general policies and packages, making a preferred choice between the two will eventually boil to down individual trader's preferences.
Here are two posts on their profile analyses that could help you make up your mind:
Click here for The5ers profile
For more prop firm comparisons as this, click here >>PROP FIRM COMPARISONS