FTMO VS TOPSTEP FX
FTMO has been  regarded as one of the household names in the prop market. One could easily say that it is because they have been in the business for a while and garnered a number of years of wealth of experience. But that's as farther from the truth as can be because there are other prop firms, older than them even but that haven't gained as much recognition. One of such prop firm is Topstep Fx  which shockingly has been in operation for at least 3 years before FTMO.
So, why are traders rushing FTMO but not as much for TopstepFx? The answer lies in the contrast between their trading policies, packages and plans.
This post, therefore, objectively compares their trading policies, and examines how the Topstep fares when compared side by side with the world renown FTMO, and answers the question of reason underlined above.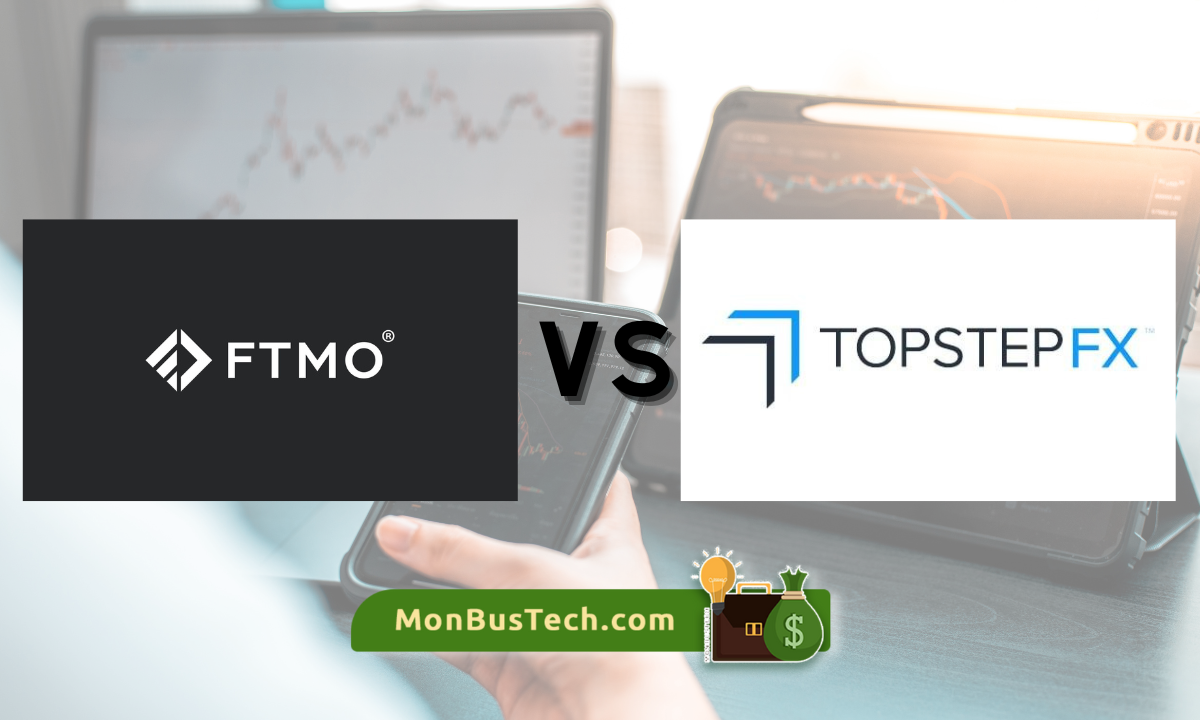 The Comparison At A Glance
FTMO
Topstep Fx
Debut Year
2015
2012
Evaluation Challenge
2 -step challenge
2-step challenge
Trading Instruments
All available instruments on Meta 4, 5 and CTrader
All CME products available on CTS T4 platform
Trading Platform
Meta Trader 4

Meta Trader 5

CTrader

Ninja Trader

TS Trader

Trading View

Broker
Tier-1 Liquidity Provider with Direct Market Access
Ninjatrader
Profit Split
90%
50%
About FTMO and Topstep Fx
FTMO is one of the best companies now operating on the market with seven years of continuous operation and counting, incredible trading terms and conditions, and one of the largest trader communities spread across more than 180 countries, and a record 90% profit split for traders. It is little wonder they are being tipped as arguably the best prop firm.
If that doesn't convince you enough, you can find more in an unsparing expression of all about there is to know in their profile below:
READ: In-depth examination of ftmo profile including everything that makes them special
Topstep Fx, on the other hand, with a vision to be the path to a better lifestyle for their traders and a mission to turn people who  already trade into even better traders, offers a very promising trading venture to all and sundry with over $2 million recorded in withdrawals in 2021 alone, improved trading conditions, impressive education and support for traders which is one of the very best in the industry.
READ: IS TOPSTEP TOP RATED? READ ABOUT WHO THEY ARE AND WHAT THEY DO HERE
Funding Challenge: FTMO Vs Topstep
Simply put, the funding challenge is the screening trial prospective traders undergo in order to prove their suitability to trade a prop firm's capital. This funding challenge has hence emerged as a popular practice among prop industries.
Both FTMO and Topstep prove this to be true as the pair have a 2-step regulated evaluation challenges that traders must pass before they can be funded.
The FTMO funding challenge has just two stages. In stage 1, traders make a 10% profit in 30 days with daily drawdown of 5% loss and 10% total loss, and in stage 2, must achieve a 5% profit target in 60 days while maintaining the same daily and overall drawdown. For a detailed analysis of the FTMO challenge, use the link below:
Read: FTMO Challenge, The Ultimate Breakdown here
The Topstep funding challenge follows the same structure but under different conditions.
In stage one, the trader is expected to meet the stipulated profit target on their account size without exceeding the maximum daily and weekly loss limit.
However, in stage 2, while FTMO reduces the profit target in their program, Topstep has a different policy of doubling the profit target in stage 2 but reduce the loss limit by a half.
Whatever thought underlies that strange tweak from Topstep, it sure has one effect: It makes their evaluation challenge more difficult than FTMOs.
For thorough explanation of how the Topstep evaluation challenge works, click here
FTMO Vs Topstep Fx Funding Programs
FTMO offers 2 major funding programs: The Normal Risk for traders who are conservative in their trading style, and The Aggressive Risk programs for traders who are a little more adventurous.
Topstep, in contrast has no unique appellation for their package but offer three account sizes for their traders each of which attracts a monthly subscription fee. This brings another marked difference between both firms to the fore:
While FTMO requires a one-time subscription fee for traders to manage all of their accounts, Topstep requires a monthly subscription fee which traders detest. 
FTMO ACCOUNT PRICING
The $10,000 Normal risk account costs €155 and €250 for the Aggressive risk account
The $25,000 Normal risk account costs €250 and €345 for the Aggressive risk account
The $50,000 Normal risk account costs €345 and €540 for the Aggressive risk account
The $100,000 Normal risk account costs €540 and €1080 for the Aggressive risk account
The $200,000 Normal risk account costs €1080 but not available on the Aggressive risk account.
READ: Surgetrader Vs Funded Trader – A comparison of "The Traders"
TOPSTEP ACCOUNT PRICING
The $50,000 account costs a monthly fee of $165.
The $100,000 account costs a monthly fee of $325
The $150,000 account costs a monthly fee of $375
READ ALSO: 10 THINGS TO CONSIDER WHILE CHOOSING A PROP FIRM
FTMO vs Topstep fx Trading Instruments
FTMO offers an abundance of all the available instruments on Meta 4, 5 and CTrader which Topstep matches with an even abundance of all the available CME products on CTS T4.
FTMO vs Topstep fx Profit Split and Withdrawal Duration
This is a crucial point where it looks like the spine of the contrast is put to bed. So, read carefully.
FTMO has one of the highest profit shares in the industry with an astounding 90% offer and a fortnightly-based withdrawal schedule. Just trade profitably while avoiding the daily and overall drawdowns and upholding the other trading rules and you can request for your profit with a snap.
However, Topstep operates a divergent policy that allows traders request for up to 50% of their total profit but on the condition that traders accumulate a total of 5 winning days, that is days of trading with at least $100 profit which may of course not be consecutive days.
So if your profit making isn't up to $100 for the most part of your trading endeavours, then you are on a long one with Topstep.
In my opinion, FTMO beats then hands-down on this no matter how much you reason it.
CLICK HERE FOR A LIST OF PROP FIRMS THAT OFFER A HIGH PAYOUT MODEL.
Customer Reviews
Considering their rating on Trustpilot, a business review site renowned for its objectivity, FTMO excels Topstep with 4.9/5 stars compared to Topstep's 4.3 rating.
74% of Topstep's 1,403 review are rated excellent in contrast to FTMO's 94% out of a total of 3,247 reviews.
Scores settled. Case dismissed!
Do you wish to  have a firsthand access to both firms' reviews on Trustpilot?
Click here for FTMO's and here for Topstep's
Aside that, you can take a look at my unbiased review on FTMO here and TopStep Fx here
Conclusion
Even though some of their policies are similar, considering the transparency of their operations and trading conditions, FTMO is a much viable firm to trade with.
I guess FTMO indeed deserves all the accolades it get, and Topstep, as much as they also get.
For a comprehensive breakdown of the profiles of both prop firms, read my post on FTMO , and Topstep here or follow the link below to access my Prop Firm Comparison Spreadsheet.
PROP FIRM COMPARISON SPREADSHEET