Every prop firm makes a self-acclaimed of being the best. However, the truth of that can only be established in how such prop firm fares when compared with another. MFF and The5%ers are two good examples of such self-acclaimed best prop firms.
So how exactly do they fare when compared to each other? Which of them is a better prop firm to trade with?
This post seeks to answer to those questions via a clear and objective comparison of their trading policies, terms and conditions. I hope that at the end of this post we can together make a joint decision on which of them is a better choice.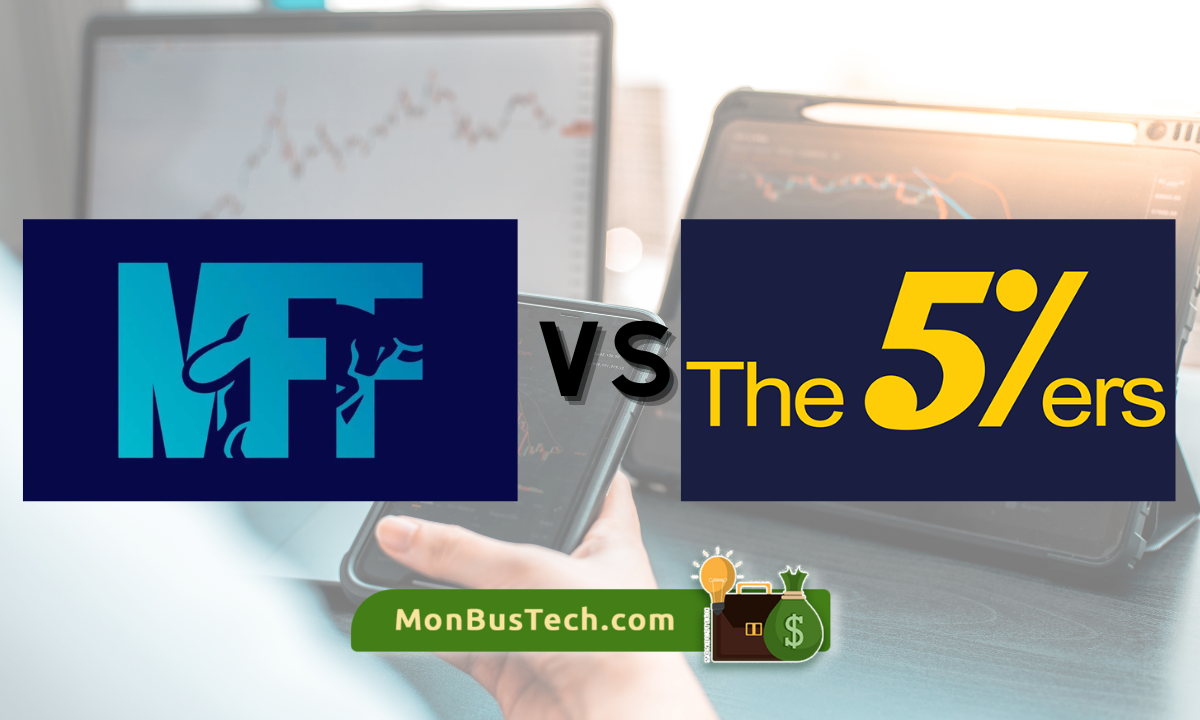 Let us begin this table below titled THE COMPARISON AT A GLANCE
MFF
5ERS
Debut Year
2020
2016
Evaluation Challenge
2 -step challenge

Instant Funding

3-step $100k bootcamp challenge

Instant Funding

Trading Instruments
Forex

Commodities

Indices

Crypto

Forex

Metals

Indices

Trading Platform
MetaTrader4
MetaTrader5
Broker
IC Markets
Commercial Liquidity Provider
Profit Split
75-85%
50-100%
My Forex Funds (MFF) is one of the new players in the prop market founded in 2020 but has grown to become one of the best ever prop firms in just 2 years with a self-acclaimed "more than 180,000 satisfied traders across more than 150 nations."
That kind of achievement in 2 years is ridiculous, isn't it? And nothing else was responsible for that massive growth but their trading policies, terms, conditions, education and a range of other things that I carefully analyzed in my post on MFF PROFILE. You can read it here.
The5ers (The5%ers) on the other hand does not boast in a rapid rise up the ranks like MFF or TFF but revel in a steady and consistent operation that has endured six years and well into the seventh now. That may not immediately strike any chord in you until you take proper diligence in observing that most prop firms are vanishing as quickly as they appear.
But that is not all that is striking about The5ers. Now, you need to read this carefully: The5ers is a heavily financed trading company which translates into the trading capital they offer traders with funding up to $4,000,000 which sets them as the biggest funder in the whole prop sector!  
Looking for more interesting facts about The5ers and their trading policies? I covered a number of them in my post about 5ERS Profile. You can read it here.
MFF operates a trading policy that allows a blend of Evaluation Challenge before funding and of course the Instant Funding option which is a delight to pro-traders.
Of the three packages that MFF offers, two of them are classified under the Challenge process, namely: Rapid and Evaluation Packages with 2 quick stages. The third package, Accelerated Package is the Instant Funding package they offer.
It may appears as if both firms had an agreement on this one because The5ers operate a similar Evaluation Challenge and Instant Funding policy.
Unlike MFF, The5ers does not have any special name for their Instant Funding option, albeit "$100K Bootcamp" is the special tag given to their evaluation challenge which spans across 3 stages.
As already hinted, MFF has three funding programs, all of which come at various sizes and prices. We take a look at each below:
MFF PACKAGES AND PRICING
Rapid Package
The $10,000 account costs $99
The $20,000 account costs $189
The $50,000 account costs $399
The $100,000 account costs $749
Evaluation Package
The $5,000 account costs $49
The $10,000 account costs $84
The $20,000 account costs $139
The $50,000 account costs $299
The $100,000 account costs $499
The $200,000 account costs $979
Accelerated (Instant Funding) Package
The $2,000 account costs $99
The $5,000 account costs $245
The $10,000 account costs $485
The $20,000 account costs $970
The $50,000 account costs $2,450
THE5ERS ACCOUNT SIZES AND PRICING
The $100k bootcamp cost just €85
Their $24,000 instant funding account costs €235
Their $40,000 instant funding account costs €385
Their $80,000 instant funding account costs €745
Taking a closer look at the Funding challenge and programs of both MFF and The5ers, it's easier to decide who beats who in terms of what would be most traders' preference. MFF has edges 5ers here on two counts: their cheaper account prices and sizes, do you also agree?
One of the things a smart trader considers in trading with a firm are the trading elements they allow traders to trade. This is due to the fact that certain trading instruments easily yield profits quicker than others. That goes without saying that some trading instruments are more difficult to trade.
Traders also need the knowledge of available trading instruments that a prop firm offers to see whether there is any that suits their Trading Strategy. Wondering what that is?
READ: TRADING STRATEGY AND BACKTESTING, FORMIDABLE ASSETS TO PROFITABLE TRADING
Both firms provide traders with a variety of elements to trade with even though MFF offers 4 in contrast to 5ers 3.
MFF offers the following: Forex, Commodities, Indices, and Crypto while
The5ers allow Forex, Metals and Indices.
READ: MFF Vs FTMO: The comparison of the Heavyweights
It may not exactly be easy to decide which firm has an edge here even though it seems easy to the eye.
MFF starts out outrightly with a 75% profit split which over the course of scaling increases to 85%. The first payment is made at the end of a month, but subsequent payments can be requested on a bi-weekly basis.
5ERS on the other hand start out with a 50% profit split which over the long course of scaling gradually increases up to the maximal 100% where a trader is totally entitled to all the profits made in their trading. Traders can request for their profit payout bi-weekly with the 5ers on the condition that the withdrawal is at least $150 and upwards.
So, which firm is better in this regard? I'll leave that to you to decide.
READ: FUNDED TRADER VS SURGE TRADER -THE ULTIMATE COMPARISON 
The scaling conditions of both firms are quite easy on paper. Here's what I mean:
MFF simply requires that traders achieve at least 10% profit over a period of at least 2 out of 4 months, and the trader will be compensated with a 30% increase in their original trading capital.
The5ers on the other hand operate a slightly different policy. On every account operated by a trader, a fixed milestone is set which varies according to the account size. Once a trader reaches that milestone, their account is upgraded with a double of the initial trading capital.
I judge The5ers to get one over 5ers here. Why? A skillful hardworking trader could reach at least 2 milestone targets in the 4 months it will take for the scaling window to open in MFF. Considering 5ers initial capital doubling to MFF's 30% increase, it is no-brainer that the 5ers beat MFF on this one.
This segment is strictly based on the number games.
Considering their rating on Trustpilot, MFF slightly edges The5ers with their 4.9/5 stars in contrast to the5ers' 4.8/5 stars.
92% of MFF's 6,538 are rated excellent which is way more than 84% of The5ers' 600+ total review which also bears the same "excellent" tag.
Do you wish to  get a firsthand access to both firms' reviews on Trustpilot? I have it covered.
Click here for MFF reviews and here for The5ers reviews.
Apart from those, I have my objective reviews of both firms;
READ: MFF REVIEW – AN UNBIASED EVALUATION OF MFF
READ: 5ERS REVIEW – AN UNBIASED EVALUATION OF THE5ERS
Now that all has been said, how do both firms fare next to each other? Which is better than the other?
Definitely MFF if you ask me. However, one thing is certain, both firms are viable, trustworthy, and can be traded with. It all boils down to the matter of personal preference at the end of the day.
For a comprehensive breakdown of the profiles of both prop firms, read my post on MFF here, and 5ers here. You can as well follow the link below to access my Prop Firm Comparison Spreadsheet