MFF vs SURGE TRADER COMPARISON
My Forex Funds and Surge Trader are proprietary firms that assist traders by providing them with the necessary funding to trade, in the forex market, covering all losses.
The information below is a comparison between MFF and Surge trader, their differences, Program/packages, trading instruments and policies.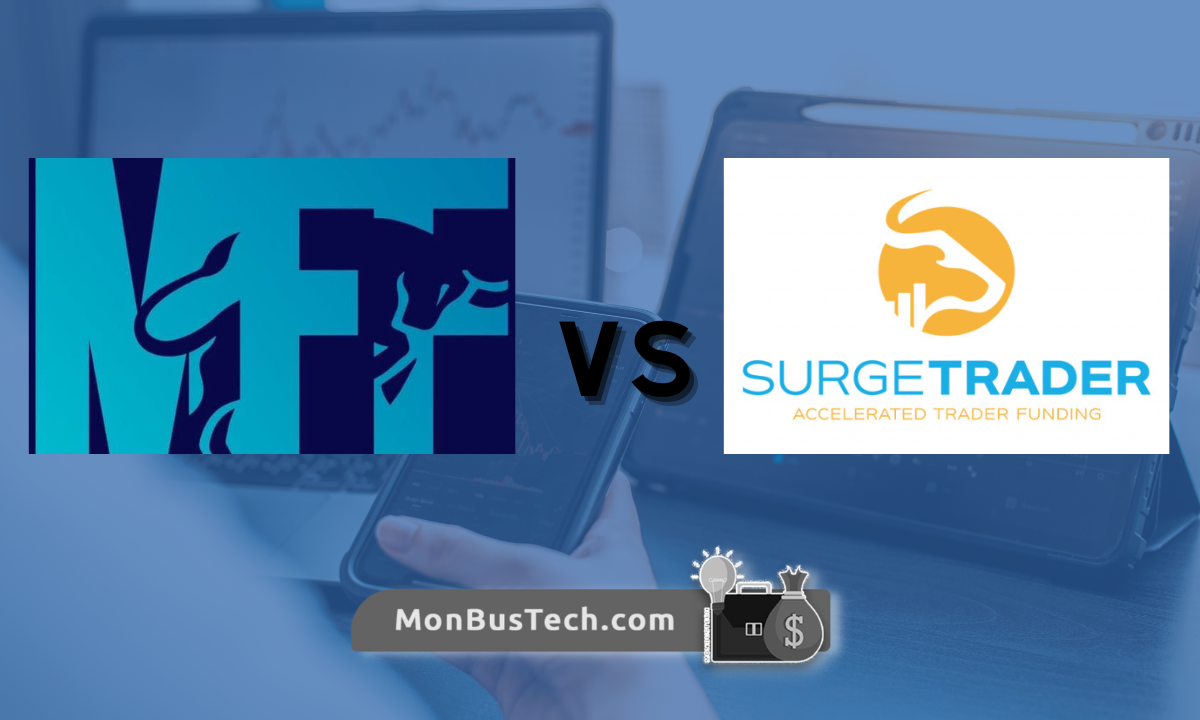 MFF
SURGE TRADER
Debut Year
2020
2021
Evaluation Challenge

2 -step challenge

Instant Funding

One-phase Evaluation
Trading Instruments

Currencies

Commodities

Indices

Crypto

Forex

Stocks

Indices

Oil

Commodities

Cryptocurrencies.

Trading Platform

Meta Trader4

Meta Trader 4

Meta Trader 5

Broker
IC Markets
Tier-1 Liquidity Provider with Direct Market Access
Profit Split
75%-85%
75%-90%
About MFF Vs Surge Trader
My Forex Funds (MFF) is a new prop firm founded in 2020, yet in just 2 years of operation, it has grown to become one of the top prop firms. This is hardly surprising given the amazing deals they extend to their traders as well. Not only has MFF advanced in the rankings, but they can also claim of having one of the world's largest trading communities, with more than 180,000 satisfied traders in more than 150 nations.
Surgetrader is a US-based prop firm located in Naples, Florida. Although they commenced operations in  2021, they have worked their way up to be one of the top prop firm around. They policy entails simple straightforward rules and they provide traders with a wide range of financial instruments. What's more, Surgetrader is still actively searching for competent traders who can demonstrate their profitable skills and discipline.
READ: How to Become the Next Funded Trader with FundedNext
Funding Challenge MFF Vs Surgetrader
SurgeTrader didn't sidestep the conventional challenge phase before getting funded policy which is prevalent in the prop industry. And so, they expect traders to pass this challenge before being placed on a live account. However, they have a unique one-phase model which means traders need not go through another painstaking 60 days wait for the stage 2 of the evaluation challenge as it is common with most prop firms, and is the case with Funded trader.
MFF offers two funding models which are the evaluation challenge and the instant funding. While traders have to go undergo a demo account phase in the evaluation challenge, they are immediately pccount sizes. While The Funded Trader Program offers a standard challenge, Rapid challenge, and royal two-phase examination, My Forex Funds offers an Evaluation package, accelerated and Rapid Package. with immediate funding.
MFF Vs Surgetrader Account Pricing
SurgeTrader offers 6 packages from which intending traders could make a choice. This is in a bid to make a provision for traders regardless of their pocket sizes. Here are the packages and their pricing:
Starter Package: $25,000 capital for $250
Intermediate Package: $50,000 capital for $400
Seasoned Package: $100,000 capital for $700
Advanced Package: $250,000 capital for $1800
Expert Package: $500,000 capital for $3,500
Master Package: $1,000,000 capital for $6,500
My Forex Funds Account Pricing 
ACCELERATED PACKAGE (instant funding)
The $2,000 account costs $99
The $5,000 account costs $245
The $10,000 account costs $485
The $20,000 account costs $970
The $50,000 account costs $2,450
READ: FTMO Vs 5ers: A Comparison of The Agelong Rivals
EVALUATION PACKAGE
The $5,000 account costs $49
The $10,000 account costs $84
The $20,000 account costs $139
The $50,000 account costs $299
The $100,000 account costs $499
The $200,000 account costs $979
RAPID PACKAGE
The $10,000 account costs $99
The $20,000 account costs $189
The $50,000 account costs $399
The $100,000 account costs $749
MFF Vs Surge Trader Profit Split
Once you become a funded trader, MFF pays out between 75% up to 85% on evaluation accounts and 50% profit split on their instant funding accounts. Surgetrader on the other hand offers its traders 75-90% of profits on all account size.
Check out the list prop firms with high payouts
MFF Vs Surge Trader Trading Instruments
MFF offers its traders Currencies, Commodities, Indices, and Cryptocurrencies as their available trading isntruments. Surgetrader offers these same items and even more with the addition of stocks and oil.
MFF Vs Surge Trader Scaling plan
MFF on the other hand offers traders 30% boost on their account if the traders meets the 10% profit target for at least two out of the four months stipulated scaling period.
To scale your Surgetrader account, all there is to do is meet the 10% profit target, and your current account balance is scaled to the next available amount.
In my opinion, Surgetrader edges MFF on this one, do you agree?
My Recommendation
SurgeTrader has a rating of 4.4/5 stars on the Trustpilot review site with 81 reviews and counting, while MFF has a 4.9/5 stars of total of 6,538 reviews.
Even though Surgetrader edges MFF in some regards, the reviews from traders who have traded with both firms shows MFF is a much better option. You can check out my post in the link below for 10 things to look out for before choosing a prop firm