The SurgeTrader prop company is based in Naples, Florida. Surgetrader started operating relatively recently in 2021, but they have positioned themselves as a prop firm with simple rules and a variety of financial instruments. To date, they have not wavered in their commitment to invest in qualified traders who can demonstrate their trading ability and discipline.
This article provides a balanced assessment of the firm and evaluates trading terms and conditions as well as examine important things you need to know before deciding to trade with them.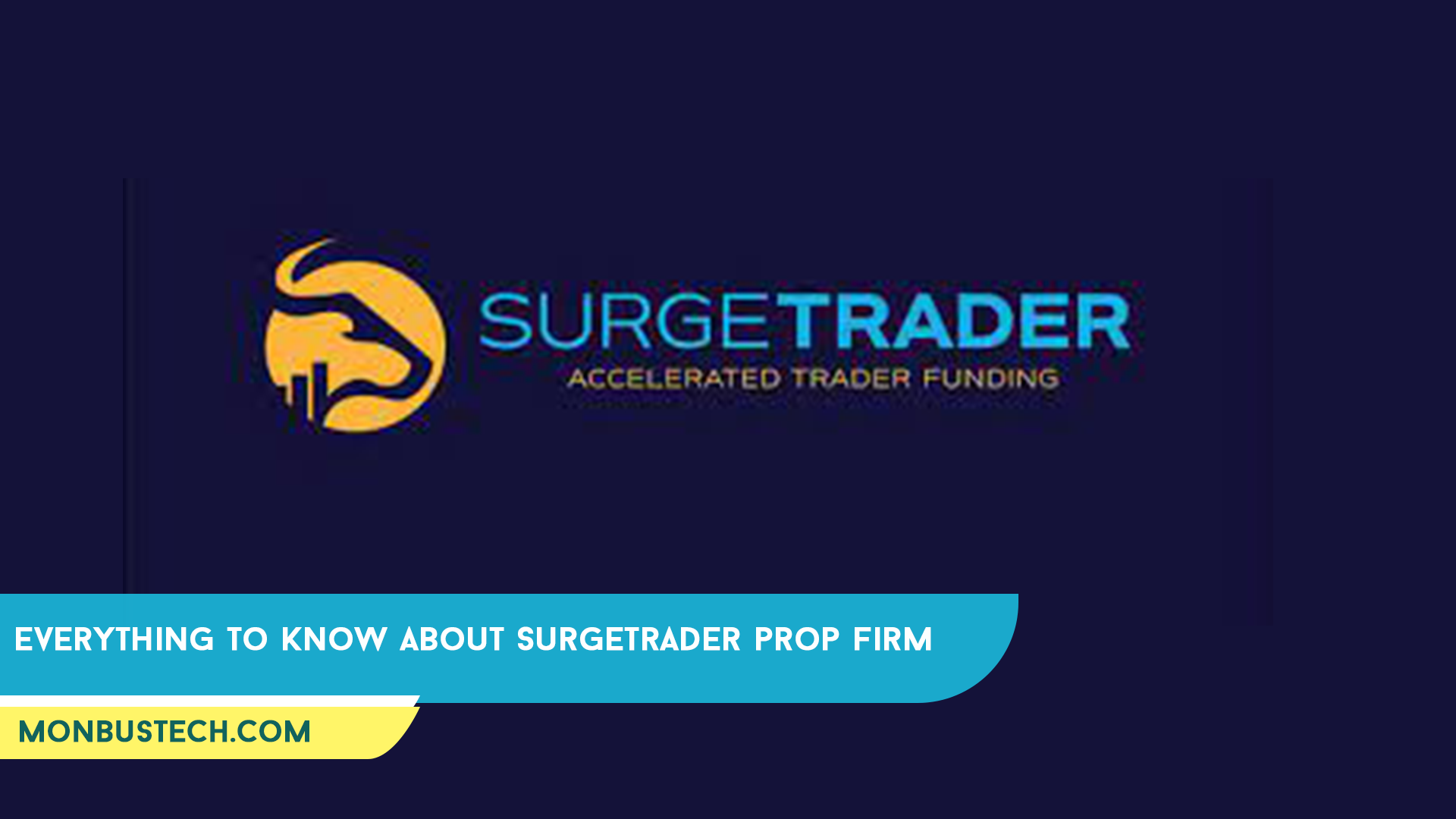 Location: USA
Year of Establishment/ in Operation: 2021 / 1 year
Licenses and Registration: Not Specified
Number of verified traders: Not Specified
Amount of  $ payouts : Not specified
Broker: EightCap
SurgeTrader offers 6 types of Evaluation packages from which traders can choose:
The Starter package with $25,000 trading capital costs $250
The Intermediate package with $50,000 trading capital costs $400
The Seasoned package with $100,000 trading capital costs $700
The Advanced package with $250,000 trading capital costs $1800
The Expert package with $500,000 trading capital costs $3,500
The Master package with $1,000,000 trading capital costs $6,500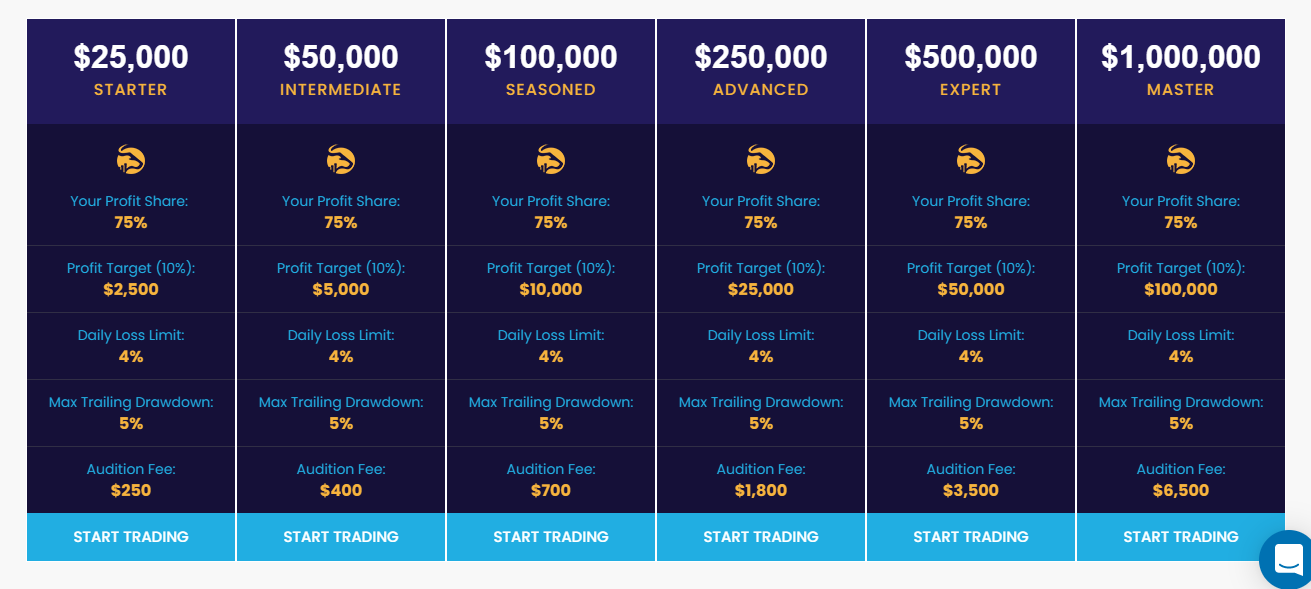 Click here to know about how to get funded by SurgeTrader
Going by their self-acclamation, 6 things make them different from other firm:
Plain and simple trading rules
Flexible trading restrictions and rules
Stand-by customer serve
A one-time subscription fee
Easy payout
Instant Funding
READ: Top Instant Funding Prop Firms
They said it best on their own website when they said "Focus on making profits not on complying with a long list of trading rules," and so have just four basic rules for traders to maintain:
Weekend trading is not permitted as all trades must be closed on Friday, 3:55 P.M EST
All trades must be entered with a stipulated stop-loss in place
Traders may have a maximum number of open lots equal to 1/10000 the size of their account
4% daily loss limit and 5% max trailing draw-down must be maintained
SurgeTrader allows their traders a lot of free hand and permit them to use EA and Copy trader, and generally allow them to use their preferred trading styles.
READ: Trade Copier – Best Forex Trade Copier for Prop Firm
The leverages they offer depend on the instruments the trader wishes to trade, and this was not specifically disclosed in their website.
At the end of each successful 10% profit target, they present their traders with the option of a cashing out of their share of the profit or whether they would convert that profit into a scaling requirement that makes them trade a larger account than they're currently on.
The scaling plan is however NOT available for both the $500K account or the $1 million account.
Given the fact that they are a subsidiary of Valo Holding, with four valid philanthropy added to the several positives reviews they have on Trustpilot, they are not a scam prop firm. They also have an office  at 405 5th Ave South Naples, Florida 34102
Also read: MFF – The Best Prop Firm?
Education
They provide a "Resources" tab on their website where traders can have unrestrained access to all they might want to know about and get properly educated.
You can trade a wide range of instruments within the Surge Trader program, including Forex, specific stocks, significant stock market indices, oil, commodities, and cryptocurrencies. Mt4 and Mt5 are the two platforms SurgeTrader uses.
With 65 reviews and counting, SurgeTrader has a Trustpilot rating of 4.4 out of 5 stars.
SurgeTrader Review on Trust Pilot
Sam Stewart
1 review US


Aug 10, 2022
Invited
Hey guys so far everything was great. I appreciate the transparent parameters for passing and honestly they let you trade with your preferred method. No loop holes, my experience has been top notch so far. Excited that I passed for a 25k account, I got it done in about 24 hours. Id definitely recommend giving it a chance
---
Sreeja Justin
2 reviews BH


Aug 10, 2022
Invited
It's been a fantastic experience that began with Surgetraders. I'm pleased to report that I passed the 100k audition in just two days.
Instant!!!
As soon as I paid for the 100k audition, I received my login information. Their dashboard is incredible and has all the trading tools a trader could possibly need to keep track of his performance. If you are a trader, go for it; you will fall in love with it.
---
Constant
1 review US


Aug 5, 2022
Invited
Surgetrader is the best for anyone who really wants to trade but need funding. They are true to their words and guess what, they have a very responsive customer service who will get back to you asap. I will recommend them.
---
Shabnam Shah
1 review GB


Jul 25, 2022
Invited
Passed my initial audition and feeling really positive about surge trader customer services is exceptional responses within minutes to any of my emails or questions on the website via there chat pop up. really looking forward to working with Surge Trader as a funder Trader. Thanks once again! Shabz
---
Florian Bauer
1 review AT


Updated Jul 18, 2022
Invited
Nice prop firm
Did the challenge, my problem with some other prop firms is that i get only ~5% per month. So i needed at least 2 Months to pass it, Surgetrader was perfect because it does not have a time Limit.
Support is perfectly reachable via LiveChat.
I will update the review after i got my first payout!
Edit 1: It took less than 2hours to get the live account.
---
JJ
1 review US


Updated Jun 15, 2022
The SurgeTrader program is a good program but it is getting a 1 star review because of who they have partnered with, BKForex. I followed their signals, advice, and education and the signals started me off the bat with loss after loss. This threw my entire trading experience out the window because it placed me behind the power curve out of the gates. I messaged SurgeTrader about this and received no response. I only trade what I can afford and have learned to basically trade off of my knowledge and not BKForex. Consider yourself warned.
---
River L
1 review US


Jun 16, 2022
Invited
Unfair rule. Negative Prop Frim
Although they provide $100K account. They lose nothing but for trader is loss(I pay money they do nothing). When you less than $100K, they will close the account. This firm is always win. Second, they are not refundable. It's unfair rules. Don't be work for this firm!
---
Would you mind trying a different review tool if you need additional help understanding SurgeTrader processes or packages? You might find this video review by Crilex Trading useful:
Trading with SurgeTraders is never a bad idea, and you can go for it as long as you're confident of your trading understanding and skills. More than 80% of their reviews already proves this.
You may get in touch with SurgeTraders via their Facebook, Twitter, Instagram, LinkedIn handles or see their videos on their YouTube channel.
Visit their website or click here for a more detailed explanation of their trading policies, packages, withdrawal policies, and much more.
You may also check out our comprehensive and unbiased reviews of all other prop firms on this page >> Prop Firm Reviews.