Founded by Brad Gilbert, a professional trader with more than thirty years of trading experience, T4T Capital offers a general trading platform for traders around the world plus an attractive offer of a trading capital of up to $1,000,000 complimented by trading accounts that come at really fair rates for traders and a variety of trading products from which traders can choose.
This post contains an unbiased review of T4T Capital prop firm, their packages and policies and examines the first-hand testimonies of traders who have traded with them.
Location: Dublin and New York
Year of Establishment/ in Operation: 2009 / 14 years
Licenses and Registration: No
Number of verified traders: Not specified
Amount of  $ payouts: Not specified
Broker: Forest Park FX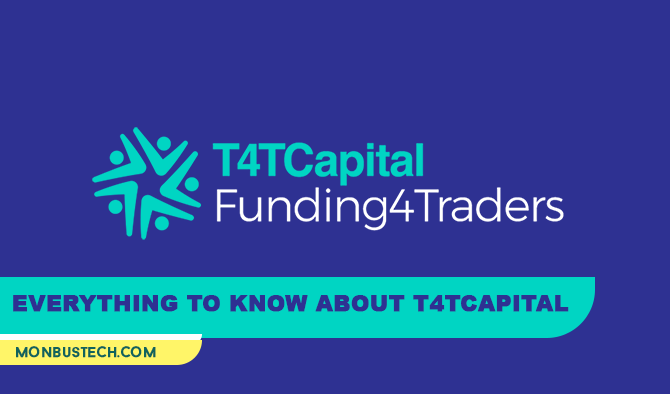 Find out all about T4T Capital. their Packages, Profit Split, FAQs, Education etc. HERE
Intending T4T traders are required to pass an evaluation challenge before being offered a funded account. The assessment fee for each of their three account sizes vary.
The practical assessment for a:
$25,000 live account costs $125
$50,000 live account costs $250
$100,000 live account costs $350
READ: FTMO Review: An Unbiased Evaluation of FTMO Prop Firm
The T4T Capital trading limitations are sub-categorized into two forms: The Soft and The Hard Breach rules with the difference between both established by the severity of punishments meted out to defaulters. While the soft breaches are punished by a temporary suspension of accounts, a permanent closure is meted out to traders that break the hard breach rules.
The Soft breach rules are outline below:
Regardless of their account size, all traders must set a valid stop loss for all trades
Maximum risk afforded on a trade must not transcend 2% of the account balance and total risk must not exceed 3%.
Largest profit day must be below 40% of total profit made.
All trades must be closed before 19:00 GMT on Friday.
The only hard breach rule is triggered when a trader falls below the maximum drawdown limit level which leads to an instant termination of the trader's account
READ: Level up your prop earnings with Leveled Up Society
Here a few things that sets T4T Capital apart from the host of other prop firms:
Cheap assessment entry fee on all their packages
A topnotch forex education with diplomas by their parent company Traders4Traders
An employment opportunity at T4T Incubator Fund upon graduation
Given the positive recommendations and good words about their parent company, Trader4Traders, every other cloud of doubt about the genuineness of T4T Capital immediately dissolves, as the prop firm was created as a practicing platform primarily for Trader4Trader students and then the general public.
Yes, absolutely. T4T places no restriction on the use of EA and also allows copy trading.
READ: The Funded Trader – A Prop Firm That Indeed Funds
T4T provides a 20% scaling plan that is user-friendly for traders and comes into effect on a quarterly basis. This means traders have the opportunity of increasing their trading capital 4 times a year.
T4T Capital Education
They provide a Trading Help Desk on their website with several tabs that educate traders on all of their operations.
T4T Capital Trading Instrument
T4T Capital offer a variety of trading instruments to traders, including: forex, indices, and commodities.
T4T operates and carry out their trading ventures on the renown MT4 Trading Platform with great tools and resources for trading.
READ: FTMO Vs 5ers –  A Comparison of Two Smart Firms
T4T Capital Leverage
They offer a 10:1 leverage on all their accounts.
T4T Capital Reviews: What Are Traders Saying?
There are only three reviews available on T4T Capital on Trustpilot, and we bring you the three reviews below:
Eli Rémy
6 reviews US
T4TCapital is number one
Amazing FX prop firm! They are top of my list. The process payment was fast and promised on the first business day of the month. The CEO is very transparent and the support team is always available to answer all questions. I have a long list of online fx prop firms and recently UltraCapital Funds was first on my list with MyForexFunds trailing second.. But with the variety of stocks(stocks only on practical assesment) and the ability to use ANY type of trading systems ex. martingale, no stop loss requirement, expert advisors, hedging.. this makes this firm Top 2 not 2. I have love for the rest but T4TCapital is the clear winner… People complain about the weekly Drawdown limit but this is key for professional trading.
---
wail el quaddame
1 review MA
Oct 3, 2021
good
good nice salm drarii
---
S Kreiner
1 review
US
Sep 13, 2021 
Scam-Level Customer Service
I hate writing negative reviews, and this is the first one I have written, but in an effort to help other traders avoid losing their money, I will tell you my short experience with t4tcapitalfm.com.
First off, they have a great website. They clearly hired a competent web developer to create a professional grade site, complete with customer service features like Zoom call scheduling and interactive chat (neither of which features actually work). The problem is the customer service. There is no way to reach a representative in real time. No representative is on Zoom, no representative is on interactive chat. Their customer service page gives you the option to contact t4tcapitalfm by several methods. It states that Zoom calls are the preferred method of contact. I scheduled 3 Zoom calls and nobody showed up. I also called the customer service line repeatedly over 3 days (during business hours) and it appears to be a non-working number. If you don't believe me, try calling +1 607 364 8600 and you will understand what I mean. There's not even a business voicemail system in place. The only response I eventually received was an email from customer support (a man named Craig) sending me a link to a video I had already watched on the website. Unfortunately, this video did not resolve my problems setting up the assessment.
I suspect that this firm is operated by one or possibly two individuals, and they simply don't have enough time to answer the phone or attend scheduled Zoom calls. I imagine they are probably in damage control mode, trying to keep selling new assessments while creating positive reviews and responding to negative reviews. They paid a web developer to design a website that appears legitimate and professional, but they just don't have the manpower or funds necessary to service the traders they attract to their programs.
Most of the reviews for this company appear under Traders4traders.com (the parent company), but I decided to post a review here since t4tcapitalfm.com is a separate entity less involved in education and more involved in proprietary trading. But from what I've seen on the reviews for the parent company, the reviews are either glowing 5 star reviews or deplorable 1 star reviews, nothing in the middle. Furthermore, the majority of the 5 star reviews come from users who have only ever written one review, and their writing style and grammatical punctuation seem identical. This leads me to speculate that these positive reviews lack authenticity, and that they are written by the same person. As for the one star reviews, I see that other traders have experienced the same problems I have had with customer service and server issues. In these cases, a representative from t4t is quick to respond, either berating the reviewer or citing "server backend issues" as the cause for a total lapse in customer service. Either way, these responses by t4t are inexcusable in my consideration.
Again, I hate having to write my first negative review, but I do so to protect the next sucker from dishing out their hard earned money on this company. I have requested a refund and am working with my bank to dispute charges, but this time and effort takes away from my valuable trading time. I hope that you, the reader-trader, has found my honest review informative and helpful. If so, this lengthy review was worthwhile.
My hunch is that t4tcapitalfm.com will respond to this review, either lashing out at me or apologizing with an excuse of some sort. And if you look at how they have responded to negative reviewers in the past under their parent company's profile (Traders4traders.com), you will see that this is not an exception, but a trend.
To those of you who think I have been overly harsh or critical in my review, consider this. Just as the rogue trader is the bane of the proprietary trading firm, the disappearing ghost firm is the enemy of the consistently profitable trader. The last thing you want to do is produce consistent profits for a firm that is nowhere to be found.
I will be trying the5ers next. Stay tuned for my honest review on them, as well as Maverick Trading.
---
Do you need more help in understanding T4T Capital  operations, packages or wouldn't mind using another review resource? Here are two videos that might come handy:
Here is the first video by Momo Fx youtube channel
Check out the second video below by Jerome Lampasi of the Jerome Lampasi Fx youtube channel
Conclusion
Besides the review on Truspilot platform which is not really encouraging, T4T capital actually makes trading easier for traders with its cheap assessment entry fee on all their packages and a topnotch forex education with diplomas from their parent company Traders4Traders to assist traders while trading. I won't cast my entire votes for them though, given there other prop firms who are much better.
You can contact T4T Capital via their social media handles by clicking any of your preferred platform out of these:
Twitter, LinkedIn, or see some of their videos on Youtube
For a more comprehensive description of T4T Capital trading rules, packages, withdrawal plans and lots more, click here
You may also check out our comprehensive and unbiased reviews of all other prop firms on this page >> Prop Firm Reviews.