One of the top sources of technical analysis in the market is Trading Central. They are a certified member of Investorside Research, Euro IRP, and Asia IRP, three independent research provider group.
Traders Central is a private company established in 2022 and has over a 1000 traders worldwide. In order to trade with a promising 85% profit split, Traders Central is looking for responsible traders who lack the necessary money.
Location: Vancouver, Canada
Year of establishment: 2020
 Licenses and registration: Incorperated January 2020
Number of verified traders: Not specified
Amount of  $ payouts : Not Specified
Broker: 8cap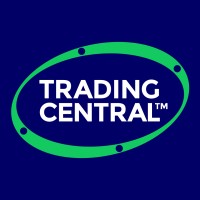 Traders Central offers an instant Funding method and a five stage challenge to identify traders with Great Trading prowess.
The instant funding plan
The Trader Central Account varies in size. All you need to do is access live capital, keep up to 60% of gains, place trades whenever you want, and maintain positions over the weekend.
Here is the Account size Available for Traders Central prop firm.
$2ooo
$5000
$10000
$25000
$50000
The instant funding account has five stages in which a trader must strictly adhere to. let me run you through the stages involved under the instant funding plan.
Stage 1
This is the first stage to getting an instant funding. Traders central will increase your original capital to $50k if you can earn a 10% return on your $25K trading account, thereby increasing your account to $27.5K.
Stage 2
The firm will increase your funding to $100k if you can generate a 10% return on your $50K trading account, increasing your account to $55K.
Stage 3
If you can earn a 10% return on your $100K trading account, you will receive $200k increasing your account to $110K.
Stage 4&5
Trader central will increase your investment to $400k if you can generate a 10% return on your $200K trading account, increasing your account to $220K, and also increase your investment to $1M if you can generate a 10% return on your $400K trading book, increasing your account to $440K.
For a list of prop firms that offer an instant funding model, Click here.
Trader Central Instant Funding Objective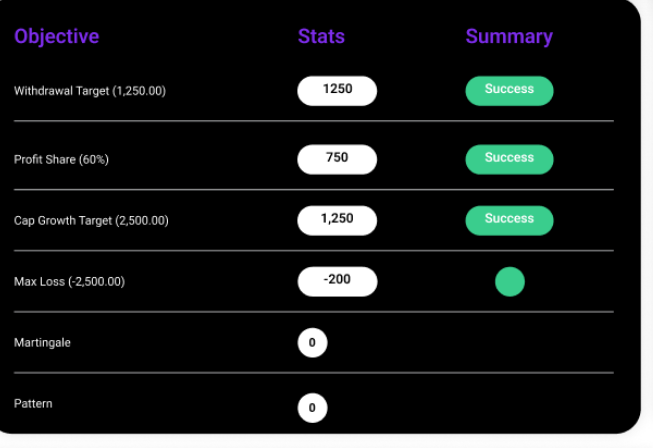 Trader Central Program Packages explained in details click here.
Trader Central Challenge Plan
for the Trader central Challenge, you need to Pay once, pass the challenge, and you're funded. Keep up to 85% of earnings, place trades whenever you choose, and hold positions over the weekend.
embedded in this challenge are six different stages with different account sizes;
$5000
$10000
$25000
50000
$100000
$200000
Trader Central offer traders a leverage of 1:50 on a live account. Click here for more details
Just like other prop firms, Trader Central has its own peculiarity which makes them unique in the forex market. With Trader Central prop firm, Anytime during the day, overnight, or on the weekend, trades can be opened. Hedging, trade copiers and EA's are also allowed by the firm.
Click here to check out the list of prop firms that allow copy trading
Here's a video from progress overcome win to further buttress my point.
Although Trader Central is new a prop firm, with 985 reviews, 74% Excellent Satisfaction from traders, 11% Great status, an Average of 4%, and a 10% bad comments all on TrustPilot review platform, Traders gave their Assessment/ testimony of Trader Central.
Below is a review of What Traders are saying.
Yean Shihong


6 hours ago
Payout received from Prime Bridge on…
Payout received from Prime Bridge on the 7th business day.
Thank You
Alberto Sarti


13 hours ago
Really Poor!
I have to share my experience with this company so far and their support.
I bought a 50k monthly subscription on the 30 of June at the cost of 220 GBP, in order to withdraw the profit split you need to make at least 5% (2.500 USD) I made the first 2 days 800 USD…on the following week I found out all of a sudden that on their website the monthly subscription disappeared.
I went on their support (they offer support on Telegram ) and find out with surprise that they discontinued the 'monthly subscription formula' and which was announced on Twitter & Telegram on the 15th of June.
Also, the last day to withdraw was the 19th of July leading me with only 12 working days to make the 5% which is quite difficult considering they don't allow large shares/high leverage there are restrictions on assets.
Now clearly I don't check their Twitter and Telegram daily IF I knew on the 30th of June from their WEBSITE during the checkout phase that the account will be discontinued I would have never spent 220GBP.
I went on their support to explain the situation and they have been really passive-aggressive also using quite often sarcasm with non-sense answers.
Last but not least I went on my Credit Card website and charge back the transaction, I got my money back by forcing it… however they have now 45 days to claim it back, and the account is blocked so now I can't try the 5% and I am afraid they will try to get this money back.
I went to the support and explain the situation again and told them that I need at least the confirmation that they will not claim back the money or if they will have to… at least to give me the opportunity to reach the 5%!
The support wasn't able to fix the query in 24hrs (despite promising 7 hrs of time frame) and they also say to quote their exactly word : "You literally did the charge back. The money is back to your bank, and you want us to re-enabled the account to trade for free? Even after using our account?"
That wasn't clearly my whole point! And as you can see and read between the lines, again sarcasm and passive-aggressive replies..
I never went to step over the line with my communication (a part of a tiny Wd.F) and they also after that communication banned me from their community chat which is quite weird???!!!
they are beginners and website is really poor as they support.
* One last update: unfortunately after 45 days they decided to take back my money again, so not only I did not have any chance to reach the 5% (because of my chargeback) but I still lost the money despite this account is still above 900!
Waly


20 hours ago
Very good Company
I registered 3 months ago with Trader Central Fund, their platform is more and more fluid and they got really attractive price.
I passed the challenge, and I just received my first withdrawal today from Prime Bridge.
Very good Company
Émád


A day ago
Very trust company
Very trust company. Good withdrawal time. Thank. Money ? received from company. Prime bridge very good.
AleValAlv


5 days ago
explain videos
It is important have conections to diferent videos when explain all the diferents programs and benefits of traders central.
Angel Ivanov


7 days ago
Thank you to give chance to trade…
Thank you to give chance to trade bigger amount. Its easy to open account and waiting just few hours to receive mt5 details. I wish to continue working on good way! Regards.
Mitchell Ferguson


Aug 17, 2022
Fast Pay-out
Fast Pay-out
No problems so far. Feels Great to be part of the team.
submitted payment on Sunday and on Tuesday I've been paid.
Great!!
malwande blayi


Aug 16, 2022
It's a 3rd payment that I got from…
It's a 3rd payment that I got from traders central, so far so good I never had a problem with them looking forward to work with them in the future.
Are you finding it a bit challenging to understand the central prop firm, here's a video from mindfully trading on YouTube to assist you.
Trader central on their website has a blog section, where they discuss everything pertaining to Forex Trading.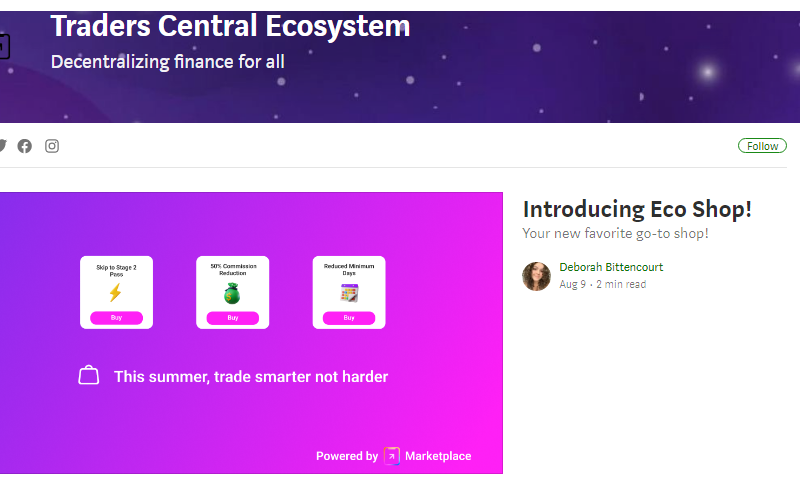 They also provide education for their traders, all available on their website.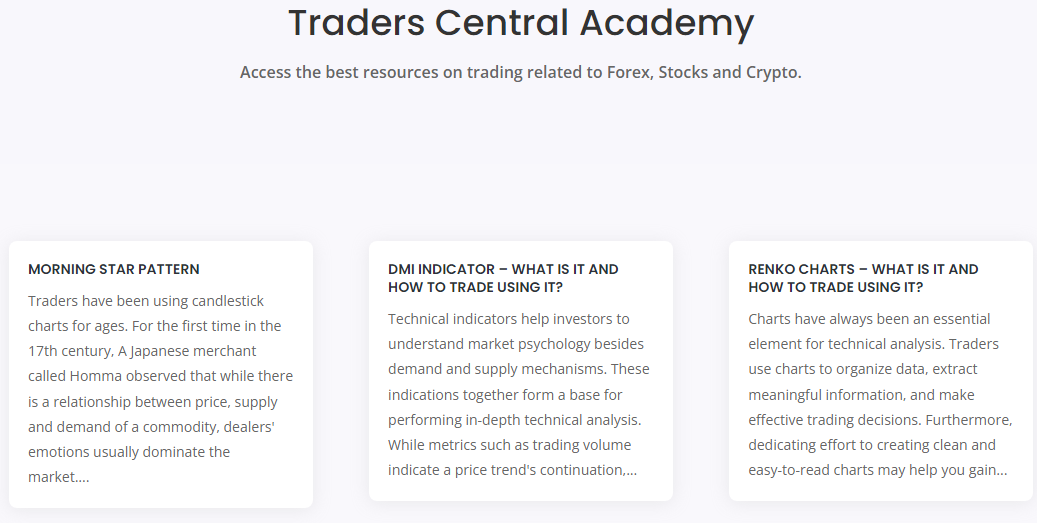 Traders can trade with instruments on T5/MT4 trading platforms (forex pairs, commodities, indices, stocks, cryptocurrencies).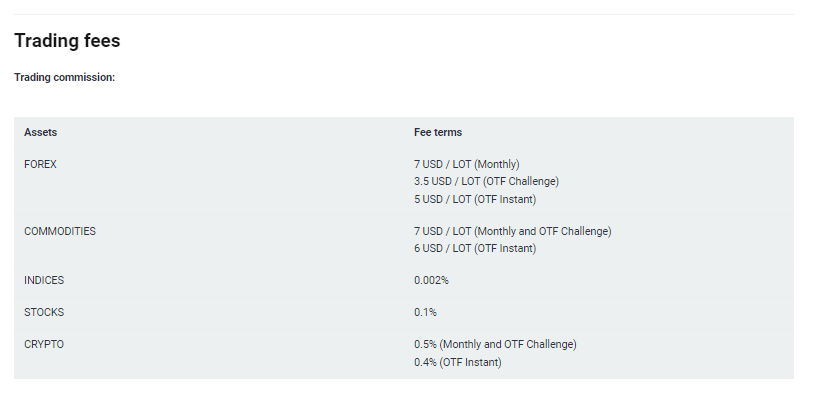 Trader Central also have their presence Across various social media platforms, where they drop daily tips to help traders succeed in Forex.
Instagram account with 5,727 followers,
Facebook page with 3,539 followers,
Twitter account with 702 followers
Youtube channel with 2,42k subscribers and 469 uploaded videos,
Telegram account with 10,894 subscribers.
Trader Central contact/ Support
Legal Name Traders Central, Inc.fin
Contact Email info@traderscentralfund.com
Phone Number +1-250-879-2655
Conclusion
Trader Central prop firm Traders Central offers an instant Funding method and a five stage challenge to identify traders with Great Trading prowess, promising them a 85% payout. Aside's that, Trader Central reviews on Trustpilot platform as well as Youtube is encouraging, The choice is up to you.
Trader central also have on their website FAQ page where you can find answers to some information missing here.
On this page, under the heading Prop Firm review, you can also read our in-depth, unbiased reviews of all other prop companies.