With 6.5m in funded accounts issued in 2021, and 454 traders across 67 countries funded in the same year, Alphachain Proprietary firm has tallied up to one of the biggest forex trading firm in London.
In this post, you will find all the necessary information you need to know about Alphachain prop firm, how to become a funded trader, alphachain trading rules, profit split, evaluation/challenge, FAQs and more.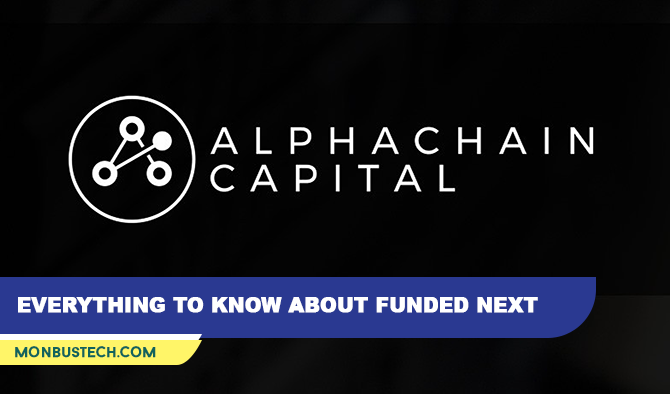 Alphachain Traders is a proprietary trading company, established with the goal of fusing strategy, innovation, and technology to prosper traders in the current global marketplaces. The company offers traders a variety of short and medium-term quantitative trading strategies across numerous asset, leverages, statistical modeling methods, and several financial instruments.
If you are new to the term "prop firm", I recommend you read my previous article on what prop firm is.
Getting funded by Alphachain Trader isn't divergent from what exists in status quo, albeit with a slight difference.
There are two ways by which you can become an Alphachain funded trader: by enrolling for their trading course programs or applying for their instant funding option.
Alphachain Trader offer two categories of courses and programs namely, The Professional Programs and The Specialist Program. The professional program is going to be the center of our discourse.
The Professional Program
The professional program program entails three sub-programs which are: Global Trader Program, Algorithmic Trader Programme, and Cryptocurrency Algorithmic Trader Programme.
This three-month vocational course program will give you extensive knowledge, practical experience, and trading access to a $20,000 live account.
The program is also jam-packed with incredible offers, such as hands-on instruction from Alphachain Trader's Head of Trading Academy and their lead mentors, monthly one-on-one mentoring sessions with the company's CEO and head traders, and daily interactive webinars on subjects like Macro Outlook, Technical Trading, Trading Psychology, Morning Market Briefs, and much more. The targets, incentives, capital allocation, and increase information will all be fully transparent to you.
You will receive your live trading account funded with $20,000 near the end of the program, allowing you to start trading as an Alphachain sponsored prop trader.
The Global Trader Program costs £3,420
ALGORITHMIC TRADER PROGRAMME
You will receive thorough instruction in this program to provide you the information you need to create, test, and use algorithmic trading techniques. Your trading success will be especially dependent on this knowledge.
Access to a thorough training program covering how to create, test, and use custom indicators and algorithmic trading strategies using Pine code in Tradingview, a series of engaging webinars, and one-on-one mentoring with their CEO and Head of Trading Academy are just a few of the amazing benefits that come with this program.
You will be given a $20,000 account at the conclusion of the three-month period, and you may start profitable trading from the comfort of your home.
The Algorithmic Trader programme costs £3,420
CRYPTOCURRENCY ALGORITHMIC TRADER PROGRAMME
The Cryptocurrency Trader Program teaches traders how to create fully automated financial models while also introducing them to the theoretical underpinnings of cryptocurrency markets. From a coding standpoint, you will discuss the fundamental technical tools and tactics as well as how to create trading systems.
The practical components of the course involve back testing, trade planning, and strategy creation. Each candidate is given a strategy assignment to complete as part of the program, where they must demonstrate the abilities they have gained during the project.
On-chain analytics is the program's distinctive subject matter. You will learn how to apply on-chain analytics in this program to build a career in algorithmic trading with an emphasis on cryptocurrencies.
The Cryptocurrency Algorithmic Trader programme costs £3,950
AlphaChain Direct Funding
With Alphachain direct funding, you do not need to undergo any course or evaluation challenge before being placed on a live account. You can purchase either of their direct funding packages and commence profitable trading immediately!
A lphachain offers two account options for their direct funding:
The $15,000 account which costs a one-time payment of £795
The $20,000 account which costs a one-time payment of £999
Alphachain Trading Rules
Below are the rules binding on Alphachain direct funded accounts:
A trading leverage of 1:100 should be maintained
A maximum lot Size of 0.75 and 1 lots must not be exceeded for the 15k account and 20k account respectively
An initial Target of 10% is expected to be met before a trader can be promoted to another level
A maximum drawdown of 10% based on starting balance must be maintained.
Weekly risk limit of 5% must not be surpassed.
Scaling Plan
Alphachain offers a transparent scaling plan policy which is simply based on traders ability to meet a specified 10% profit target on their initial account capital, after which they are promoted to a new level with a doubled trading capital.
Below are clear illustrations of their scaling plans on both direct funding accounts.
Alpha Funded Trader $15K Direct Funding Scaling Plan
Alpha Funded Trader (AFT) Option: $15K Direct Funding – 50% Profit Share
| $10K Evaluation | Account Size | Maximum Exposure (Lots) | Max DD % | Target % |
| --- | --- | --- | --- | --- |
| Stage 1 | $15,000 | 0.5 lots | 5 | 6 |
| Stage 2 | $30,000 | 2 lots | 10 | 10 |
| Stage 3 | $60,000 | 4 lots | 10 | 10 |
| Stage 4 | $120,000 | 8 lots | 10 | 10 |
| Stage 5 | $240,000 | 16 lots | 10 | 10 |
| Stage 6 | $480,000 | 32 lots | 10 | 10 |
| Stage 7 | $960,000 | 64 lots | 10 | 10 |
| | | | | |
Alpha Funded Trader $20K Direct Funding Scaling Plan
Funded Trader (AFT) Option: $20K Direct Funding – 50% Profit Share
| 1$10K Evaluation | Account Size | Maximum Exposure (Lots) | Max DD % | Target % |
| --- | --- | --- | --- | --- |
| Stage 1 | $20,000 | 1 lots | 10 | 10 |
| Stage 2 | $40,000 | 2 lots | 10 | 10 |
| Stage 3 | $80,000 | 4 lots | 10 | 10 |
| Stage 4 | $160,000 | 8 lots | 10 | 10 |
| Stage 5 | $320,000 | 16 lots | 10 | 10 |
| Stage 6 | $640,000 | 32 lots | 10 | 10 |
| Stage 7 | $1,280,000 | 64 lots | 10 | 10 |
| | | | | |
Please Read: How to Become a Prop Trader
Is AlphaChain Capital a scam?
The company Alphachain is a registered prop firm with verifiable operations and payouts. They are credible organizations with positive ratings on their training academy as well as the prop firm sector.
Please read the reviews by other traders on the organization below.
Alphachain Trader Reviews
Below is a Review/ testimony from Alpha Traders who partook in the Alphachain program.
See Here For:  ALPHACHAIN REVIEW – An Unbiased Evaluation On Alphachain Prop Firm
To read an in depth and unbiased reviews of Alphachain and what other prop traders have to say, please read this post >> Alphachain Review – An Unbiased Evaluation on Alphachain Prop Firm
AlphaChain FAQ's
What Is Alpha Chain Profit Split Once on A Live Funded Account?
The profit split is 50% on the profits you make above the initial balance figure.You will need to meet your 10% target to receive your profit share.
What Platform Will I Trade On?
AlphaChain traders has access to a customized Metatrader 4 (MT4) trading platform. With institutional leverage of 1:100, which is the market leader. In order to guarantee the best trading fees and conditions for their traders, they don't use brokers but rather go directly to the biggest liquidity providers.
Once I Sign up How Long Before I Get My Trading Account and The Challenge Starts?
In most cases, your new financed accounts' login information is sent to you within a day. Please be aware that before the account can be setup, you must pay and sign the contract.
How Do I Receive My Trading Profits?
When you meet the profit goal, you can withdraw your profits. Once the target has been reached, i advise you to stop trading and email support@alphachain.co.uk with your trading account number to request an account review. To request payment from Alphachain, a bill must be sent to them. Please give the payment process up to 7 working days.
Am I Liable for Any of The Losses?
No, there is zero risk with the Alpha Funded Trader product! As a result, you can trade without worrying about losing your personal money because you won't be held responsible for any losses that occur during the process.
Minimum Active Trading Days
To advance to the next capital level, you must have 30 days of continuous trading. Your aim can be attained at any time. The day you open a position is what constitutes a trading day. One trading day, for instance, is when a trader opens a position on Monday and closes it on Tuesday.
Of all prop trading firms, AlphaChain provides the broadest selection of tradeable assets. Global FX majors, commodities, and equity indexes are all available for trading. The complete list of approved marketplaces will be given to you after your application has been approved.
Can I Trade During Major News or Data Releases?
Positions can be reopened 30 minutes after important news or data releases and must be closed during such times. The Bank of England (BoE) rate decision and speech, US Non-Farm Payrolls (NFPs), Federal Reserve rate decision, etc. are a few examples of this type of release. Any open positions during this time frame will violate the risk management guidelines, which may lead to account closure. Additionally, any profits gained during this time will not be remitted or count toward your target.
Can I Hold Trades Overnight?
Yes, overnight trading is permitted throughout the weekdays between Monday and Friday (excluding bank holidays).
Can I Buy an Expert Advisor (ea) and Apply It to My Funded Account?
The application of EAs to funded account is not permitted by AlphaChain. Popular EAs purchased from markets have no real-world track record and cannot be modified to account for current market conditions, which puts the company at danger.
You may, however, be allowed to use an EA that you created yourself. Please send an email to support@alphachain.co.uk if you have any queries for EAs.
AlphaChain does not accept opening accounts for UAE nationals in accordance to a requirement as per the laws of UAE and all non UAE brokers/WLs
Alphachain Trader Education
Regardless of prior expertise, Alphachain provides a variety of Funded Trader Programs to assist potential prop traders in succeeding with Zero Payment Plan. The financed trading courses gives you in-depth training in a variety of financial markets, including day trading, forex, and cryptocurrencies.
The Alphachain Academy's programs have been created for aspiring and inexperienced traders with the goal of developing, mentoring, and growing a new generation of exceptional prop traders from various backgrounds who aspire to become prop traders with Alphachain Traders. For seasoned traders, they provide cutting-edge trading technology, capital for investments, and a supportive trading atmosphere that fosters success.
Alphachain Trading Platform
Alphachain carry out their trading activities on the renown mt4 platform
Alphachain Profit Split
Alphachain offer an equal 50-50% profit split with their traders. You can check out prop firms with far higher trader profit split percentage here: Prop Firms With High Payout
AlphaChain Website, Contact/ support Details
HQ – 43 Berkeley Square, Mayfair, London, W1J 5AP
020 7097 3984
info@alphachain.co.uk
If you like to sign up and commence your prop career with AlphaChain , Please click here to go to the AlphaChain Official Website  : www.alphachain.co.uk