Are You Planning on Becoming the Next-Gen Multi-Millionaire from Trading Forex? Why It May Be Impossible to Make Million-Dollar Trading Your Own Money, Prop Firm Is Here to Make It Possible ( Just Recently, Paul M Made Over $500,000 in 30 Days from Trading a Prop Firm Account.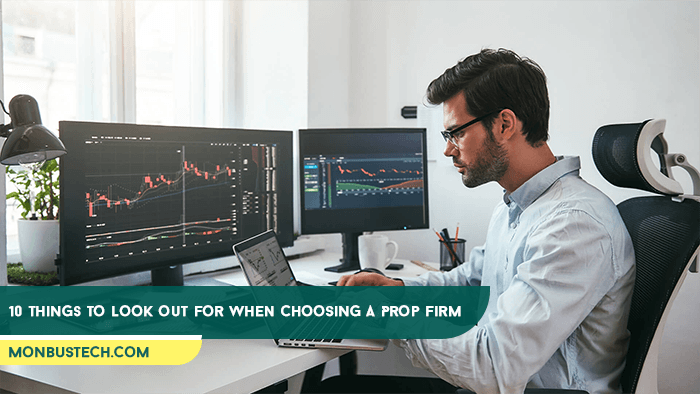 Choosing a prop firm for those who want to start out with forex trading can be quite a task. The main reason why many people cannot do so is because no one has been able to find an appropriate firm that fits their needs. However, now things have changed and there are certain characteristics  to look out for.
Nowadays, you are more likely to come across a number of multi-million dollar trading companies offering their services to aspiring traders, who wish to use their skills in forex market trading. While this may seem like a the perfect way to make a living from trading, it is important for any trader preparing for his or her first journey into the world of forex market trading to consider some crucial factors before picking a firm or any other forex firm (which you should try avoid at all costs).
Aim for An Account Size of  50 K to 100 K
If you want to be making the big bucks, you have to be trading the big bucks. For you to make trading a profitable career, profitable enough to live the trading dream of quitting your day job and trading full time, you need to have a reasonably large trading account. Which is the entire essence of prop trading
Consider the Trading Platform: 
make sure it is the same or similar to the one you are used to preferrably MT4/MT5. So beware of firms that offer their own trading platform. Chances are there's a lot more room for manipulation. You have to know that in every business there are always people looking to take advantage, just make sure they're not taking advantage of you.
Do They Allow EA's
Expert advisors are basically automated programs that buy and sell for you. And many forex traders make use of them in one form or another. If your strategy makes use of it, you'll want to make sure the prop firm is ok with that.  
Consider Rules Surrounding Weekend News and News Trading
Some of these prop firms have rules and restrictions concerning weekend and news data trading. You'll need to go over them carefully to make sure that they dont cramp your trading style. It's more about finding  the best fit for you
Consider the Initial Subscription Fees
Prop firms require new traders to prove their trading ability by passing a test or challenge.This is how they know you won't be blowing away their money. However you have to pay to take part in the challenge. The amount you pay is usually dependent on the size of account you want to be given.
So the larger the account, the more you have to pay to take the challenge.these fees can vary from 100 – 600 dollars. Which means that this is definitely something you will have to think about before settling.
Evaluation Period/ Challenge Criteria
If only it was as easy as signing up, trading and getting paid. However we know that these things take time. How much time differs. Every prop firm has its own evaluation phase and someth=ime verification pjse too. Which range from 30-90 days.
So you would do well to be aware of the different evaluation times and the individual profit target expectations. Some prop firms will require you to make 10% – 5%  of the account during the evaluation period. Some have minimum trading days or minimum number of trades in a month. You want to make sure the set rules are not too prohibitive
Drawdown Limitations
This simply refers to the max amount of money that you are allowed to lose  during the course of your trading or sometimes in the course of a day(daily drawdown) these figure are set in order to protect the company from catastrophic losses.
So if you exceed the limitation and lose more than the specified amount or percentage that they are happy to accept, your challenge will stop and you will lose the subscription and the money you paid in the first place. While all this may seem straightforward, you definitely have to read the fine print and know exactly what your parameters are
Profit Split:
This is a very important point to watch, cause you don't want to be working your socks off, just to end up giving the prop firm all your money. So you need to know exactly what you will be walking away with at the end of the day. Is it a 50:50, 80:20 or  40:60 split. Whatever it is you have to be comfortable with that. Just know it may factor into the initial subscription cost
Growth Plan
You want to choose a prop firm that gives opportunity for growth as you pass various trading milestones throughout your time trading with them. For example if you make 10% of your account in two months they may double your account size. Because ultimately you want to succeed, ultimately you want to be trading a vast account size. So make sure whichever firm you're working with has room for growth.
Withdrawal Rules
You'll also need to know how often you will get paid. Is it once a month, twice a month, weekly and so forth. Obviously as your account grows you will want to get paid.which is why we are here in the first place
In conclusion, how do you pick the right prop firm? As mentioned before, we've covered a few ways to find a good prop firm in our article. Still, we strongly recommend that you try out as many as possible. there's no perfect thing out there you need to do your due diligence and read reviews. A few weeks of work with each one will ensure that you land on the best one for your needs.
Good luck and happy trading.