The most sophisticated and user-friendly trade copiers available, is Forex Copier. Making it simple to copy trades between different MT4 and MT5 accounts, The setup process for the program only takes a few minutes, with an option to connect numerous brokers, customize rules, and manage risk.
At the end of this post, you will get to know everything about Forex Copier, how to copy trade using Forex copier, Pricing, Features and also a review of traders testimonies which would help you make an informed decision.
Lets get started.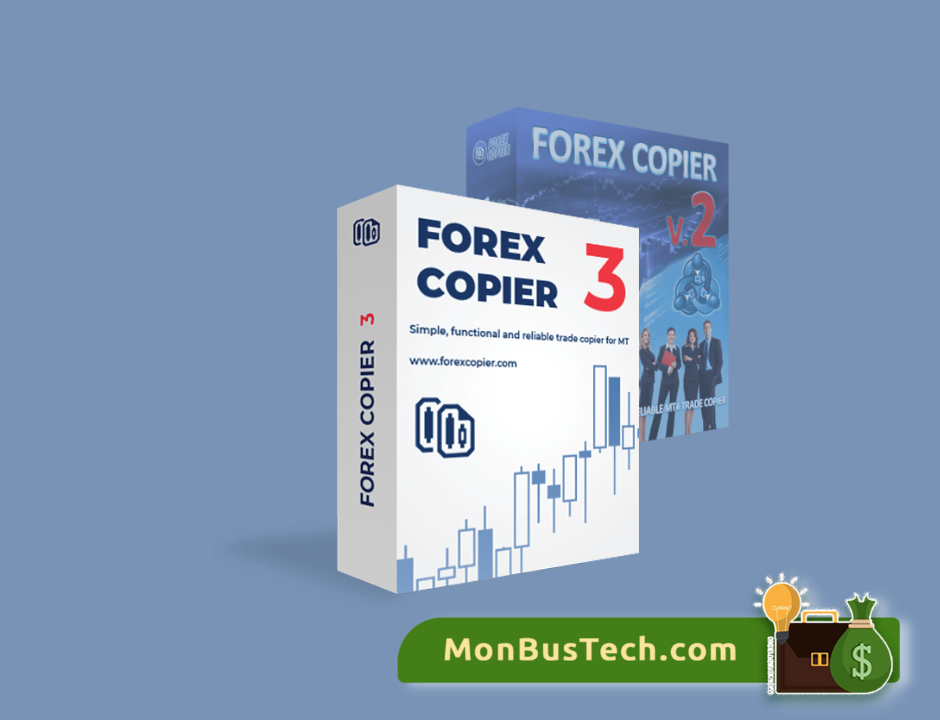 Simply put, Forex Copier is a Simple and reliable software that can duplicate/copy trades between any MT4/MT5 accounts. You can read more about copytrading in by using the link  below:
READ: Copytrading – The meaning, pros and cons
With 4,972 users across 122 countries, Forex Copier 3 boasts of a unique set of capabilities that I'll go over in more detail below. Like the name of the software suggests, you can copy trades using the Forex Copier 3.
READ: What is Copytrading – meaning, pros and cons
Forex Copier has a great number of amazing features which set them apart from other Forex trade Copier software.  The software interface depends on whether you are using the full version or the free demo. To determine whether the software is right for you, I advise you to try the free demo version before making a purchase.
Forex Copier Features Includes;
Problem management
Easy to use
Filtering Orders
Adjustments
Reverse Mode
Stop Loss / Take Profit settings
Support
Problem Management
Forex Copier 3 can handle any problems that might arise on its own. Simply select the "Fix" option, and the program will locate and address the issue. The picture below demonstrates how this is accomplished.
Easy To Use
The forex copier copy system is straightforward and user-friendly, which helps you save crucial time.
READ: Duplikium Tradecopier – Everything you need to know
Filtering Orders
Copy only Profitable/Losing trades ; this unique function enables duplicating trades that have achieved a predetermined profit or loss level.
Adjustments 
Forex copier 3 allows you to automatically change the names of your trade symbols, which is ideal if you use several brokers. You can modify the names manually in addition to automatically changing them.
In addition to changing the trading symbol names, you can establish a range where copied orders can be opened by using the Borders settings.
Reverse Mode
Forex Copier will open opposing orders on the receiver account if you select this feature. It is also possible to copy SL and TP in the opposite direction.
BUY order will be copied as SELL
SELL order will be copied as BUY
SELL Stop order will be copied as BUY Limit
SELL Limit order will be copied as BUY Stop
BUY Stop order will be copied as SELL Limit
BUY Limit order will be copied as SELL Stop
READ: AutoFxPro – Everything you need to know
Stop Loss / Take Profit settings
With this feature, you can move the SL and TP in order of accordance with the difference in price between the original and duplicated orders, ignore the SL/TP of the original order, and establish a unique SL/TP amount for each order on the receiver account.
Platform Support
Forex Copier 3 supports all types of orders, any account type and also any broker.
The Forex Copier operates in five easy steps
The software starts by finding all the terminals on your computer
Pick the necessary source terminal from the list
Pick the necessary receiver terminal from the list
Drag a line between them
Add more terminals and lines if you need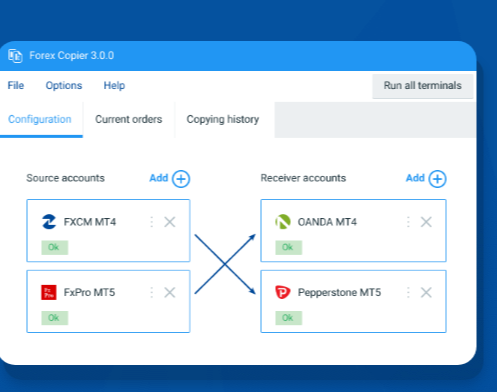 There are a tons of reviews online and on YouTube that you can read. On the official website, you can also find a few shorter evaluations where genuine customers express how simple the product actually is. However, lets take a look at the review on Trustpilot platform.
Kai Wong
Sep 5, 2022


Great product and company!
Most free versions of software are typically not as complete and fully functional – typically would have to purchase to get the full benefit, but not with Forex Copier.
The free versions of both the Trade Copier and the Remote Copier are fully functional and exceptional.
By providing full functionality of software in the free version, this company has helped me accelerate my profitability. You really only need to buy full version as you scale your trading, and their pricing is extremely reasonable.
I've gotten support through both chat and email – both were responsive and the support team spent proper time to help me resolve the problem, even as I was testing the free version. I would recommend this company and their products to anyone.
Michael B


Aug 9, 2022
Huge variety of settings and a superb…
Huge variety of settings and a superb support that answers quickly and in depth.
If you are looking for a long term solution to setup various accounts with different settings, this application is the way to go!
ThePsyMan
Updated Aug 8, 2022


Bought 3 copies and love it
I used the demo copy for over a year and took the plunge and bought my first copy earlier this year and then bought copies number 2 and 3 1-2 months ago.
What I love about this software is the prompt and helpful support. I found a bug and it was fixed in a matter of days.
I also tried other copiers and this is the best due to the graphical user interface which makes connecting source and target accounts so easy be it MT5 or MT4. I like how it is useful to then be able to visualise all the connectivities in the UI.
There are some cosmetic bugs and small niggling issues but no software is without flaws. It functions perfectly and I highly recommend this solution!
john kusuma


Jul 25, 2022
I've used forex copier3, its GOOD Product
I've used forex copier2 and now move to version 3, it's getting more stable and according to my expectations. I really like it, really recommend it. good product.
afook tan


May 18, 2022
I have been using FC2 since 3 years ago….very satisfied
I have been using FC2 since 3 years ago and I am very satisfied with this software, it is very easy to use and the support provided is very good, every time there is a question it is answered very quickly.
and now I made another purchase of 1 license for FC3
Conclusion
In Conclusion, from the review above, it shows that Forex Copier software is well known when it comes to copy trading. I Advise that you research more on any Trade copier of your choice so as to make an informed decision.