Earn2Trade is a superb and well-known Prop Firm that operates an active forex education school that teaches futures and forex trading and provides a simple Trading Career Path that carefully accommodates beginning traders as well as an 80% profit share as trading compensation.
THIS POST CONTAINS EVERYTHING YOU NEED TO KNOW ABOUT EARN2TRADE PROP FIRM, INCLUDING: HOW TO APPLY TO BECOME AN EARN2TRADE FUNDED TRADER, THEIR CHALLENGE AND VERIFICATION PROCESS, PROFIT SPLIT, MAX ALLOCATED DRAWDOWN, AND ANSWERS TO SOME OF THE MOST POPULAR QUESTIONS.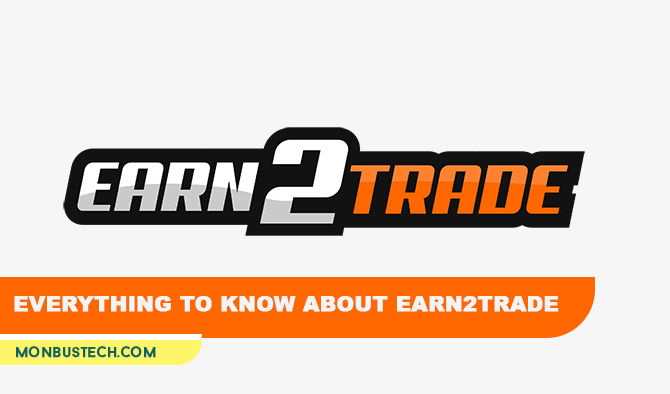 Earn2Trade is a forex school consisting of qualified educators and successful traders that runs an impressive forex and futures education curriculum, mentoring sessions, webinars and personalized education to students and traders and also provides a prop firm for both their students and non-student traders at large.
Earn2Trade is an America-based company and offer impressive funding programs tailored after the ease of traders. Earn2Trade might just be the prop firm you've been desperately looking for. Let's take a closer look at how to be funded in the next section.
To be funded by the Earn2Trade must be earned by passing an evaluation test. This is the norm in the prop industry. However, Earn2Trade makes the evaluation stage much more easier with less strict rules than what a host of other prop firms in the industry offer.
So what packages do Earn2Trade offer? Coming right up in the next section.
Earn2Trade offers two major packages both for the learner-traders  and the pro-traders, with their Trader Career Path and Gauntlet Mini packages.
The Trader Career Path which is meant for the learner-traders is structured in a way to ultimately transform them into professional traders.
Unlike other prop firms who offer various pricing for their challenges depending on the account size that traders wish to trade, Earn2Trade offers only one account for their evaluation stage, and this account comes quite cheap too for just $120 which is quite uncommon compared to what other firms charge.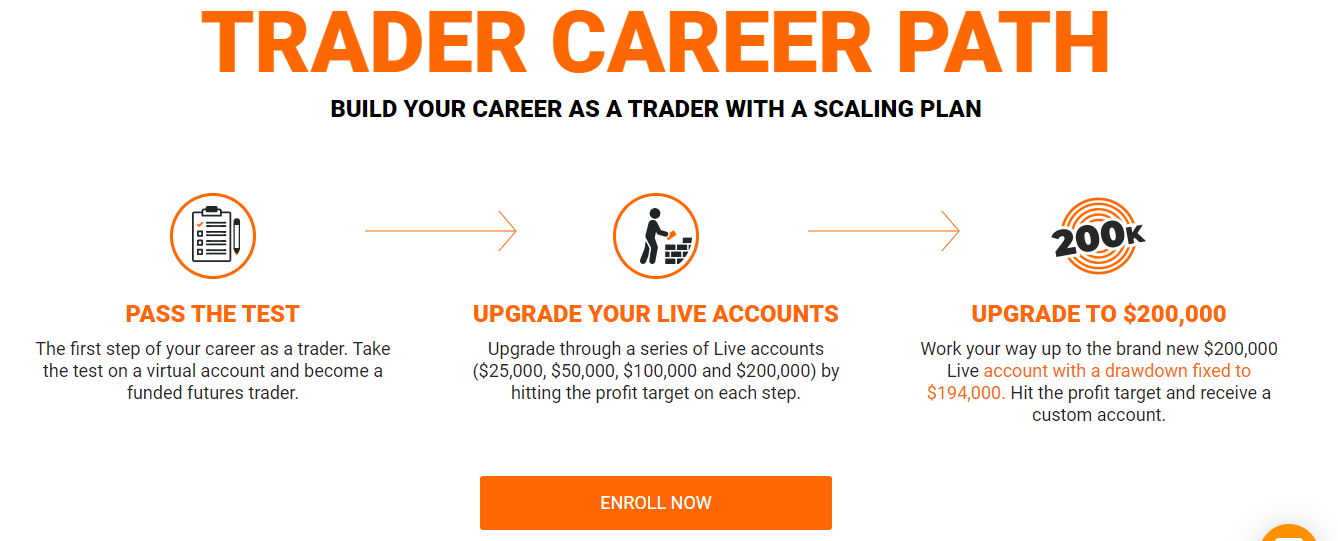 Once the $120 payment is confirmed, a trader is played on a $25,000 demo account with a profit goal of $1,750 with an EOD drawdown of $1,500 and a daily loss limit of $350 and a trading position of up to 3 traders.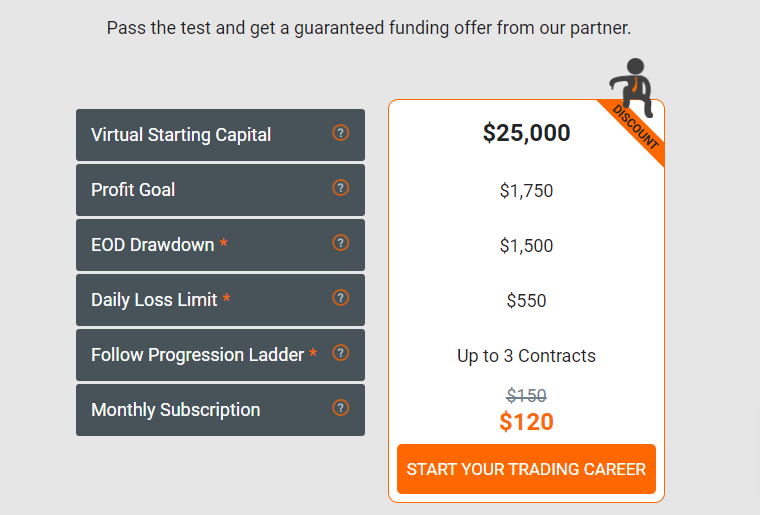 Once the test is passed, the trader is first required to choose between a Live and a Livesim account and compensated with a $25,000 funding.
A LiveSim Account operates in the same way a Live account does but with a few added benefits which include:
A more rapid setup that is as fast as two business days of approving the funding agreement which immediately allows traders to begin trading them. Live accounts on the other hand involves completing papers with a broker, which prolongs the setup process.
LiveSim traders get market data for their first exchange for free even though they pay for subsequent ones, while a Live account pays $105 for each market data right from the start.
While Live accounts generate trailing drawdown based on intraday, open equity gains and losses, LiveSim accounts calculate drawdown in the same manner as your Gauntlet MiniTM attempt.
The Earn2Trade Gauntlet Mini Program is a quicker way to get funded by Earn2Trade and operates in a way that is similar to what obtains with other prop firms. Here traders have the chance to choose between 5 different account sizes and commence a 15-day trading challenge after which they will be provided with a live-account if they pass and trade within the stipulated restrictions and rules.
To trade a $25,000 Gauntlet account, a trader is expected to pay a $120 monthly subscription fee.
To trade a $50,000 Gauntlet account, a trader is expected to pay a $99 monthly subscription fee.
To trade a $75,000 Gauntlet account, a trader is expected to pay a $196 monthly subscription fee.
To trade a $100,000 Gauntlet account, a trader is expected to pay a $252 monthly subscription fee.
To trade a $150,000 Gauntlet account, a trader is expected to pay a $280 monthly subscription fee.
Earn2Trade operates two similar sets of rules for their Trader Career Path and Gauntlet Mini packages. They are examined below: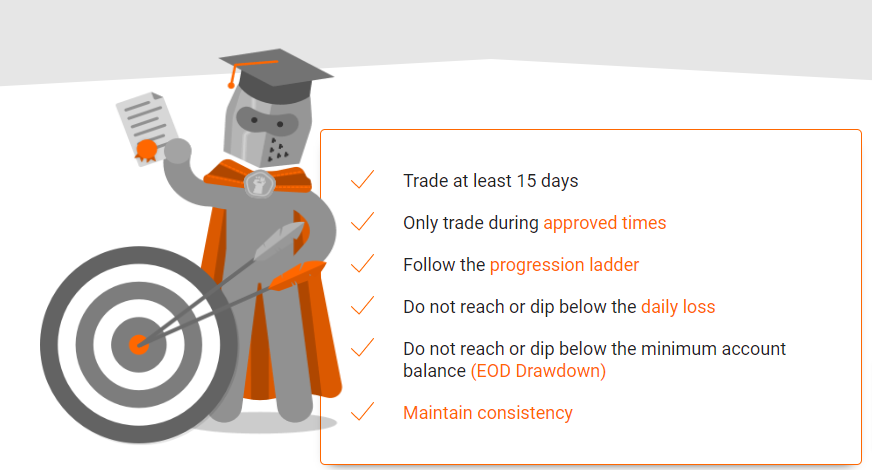 The Gauntlet rules as earlier stated are also similar to the Trader Career Path rules: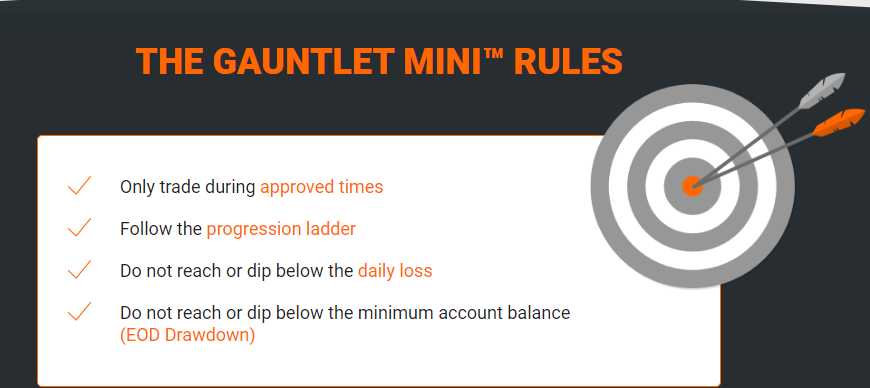 Earn2Trade offers a market high 80% profit split for their traders right from their first profitable trading on a live or LiveSim account. It hardly gets higher and better than that in the prop industry.
With offices in different places including Florida, Texas, Hungary, and Wyoming, Earn2Trade takes the first step in ensuring it is not a scam prop firm by making itself accessible to traders from various places.
They have also been featured in a number of renown publications including ABC Money, Forbes, Babypips, and Entreprenuer.
These are genuine proofs that Earn2Trade is not a scam prop firm.
Below are what other traders are saying about Earn2Trade on Trade Pilot

What Happens After You Pass the Evaluation?
The prop firms will reach out to you and ask if you'd prefer a Live or a LiveSim account with $25,000 starting balance. It is entirely up to you, please read about the differences 
here
What Happens After You Get Funded?
When you hit the target, you withdraw your profit and upgrade to a $50,000 account. This continues until you reach the $200,000 account – once you reach your profit goal on that, you will get a custom offer.
What Are the Withdrawal Rules?
Once you are funded, you can withdraw 80% of your profits after meeting the profit target of each step. You don't have to wait to accumulate the full profit target, you can also withdraw any amount over $100
Why Does the Trader Career Path Have Only One Evaluation Account Size?
The Trader Career Path provides you with a stress-free way to withdraw your profits, and gradually and consistently upgrade your account. It starts with a $25,000.00 evaluation and you are given more funds to trade with upon completion of fixed targets. This gives a solid developmental framework for you while minimizing risk for the prop firm
How Can I Obtain the $200,000 Account?
The $200,000 account can only be acquired by upgrading your Live accounts ($25,000, $50,000, and $100,000) and reaching the profit target at each step.
Once you have the $200,000 account you will be given a $6,000.00 fixed drawdown (non-trailing). To get a custom offer from the prop firm, you must reach a profit target of $12,000.
Can I Reset the Evaluation?
Yes, you can. The base price for resets is $100. You can not reset the LiveSim or Live accounts.
Please note that the monthly subscription does not reset the account. If you failed your Trader Career Path attempt, you have to reset.
They carry out their trading operations on Ninja Trader, and Finamark Systems
They run a blog tab on their website with several blog posts and youtube videos on whatever their traders may want to know. You can access their blog here
This is another aspect in which Earn2Trade offers something different from a host of other prop firms, and that is their Take Your Profit and Upgrade plan. In this case, they use trader withdrawal after the 20% profit target is met as a means to upgrade and scale up their traders account. Isn't that fun to know? Below is a clearer depiction of their scaling plan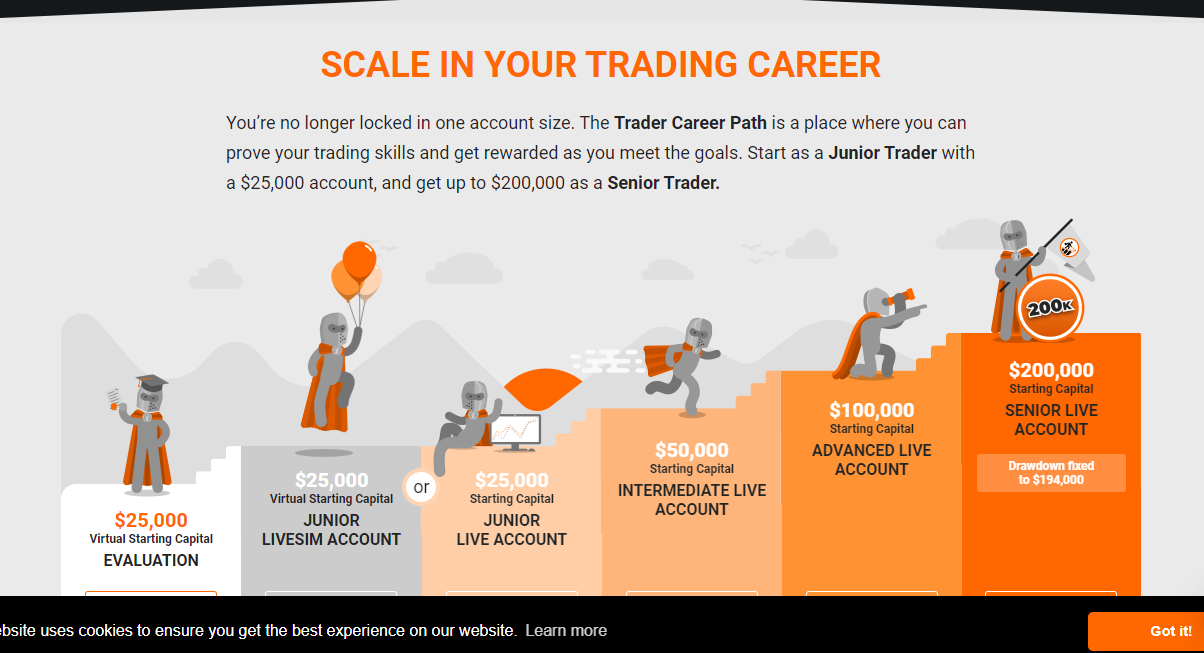 You can contact them via telegram here
Or via whatsapp here
Or via the chat box on their website.