Topstep Fx is one of the renowned players in the prop industry with a sum of $3,324,114 funded trader payouts and 8389 Accounts funded in the year 2021, and an overall 10 Years of funding futures traders every day
This post has all the detailed information of all you need to know about topstep fx – how to become a topstep funded trader, their challenge and verification process, profit split, max allocated drawdown and answers to some frequently asked questions.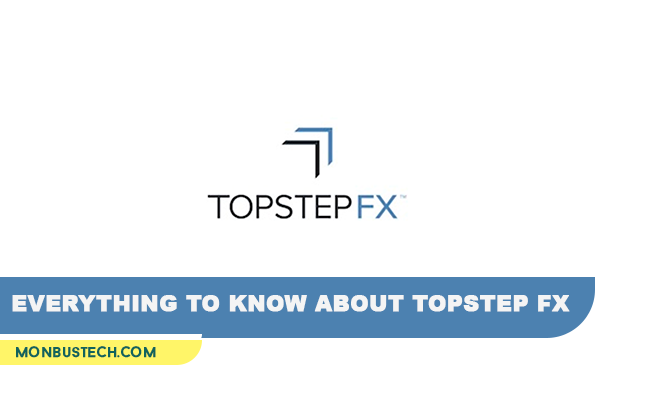 With a vision to be the path to a better lifestyle for their traders and a mission to turn people who trade into better traders, with healthier habits, through learning by doing and a long-standing record of 10 years of steady operations, founded in 2012, and US based, Topstep prop firm offers traders a safe platform with over $2 million withdrawals in 2021 alone, and improved trading conditions and impressive education and support for traders which is one of the best in the entire prop business.  
As common with most prop firms, an intending trader is required to pass the evaluation challenge that is intended to test the trader's skill and knowledge of the market and to ultimately prove that they have the skill-set required to trade for them. Two stages are required by Topstep Fx:

In Step 1, the goal is that the trader proves that they can trade profitably and so have to meet the stipulated profit target which is determined by whichever account size they would like to trade. The trader has a minimum of 5 days to complete the first step, but there are no maximal number of days that it should take.
In Step 2,  risk management is the other goal added to the profit making goal of stage 1. This makes the stage more difficult. First, the profit target is doubled while the weekly loss limit is reduced by an half, thereby providing a more stringent trading condition for the trader. This is intended to prove that the trader didn't get through the first stage by sheer luck, but hard-work.
Once the evaluation steps are passed, the trader is rewarded with a funded account to trade.
READ: Prop Firm Evaluation Challenge Explained – meaning, advantages and disadvantage
Topstep offers three account sizes that traders can choose from. Each account comes at a monthly pocket-friendly price.
To trade the $50,000 account, the evaluation challenge costs a monthly fee of $165.
To trade the $100,000 account, the evaluation challenge costs a monthly fee of $325
To trade the $150,000 account, the evaluation challenge costs a monthly fee of $375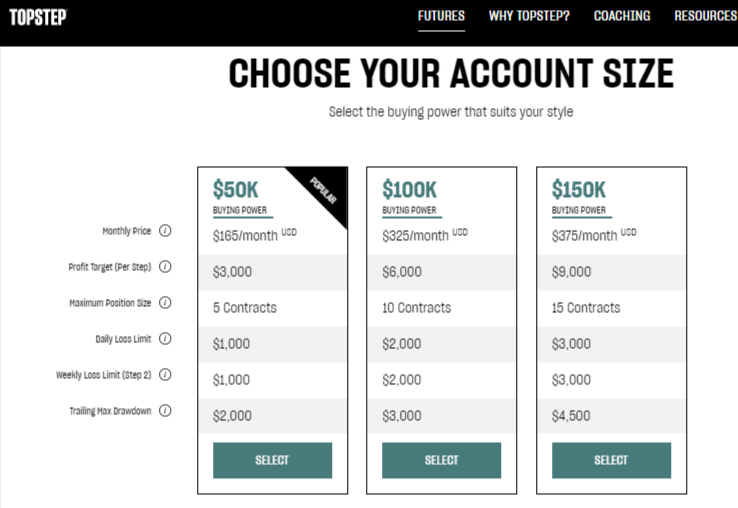 The profit target of the $50,000 account is $3,000; a daily loss limit of $1,000; a maximum position size of 5 contracts; a weekly loss limit of $1,000 and a total max drawdown of $2,000
The profit target of the $100,000 account is $6,000; a daily loss limit of $2,000; a maximum position size of 10 contracts; a weekly loss limit of $2,000 and a total max drawdown of $3,000
The profit target of the $50,000 account is $9,000; a daily loss limit of $3,000; a maximum position size of 15 contracts; weekly loss limit of $3,000 and a total max drawdown of $4,500
The Topstep trading rules are not too different from what to expect in the prop market. An active trader would have come across them several times and internalize them as part of the business. They are outlined simply below:
Avoid exceeding the daily loss cap imposed by your account size.
Keep your account balance from reaching or going above the Trailing Maximum Drawdown.
Avoid exceeding the Weekly Loss Limit.
Hold no more positions than what your trading account allows.
What is the Topstep Fx Profit Split?
They offer an 80% profit split to their traders, which is very much on the high side of what other prop firms pay their traders.
READ: Prop Firms with High Payout
Below are some of the things that set Topstep apart from several other prop firms in the business.
A deliberate effort into training and educating their traders with specialist mentors and coaches who brim with vast trading experiences.
80% profit split, which is much higher than what most firms offer.
A long list of trader success stories that you can access on their website here
READ: 10 Things to Consider in Choosing a Prop Firm
If you like to sign up and commence your prop career with Topstep , Please click here to go to the Topstep Official Website  : www.topstep.com
While a lot of scammers have invaded the prop market, Topstep isn't one of those. With a consistent impressive funding record, and a 10 year impeccable track record, and several validations from a lot of other trusted sources, Topstep is by no means a scam prop firm.
Below is an illustration of various top companies including the famous Forbes vouching for them:

Topstep Fx Reviews – What are Traders saying?
The vouching of those top companies are corroborated by a flurry of almost impeccable reviews on Trustpilot. Let's take a look below:
Read Now: Topstep Review – An Unbiased Evaluation of Topstep Prop Firm

Read Now: Topstep Review – An Unbiased Evaluation of Topstep Prop Firm
What is the Consistency Target?
Your Best Day (largest winning day) must be below 40% of your total profits made.
Why it is Important:
Measures traders' ability to balance making repeated profits and managing risk
Setting a daily earning goal gets you in the mindset of a professional trader
What Happens if my Best Day is Over 40%?
If your Best Day is equal to or more than 40% of your total profits made you'll need to continue trading until your Best Day % of Total Profit is below 40%.
When and what products can I trade?
We currently trade CME group futures only. For more information on trading CME Products click
All positions must be closed prior to 3:10 PM CT. You can then restart trading at 5:00 PM CT.
An asterisk (*) indicates a product with an earlier close than 3:10 PM CT and/or a later open than 5:00 PM CT. If the product you are trading has an asterisk please refer to the CME site and follow the times listed there. Links are provided below.
For special holiday hours, please also refer to the Holiday Schedule here.
All traders must only trade the "front" (most liquid/highest volume) contract month for all products. Overnight trading is permitted, although positions must be closed prior to a product's electronic market close or 3:10 PM CT (whichever comes first).
What releases do I need to be flat for?
For major economic releases, Topstep refers to the economic calendar listed below. Economic releases cause extreme volatility and large price swings, therefore, are very difficult to trade consistently and profitably. Due to this increased risk, all traders in the Trading Combine Step 2 and Funded Account™ cannot have any open positions on one (1) minute before and until one (1) minute after a major economic release.
Those in Step 1 do not need to be flat during any releases.
Why it is Important:
Proves to yourself and the firm that your performance is consistent.
Provides you and the firm enough information to evaluate and understand your trading.
Gives you the opportunity to test your strategy across market conditions.
For more of their FAQs, click here
Topstep makes use of three trading platforms to facilitate their traders' trading experience. They are TSTrader, NinjaTrader, and TradingView which are all compatible with any device.
Traders can request for up to 50% of their current account balance but only after accumulating 5 winning trade days as those winnings days is a compulsory condition that must be met. A winning trade day is a counted when a day's Net P&L is $100 or more.
It is also important to note that the 5 winning trade day doesn't have to be subsequent. Rather, they are accumulated as a running total between two withdrawal requests.
The trader's request for a withdrawal normally takes 2-5 business days and the request can be submitted by filling this form on their app. When confirmed, the money is deducted from the trader's account and processed to the trader through ACH Wire and Standard Bank Wire which are the only means through which the firm makes payments.
Topstep educates provides varieties to educate their traders and transform them from being ordinary to becoming skilled forex players. Some of these means include their blog with some of those contents also available in videos, there is also the limit up podcast and a weekly newsletter by the name Weekly Kickoff
Topstep offers one of the best supports in the general prop market via their in-depth coaching sessions from some of the best brains in the forex market as a whole. They offer three various coaching opportunities to educate and support their traders. These are name: Digital Coaching, Group Coaching and Personal Coaching. You can access their coaching support here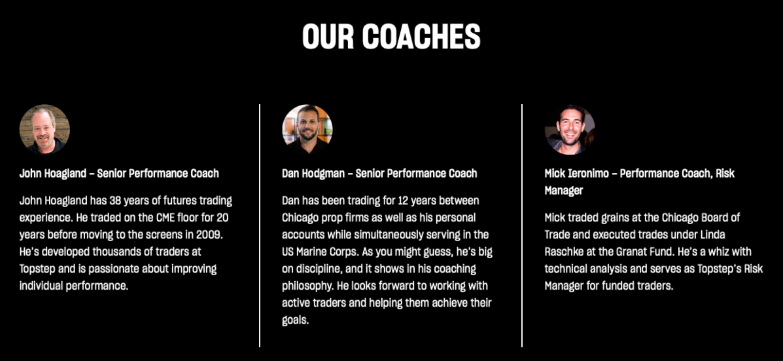 If you like to sign up and commence your prop career with Topstep , Please click here to go to the Topstep Official Website  : www.topstep.com
For more Prop Firm Profiles, click here>>>> Prop Firm Profiles