Established in 2018 and based in the Caribbean, Trinidad and Tobago, Osprey Fx offers traders over 120 trading assets, up to $200,000 trading capital and a handsome 70-30% profit split with traders.
This page provides all the information you could possibly need about Osprey Fx Prop Firm, including answers to all of your questions about the firm, their evaluations, trading technology, authenticity, profit split, packages, and other frequently asked questions.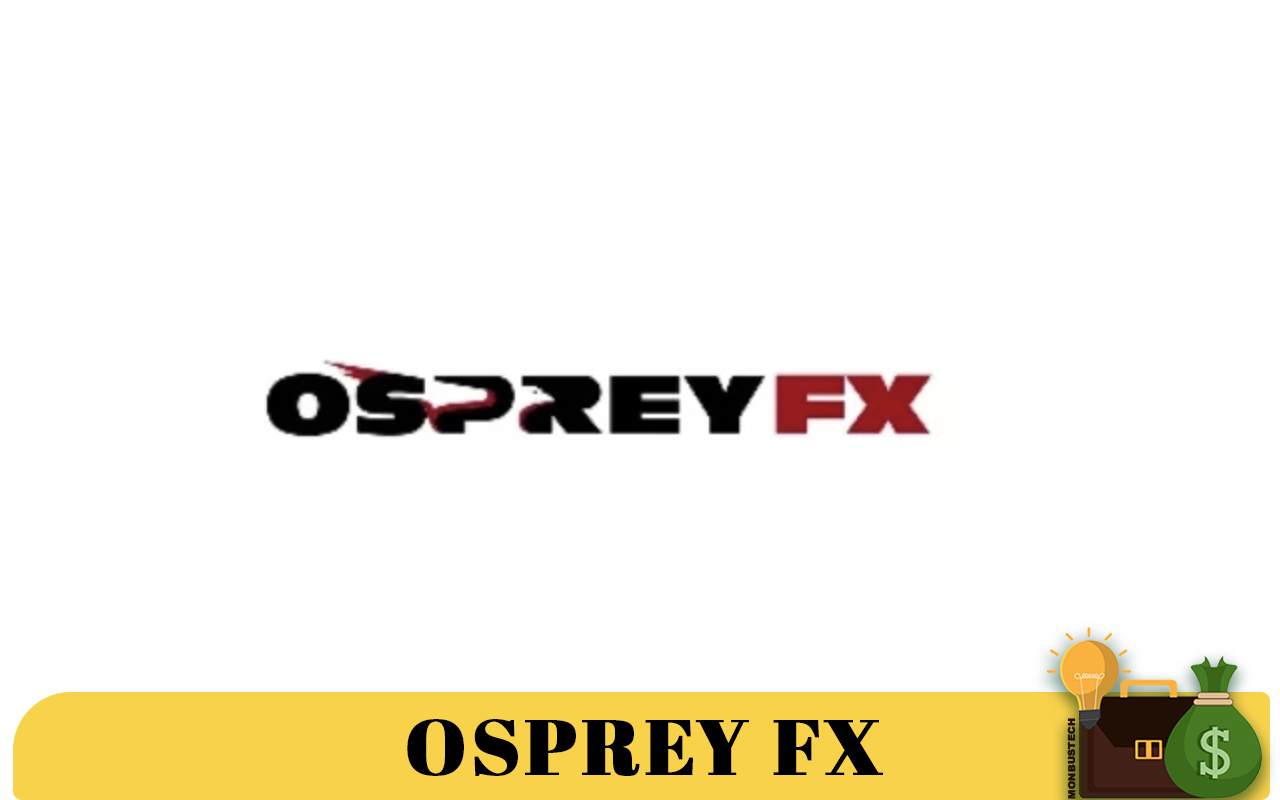 Who They Are and What They Do at Osprey Fx Prop Firm
Osprey Fx is one of the newcomers in the prop market with an attractive 70% profit split with the traders and a refundable challenge entry fee which is a good news for traders, and a policy that is gradually becoming popular in the prop market. With not so many rules and a clearly defined structure of the requirements to become a funded trader, Osprey Fx offers something that intending traders could put into consideration to trade with them.
Let's take a ride into all there is to know about their offers and how to become a funded trader, shall we?
How Do I Get Funded by Osprey Fx?
Getting Funded by Osprey Fx is not so divergent from what obtains with several other top prop firms out there. Getting right into it, an intending trader is expected to go through a two-stage evaluation challenge before they are offered a funded account.
READ: Prop Firm Evaluation Challenge Explained – meaning, advantages and disadvantages
We take a simplified look at the stages below:
Stage 1: The Demo Stage 
An intending trader is expected to pay an entry fee for a challenge that matches the account size they would like to trade, after which they will be offered a demo account to trade with a profit target of 10% in 30 days, a maximum daily loss of 5% and an overall maximum loss of 12% which cuts across all account sizes.
The intention of the challenge is to make traders acquainted with the trading platform and put their trading skills to test. A trader who meets up with the given stipulations progresses to the second stage, the verification stage.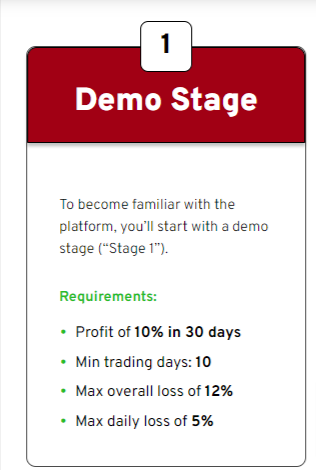 Stage 2: The Verification Stage
At the successful completion of stage 1, a trader is introduced to the verification stage. And as indicated by the name, this stage is designed to verify the trader's commitment, discipline, and understanding of the market, and to verify their skills to ensure that they didn't scale through the demo stage by the random intervention of Lady Luck.
The trader still maintains the demo account from stage 1 but with a different set of goals this time. In this stage, the trader is expected to make an 8% profit in 60 days with a daily loss of 5% and an over loss of 12%.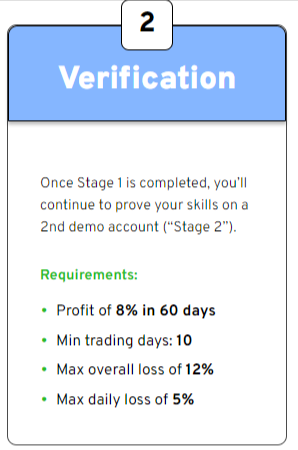 Stage 3: Funded Stage
Having scaled through the stage 1 and 2 drills, a trader is compensated with a funded account that matches the challenge entry fee they paid for the demo account.
The rules get a little easier at this stage, as profit restrictions and duration targets are removed. On the contrary, the trader is expected to still maintain the 5% daily and 12% overall drawdown from stages 1 and 2.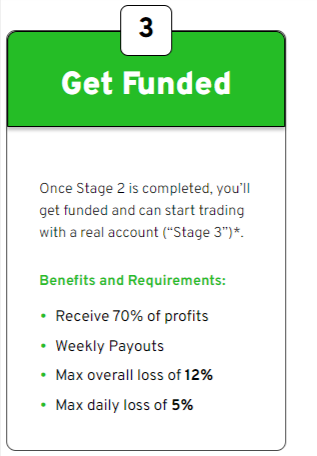 Osprey Fx Funded Account Pricing
Osprey Fx offers five account sizes that suits the pocket of their traders. What's more? Each of the account comes with a refundable fee on the successful completion of the demo and verification stages.
A $10,000 account size costs $99
A $25,000 account size costs $220
A $50,000 account size costs $359
A $100,000 account size costs $599
A $200,000 account size costs $999
READ: Level Up your earnings with Leveled Up Society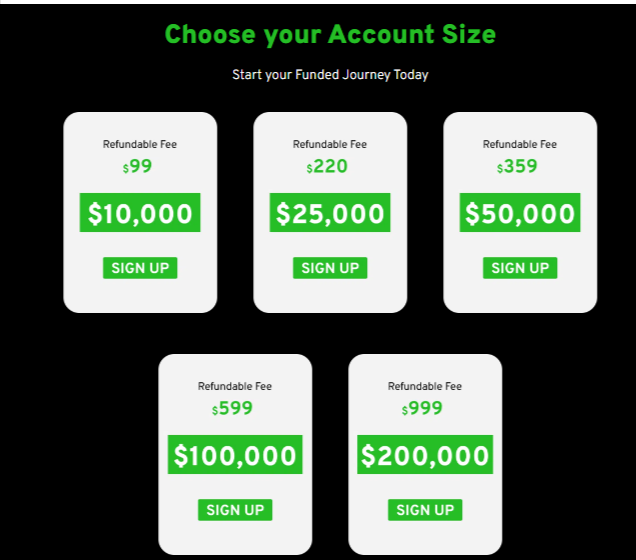 What Are Osprey Fx Trading Rules?
Osprey Fx does not operate too many rules. Rather, their rules are basic and shouldn't be strange to a trader who has a fundamental knowledge of the prop market functions.
Now to the rules:
Traders must not exceed the stipulated maximum 5% daily drawdown or the overall 12% total drawdown or the trader's account will be closed.
All trades are expected to be carried out within the acceptable trading hours which is from 19:00 (7:00 PM EST) on Sunday to 16:00 (4:00 PM EST) on Friday (times are subject to change.)
Is Osprey Fx
A Scam Prop Firm?
With an office address based in Trinidad and Tobago and the testimony on some traders who have cashed out by trading with them, which we are going to get right to in a moment, Osprey Fx is not a scam prop firm.
So, what are other traders saying? Coming right up next.
READ: TFF Vs FTMO – The Veteran Vs the Newcomer
Reviews of Osprey Fx : What are Traders Saying?
Let's take a look at some of the opinions of other people who have traded with Osprey Fx. We go to Trustpilot.
READ: Osprey Fx Review – an Unbiased Evaluation of The Prop Firm

READ: Osprey Fx Review – an Unbiased Evaluation of The Prop Firm
What is Osprey Fx Profit Split?
Osprey Fx offers traders 70% of the profit made on every profitable trading starting right with the very first payout.
Osprey Fx FAQS
Below are some of the frequently asked questions and the answers on Osprey Fx website. The answers could answer some of your unasked questions.
How do I Transfer my Funds from OspreyFX to my Trading Account
Step by Step Guide
Select the Transfers tab.
Choose Wallet to MT4 or Wallet to MT5 in the Transfer type.
Choose the MT4 or MT5 account you need to deposit into.
Enter the amount to transfer
Where is Osprey Fx Located?
OspreyFX is located on Beachmont Business Centre, Suite 4, Kingstown, St. Vincent and the Grenadines.
How do I Verify/Update my Phone Number?
Step by Step Guide
You will need to go to the Settings menu. When you are entering your phone number, you need to ensure that you are using the international format without any spaces or other characters, EG +12345678910. Since we have the "+" sign there, you do not need to add it. You would enter the code as so: 12345678910.
Trading Technology
Osprey Fx run their trading operations on MetaTrader 4 and MetaTrader 5 depending on whatever suits the trader's preference.
Education
They provide education for their traders through their 'forex education' tab on their website. Alternatively, to access their educational provision, you can click here
Support
Osprey Fx offers support for their traders through their active 24/7 customer service chat box on their website
Withdrawal Method
Aside from the challenge entry fee which will be repaid directly back into the trader's credit or debit card, other profits are paid out to the traders through Wire/Bank Transfer or Bitcoin.
Contact
You can contact them via their social media handles or click the following links:
For more Prop Firm Profiles, click here>>>> Prop Firm Profiles