This Page Is Designed to Give You All the Information You Need to Know About Blufx – About Blufx, Blufx Reviews, Trading Technology, Verification, Payouts Proofs, Profit Split, Subscription, Authenticity, and Other Frequently Asked Questions About the Blu Fx Prop Firm.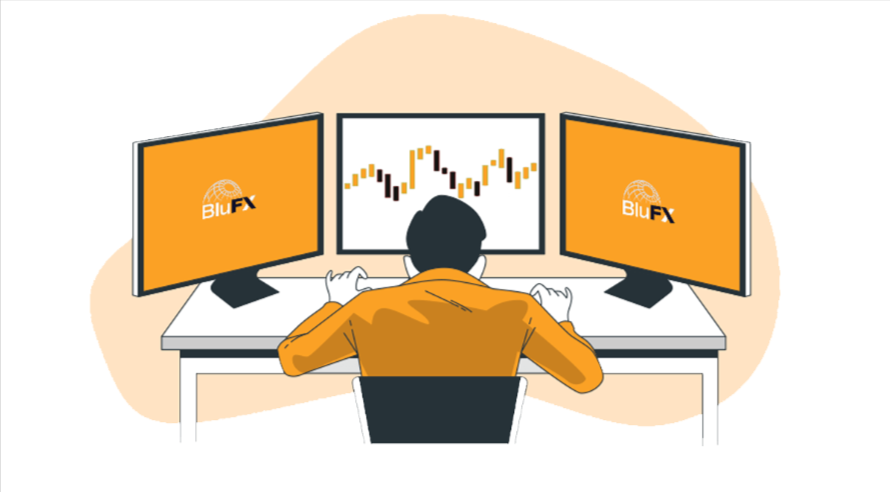 Blu Fx – Who They Are and What They Do? 
BluFx is an elite prop company with headquarters in London with the core goal to help traders easily and quickly climb the forex market ladder. BluFx began operations in 2015 and is still seeking for skilled traders to manage their accounts.
Their plans and packages allow professional traders to manage up to $1,000,000 trading accounts.
The company is led by Yu Song, a successful trader himself. Seven years after starting operations, BluFx has maintained an unwavering focus on success. In search of a prop company to trade for? BluFx might be the ideal choice for you.
Instead of conducting challenges and demo account trials for traders like FTMO and other prop firms do, BluFx asks prospective traders to pay a subscription fee so that they can confirm their intentionality, readiness, and proper stimulation that something is in fact at stake, as well as submit their verification paperwork.
After that, traders can select a package or account to trade and must adhere to the terms and conditions of that package or account. Following that, the trader will receive the funded account's trading information. This is one of the reasons why Blufx is listed among the top no evaluation prop firms in the world.
Wondering if you should choose BluFx? From various investigations, reviews on social media, Trustpilot, and other social feedback, we can categorically say Blufx is a genuine proprietary firm. BluFx has over 20,000 traders worldwide and is a recognized prop firm. In addition to the numerous flawless trader reviews on their website. You may scroll down to read what traders are saying about them. View Official Website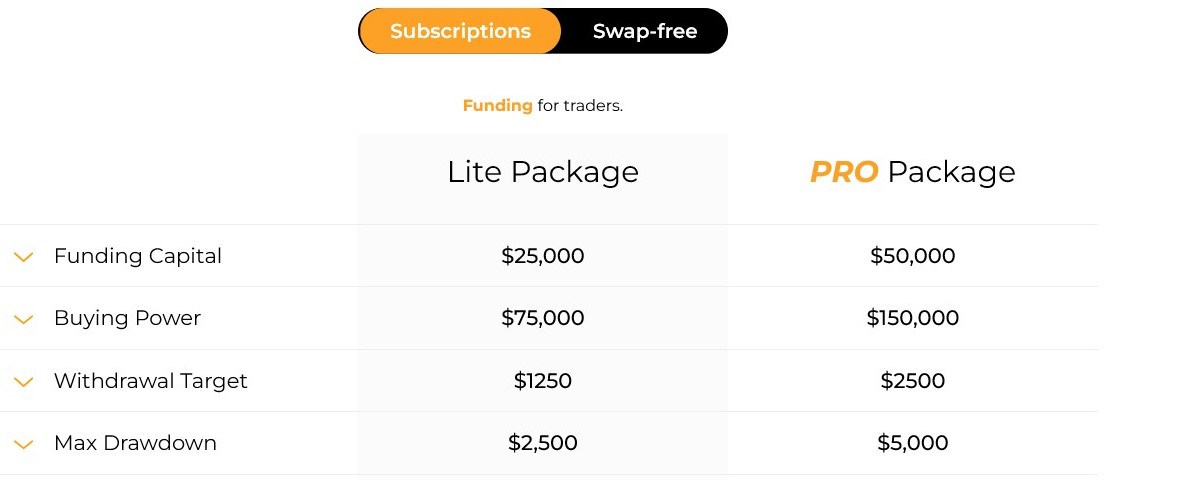 The Lite ($25,000) and PRO Packages ($50,000) which BluFx currently offers, are discussed below along with all the pertinent information:
The trader is given a funded account with an Australian VFSC Broker by BluFx. The trader receives complete credentials and unrestricted access to the account, but the account and its funds remain the property of the firm.
In exchange, all earnings are distributed evenly. The fact that the trader is not responsible for any losses they may incur is what makes it most appealing. The Lite bundle earns $25,000, while the PRO package earns $50,000.
Buying Power
It is projected that the Buying Power will differ given how the finance capital for the two packages differs. The PRO package's purchasing power is held at $150,000, while the Lite package is $75,000. The goal is to encourage traders to improve their trading techniques rather than depending solely on luck.
When the account amount is at least 5% higher than the initial balance and their subscription is still active, traders are allowed to withdraw their portion of the profit. The fact that there is no cap or restriction on the number of withdrawals that may be made each week is another advantage BluFx provides.
The profit target of $1250 for a trader using the Lite package and $2500 for a trader using the PRO package must therefore be reached before requesting to make a withdrawal.
Payment will be made on Friday of the same week for requests submitted on or before Thursday. Depending on the payout option you select, it could take 3–10 working days for various payout methods to reach your account.
Blue Fx Max Drawdown
BluFx has a stated 10% level of losses that can be incurred before the contract of a trader is drawn down, even though the trader is not responsible for any losses they may have. This varies as well depending on the package a trader is using.
A maximum drawdown (MDD) is the maximum observed loss from a peak to a trough of a portfolio before a new peak is attained
The maximum loss on a Lite account is $2,500.
The maximum loss on a Pro account is $5,000.
BluFx Subscription and Payment Packages
BluFx offers two payment options to make paying for its traders' subscriptions as convenient as possible:
Blu FX Monthly fee package (Lite / Pro):
The subscription is paid every 30 days so long as you want access to the account except for fund Managers ($1M account traders). Please CALMLY read about the monthly fee package (Lite / Pro)
CLICK HERE
One-Time fee package (Anniversary package):
This is paid only once for life as long as you keep the T & C . See details of the one-time fee package (Anniversary package)
Blufx Anniversary Package
NB:
You can have a maximum of
1 monthly fee package
and
1 one-time fee package
=
2 Packages (accounts)
.
There are only three steps involved to get funded as a starter and to commence trading for BluFx. The steps include the following:
Enter your full name, email address, and password when registering.
You'll have access to your dashboard after doing this.
Select a funded currency account and make your subscription payment.
You'll then enter your billing information, submit identification and address documentation, and sign the subscription agreement.
You will get a confirmation email once the compliance staff has confirmed your documents. It is important to note that this procedure could take several hours.
Once verified, all you have to do to get started trading is log in to your dashboard, go to the "My BluFX" section on the left-hand side, and click the CTRADER download link.
What's the BluFx Trader Profit Split?
On all trades that reach the profit target or more, BluFx gives its traders an equal 50% profit. This subtly implies that each trader has a predetermined profit target. Your equity account, which is kept apart from your trading account, will receive the 50% profit split. This protects your profit since even if you exceed your maximum drawdown limit, you will still receive payment.
What Are BluFx Trader Trading Rules?
Hedging is highly prohibited.
For the Lite account, the trading hours are 6:00-21:00UTC Monday – Friday while traders operating the Pro account are able to trade 24 hours Monday-Friday. Please refer to the packages above to see the maximum buying power of each Blufx account.
The stipulated drawdowns on each account must not be exceeded in any case.
BluFx Trader Reviews
What do people say about BluFx?
BluFx has a rating of 4.4 out of 5 stars on the Trustpilot review site with 425 reviews and counting. Below are some of the reviews
Below are some of the commonly asked questions about Blu Fx.
What currency pairs am I allowed to trade?
Traders may only trade on major and minor pairs. Any of the following currencies may be traded as pairs: CHF, USD, GBP, EUR, JPY, CAD, AUD, NZD, XAU.
You can trade any of 28 major and minor currency pairs plus Gold
Are there any country restrictions?
BluFx does not place restrictions on traders geographically as they have traders from over 20 countries. It is only up to the trader to make sure of compliance with local regulations.
What is the most beneficial part of trading with BluFX?
The BluFX project is unique in that it allows any trader with any experience to compete for serious amounts of funding, for an amount that is lower than the typical cost of using your own money at a broker to create a track record and then seeking funds to trade serious amounts.
Most of the traders make consistent profits as a second income before becoming full time promoted traders. You can choose to grow your account or to withdraw profits.
How can I pay the subscription fees?
BluFx accepts subscription fee payment with a Bank Card, Bitcoin, USDT, PerfectMoney or Webmoney.
Please visit https://blufx.co.uk/pricing
BluFx allows you to request a free trial so you may get acquainted with their platform, trading guidelines, practice, refine your abilities, enhance your methods, and overall get a sense for what trading with them is like.
BluFx runs an active chat service on their website that promptly responds to any queries. Additionally, they provide a blogging service where they offer productivity suggestions and more in-depth descriptions of how they operate. You can access their blog by clicking here
Unlike several other prop firms, BluFx offers two scaling plans for their traders, regardless of the package they are operating:
Rapid Growth Scaling Plan
At each step, make a profit of 10% more than your starting sum. In four phases, you will trade a $1 million account. To advance to the next stage, the 10% must still be in the account.
Steady Growth Scaling Plan
At each step, make a profit of 10% more than your starting sum. In six steps, you will be trading a $1 million account. You receive a 5% withdrawal at each step with a 50/50 profit share.
START NOW! CLICK HERE TO JOIN BLU FX
For more information on BluFx,  you can view their website here