The Five Percenters (also known as The5ers) is the largest funding prop trading company that offers low-cost packages of up to $4 million in trading capital. 
Do you presently trade forex or intend to trade but are unsure if the 5%ers is a firm to go for? While you may feel alone, you are not. I'm willing to walk you through it.
On this page, you will find the information you need about to know about the5ers prop firm, including outlined background information on the company, their reviews, trading technology, payouts plan, profit split, subscription, authenticity, and other frequently asked questions.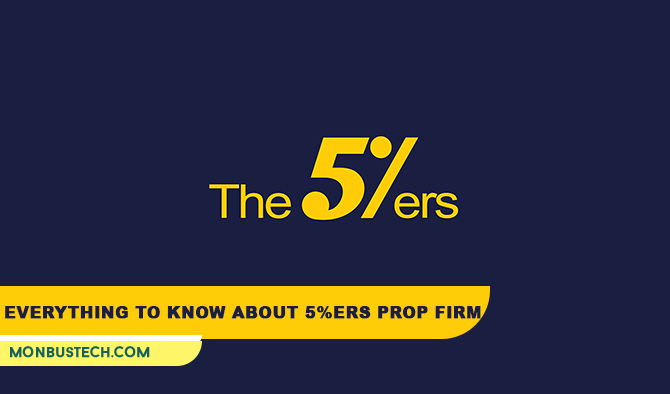 Who Are They and What Do They Do?
The-Five-Percenters (The5ers) is a funded trading company that offers incredible and unusual career enhancement programs for forex traders all over the world. This comprises of a hyper-growth strategy to increase capital and make money through low-risk trading, low participation costs, and simple programs. This initiative is effectively supported by their offer of up to $4 million in trading capital, making them the largest funder in the sector.
Gil Ben Hur and Snir Achiel, two experienced forex traders who founded the business in Israel in 2016, merged their trading difficulties and experiences to develop an open career-building platform for interested forex traders globally. Independent forex traders who are driven and eager to be on the front foot are especially welcome in the company.
If that describes you, you have come to the perfect site for accurate information. So, shall we go on?
How To Get Funded By The5%ers
5%ers offers a no evaluation (instant funding) program and at the same time, an evaluation program tagged The $100k Bootcamp. To get a funded account by the five percenters, you can decide which suits you best as further details about each program are provided below:
The5ers $100k Bootcamp
Now that you've had a taste of who and what The5ers are, let's move on to the packages that upcoming traders can choose from. Here they are:
The5ers provides a number of packages for its investors, like the majority of Prop businesses. They currently offer four funding options: The $100k Bootcamp, The Risk Manager and Aggressive Trader which are subsets of Instant Funding,  and the temporarily unavailable Freestyle Trading.
The5%ers $100,000 Bootcamp
The premise is quite easy: on the cheap £85 euro entry cost, the trader is given a demo account and placed on a 3-challenge set to prove their trading skills. This is the company's remedy to the potential financial risk that traders put themselves in expending hundreds of dollars on challenges at other firms but not eventually get funded if they fail.
You'll have 12 months to complete the 3 stages in the span of which you will work with various markets which helps you build and adapt your trading styles within the process.
You will pay the remaining £250 for a live funded account once you have completed all three challenges in this package, but by that time, you will be absolutely confident that the funds will be granted to you. What damage control! Even if the trader loses the challenge, the £50 entry fee will be the only loss! This supports and extols the firm's ethics and their novel trader-focused proprietary trading methodology.
The challenge's phases are summarized here:
The 5ers Instant Funding Package
The Risk Manager Program and The Aggressive Trader Program are the two programs that make up the Instant Funding Package, and both live up to their names.
The Risk Manager Program, designed for extremely cautious traders, with a leverage ratio of 1:10 and profit targets of 6/7 percent on level 1 and 10 percent on level 2. Another advantage that not many other companies provide is that it is a laid-back program with no time constraints. With a significantly quicker growth rate included in this package, your cash will be doubled by the business more regularly and you can withdraw a percentage of the profits as you progress.
In contrast, the thrilling Aggressive Trader Program is designed for traders who are eager to take on more risk in the markets and aim for larger returns with a 12 percent level 1 growth target and a 25 percent level 2 growth target. Amazingly, this package has no fixed stop losses, which is a unique policy in the prop business sector.
READ: List of other prop firms that offers instant funding
 For further details, check the picture below: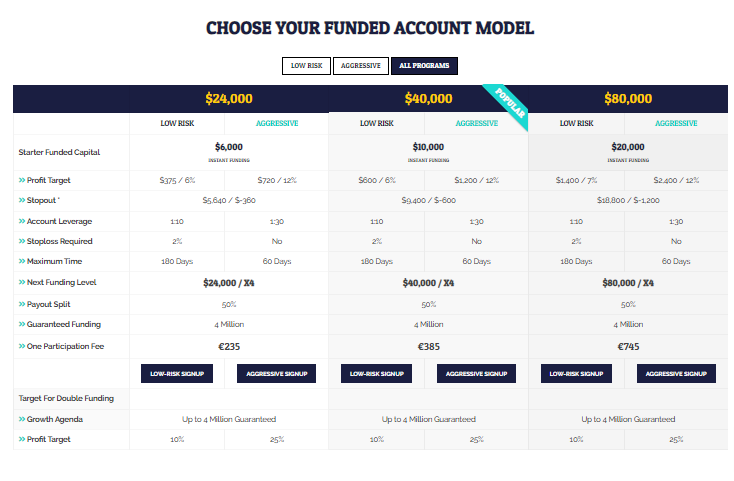 What Are The5ers Trading Rules?
Below are a few of their trading rules directly from their website and in their own words:
It is prohibited to perform under the fund's platform any trading method which uses exploitation of price discrepancies within different markets of similar or identical assets, also known as Arbitrage trading.
It is prohibited to perform High-frequency trading strategies in which the majority of the trades duration span is measured by a few seconds or less.
It is prohibited to involve any other technology which interferes with the platform's networking.
It is prohibited to involve Expert Advisors which scalp during the rollover-night, using market or pending orders.
For trading indices–, carrying overnight positions is allowed. Carrying over the weekend is not allowed and involves high swap costs.
READ: 10 Things to Look for Before Choosing a Prop Firm
Is The5ers A Scam Prop Firm?
In reality, The5ers operate with complete openness, in contrast to the majority of brokers and prop businesses in this market, and you can read all about their experience building the company on their website. Click here
What's The5ers Profit Split?
The5ers offer their traders a 50% profits split but with a scaling opportunity to increase their profit share up to the optimal 100%.
READ: Prop Firms with High Payout
The5ers Proof Of Payment (Withdrawal Proof)
It's really that easy to seek payment—just click the button on the trader dashboard! Below is a withdrawal proof: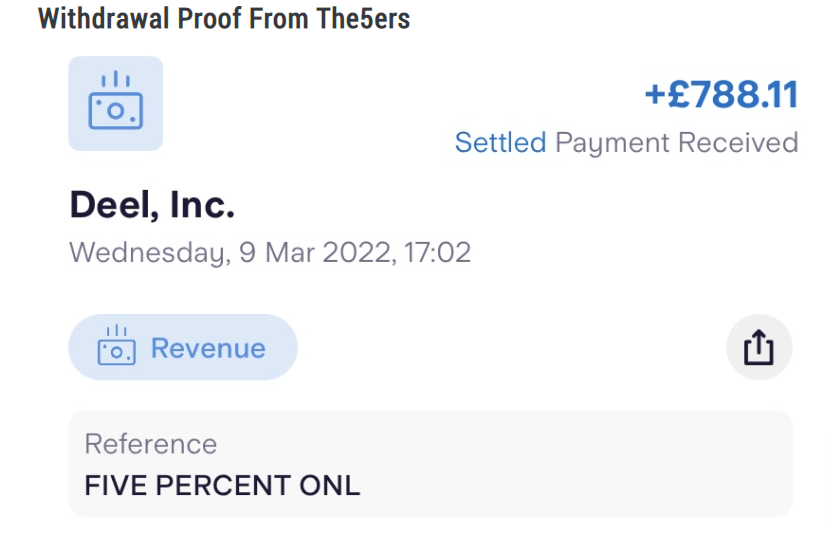 Trading Technology
They utilize what trading platform, you enquire?
The MetaTrader 5 Platform (MT5), created by MetaQuotes, is used by The5ers which is arguably the most cutting-edge platform for forex brokers and traders globally is MT5. When compared to the venerable Metatrader 4, Metatrader 5 offers a number of advantages: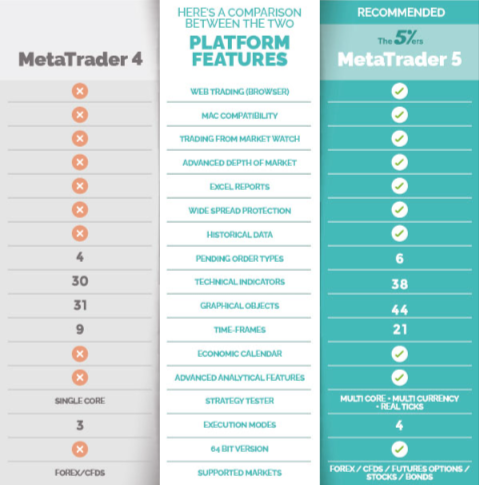 Education and Support
The firm offers a list of possibilities for the topics that their traders may like to be educated on in order to effectively educate their traders. Simply select the "Trading Resources" tab on their website to get started. The following is a list of the subjects they instruct their traders on: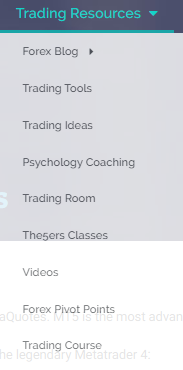 They also have a blog with more than 200 high-quality articles packed with educational resources, a live trading room that operates four times per week, the ability to have an online call with one of the firm's analysts, The5ers also work with Dr. Gary Dalton, the author of the well-known book, Trade Mindfully.
These are the primary areas of education and support that the company offers, which is again far more than what many other funding choices in the sector are providing.
The5ers Scaling Plan
The5ers provide a fantastic, doable scaling strategy. Every level has a realistic milestone target that varies in accordance with the start-up capital. As each milestone is reached, your initial investment is doubled. Easy-peasy!
Therefore, whichever package you're on, you can still increase your capital to the maximum level of $4,000,000. This muddles the distinction between the subscribers to high and low-priced accounts.
Below is a pictorial illustration of their scaling program:
The5ers FAQS
Below are the frequently asked questions on the5ers website and their answers:
Which trading platform do we use?
We use the MetaTrader 5 Platform (MT5), designed by MetaQuotes. MT5 is the most advanced platform for forex brokers and traders worldwide.
Metatrader5 Offers many advantages when comparing to the legendary Metatrader 4.
MT4 is an older platform and doesn't align with the standards we are willing to provide to our traders.
It was a natural decision to provide the MT5 platform because our goal is to ensure a smooth development and trading experience by offering traders the most familiar trading platform.
Do we offer a trading platform for mobile devices?
Yes. The MetaTrader 5 app is free and can be downloaded on the Google Play and Apple stores. Versions are available for HD apps on tablets.
Can I hold positions overnight, over the weekend, and news?
YES, we allow holding positions overnight and over the weekend as well on FX and metals (Indices are not allowed). However, it is the trader's responsibility to mind the implications of rollover swap conditions, volatility, liquidity and spreads conditions.
How do traders request profit payouts?
We abide by the highest code of ethics concerning traders' payments. From level 2, every funded trader can withdraw their profit-share on a bi-weekly basis, with a minimum of $150 to be paid. Just use the "Profit Payout" button on your trader's dashboard.
Is there a minimum trading days or minimum positions requirement
There are no minimum trades or trading days requirements for completing Level 1.
Complete Level 1 immediately when reaching the profit target. No need to wait anymore to grow your account faster
Whatever other beliefs a prospective trader may have, they want them to be supported by sincere endorsements from those who have navigated similar waters and succeeded. The best location to get objective reviews is on a website or forum by a third party because these reviews are generally much more difficult to manipulate. This is what the traders are saying on the renowned impartial Trust Pilot website:
Read: The5ers Review – An Unbiased Evaluation of the Prop Firm

Below are the contact details of 5ers in case you intend to get in touch with them:
Office Hours:
Sunday – Thursday
07:00 – 17:00 GMT
Fridays
07:00 – 12:00 GMT
Telephone:

+1 (929) 955 5595
+44 (20) 8068 0793
Open now
Email:
help@the5ers.com
Office:
Headquarters
14 Haroshet st, Raanana, Israel
UK Office
Enstar House, 168, Praed Street, London, United Kingdom, W2 1RH
For more Prop Firm profile, click here>>> Prop Firm Profile