The Five Percenters (also known as The5ers) is the largest funding prop trading company that offers low-cost packages of up to $4 million in trading capital.
Do you presently trade forex or do you intend to trade but are unsure if the 5%ers is a firm to go for? While you may feel alone, you are not. I'm willing to walk you through it. On this page, you will find all the up-to-date information you need about to Know About the5ers prop firm, including outlined background information on the company, their reviews, trading technology, payouts plan, profit split, subscription, authenticity, and other frequently asked questions.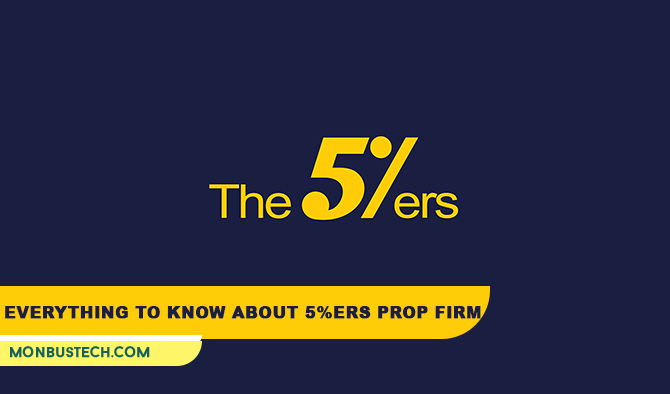 About The5ers Prop Firm.
Who Are They and What Do They Do?
If you are already familiar with prop trading and considering investing more money in your forex trading endeavors, this post about The5ers Trading Firm may be just what you need. Likewise, if you are a prospective trader diligently looking for a beneficial firm to partner with, this post has you covered. Let's begin right away!
The-Five-Percenters (also known as The5ers) is a funded trading company and growth program that offers incredible and unusual career enhancement programs for Forex traders all over the world. This comprises a hyper-growth strategy to increase capital levels and make money through low-risk trading, low participation costs, and simple programs. This initiative is effectively supported by their offer of up to $4 million in trading capital, making them the largest funder in the sector.
Gil Ben Hur and Snir Achiel, two experienced forex traders who founded the business in Israel in 2016, have merged their difficulties and experiences into their ambition to develop an open career-building platform for interested forex traders globally. Independent forex traders who are driven and eager to be on the front foot are especially welcome in the company. If that describes you, you have come to the perfect site for accurate information. So, shall we go on?
How To Get Funded By The5%ers
5%ers offers a no evaluation (instant funding) account and at the same time, has evaluation packages popularly referred to as Bootcamp. To get a funded account with the five percenters, you will need to go through any of these entry packages which are explained below.
The5ers Bootcamp Challenge Packages (Account Sizes).
Now that you've had a taste of who and what The5ers are, let's move on to the packages that upcoming traders can choose from. Here they are:
The5ers provides a number of packages for its investors, like the majority of Prop businesses. They currently offer four funding options: The $100k Bootcamp, The Risk Manager and Aggressive Trader which are subsets of Instant Funding,  and the temporarily unavailable Freestyle Trading.
The5%ers $100,000 Bootcamp
The $100,000 Bootcamp challenge has a cheap entrance fee and is made to help traders hone their consistency, discipline, and expertise.
The premise is quite easy: on the cheap 50 euro entry cost, the trader is given a demo account and placed on a 3-challenge set to prove their trading skills. This is the company's remedy to the potential financial risk that traders put themselves in expending hundreds of dollars on challenges at other firms but not eventually get funded if they fail.
You'll have 12 months to complete the 3 stages in the span of which you will work with various markets which helps you build and adapt your trading styles within the process.
You will pay the remaining £250 for a live funded account once you have completed all three challenges in this package, but by that time, you will be absolutely confident that the funds will be granted to you. Easy! The5ers are undoubtedly the most tempting to traders for this reason, among others. What damage control—even if the trader loses the challenge, the £50 entry fee will be the only loss! This supports and extols the firm's ethics and their novel trader-focused proprietary trading methodology.
The challenge's phases are summarized here:
The 5ers Instant Funding Package
The Risk Manager Program and The Aggressive Trader Program are the two programs that make up the Instant Funding Package, and both live up to their names.
The Risk Manager Program, designed for extremely cautious traders, with a leverage ratio of 1:10 and profit targets of 6/7 percent on level 1 and 10 percent on level 2. Another advantage that not many other companies provide is that it is a laid-back program with no time constraints. With a significantly quicker growth rate included in this package, your cash will be doubled by the business more regularly and you can withdraw a percentage of the profits as you progress.
In contrast, the thrilling Aggressive Trader Program is designed for traders who are eager to take on more risk in the markets and aim for larger returns with a 12 percent level 1 growth target and a 25 percent level 2 growth target. Amazingly, this package has no fixed stop losses, which is a unique policy in the prop business sector.
Read: List of prop firm that offers instant funding
 For further details, check the picture below: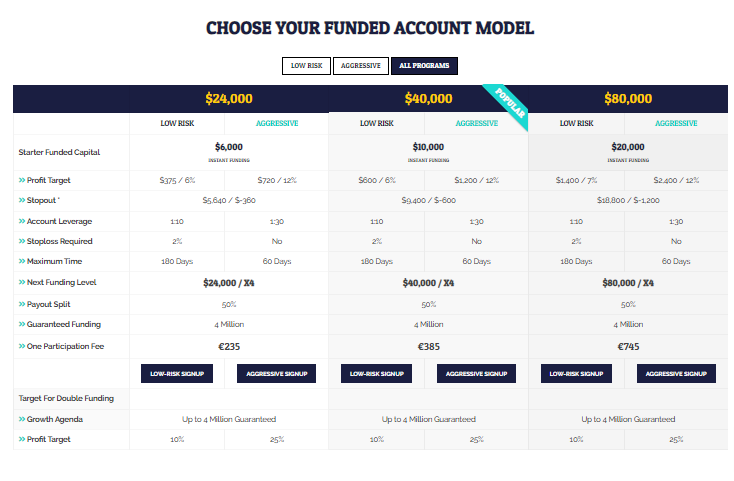 What Are The5ers Trading Rules?
The5ers don't have any stringent fixed time expiration requirements for any of their programs' levels of trading. Although there is a maximum time frame in which the trader must achieve all trading objectives and goals for level 1 of the program, there is still some leeway for traders who are ending the official time with a positive outcome but need the extra push to cross the target line.
Here you have it in their own words:
"A trader on a Risk Management Program, who had not reached all the trading goals of level one, but have 2.5% net profit or greater, may request for a 30 days extension.  Extension will be given upon email or chat request only, and maximum twice. For the aggressive programs we handle with a slightly different approach.
Instead of giving time extension, we give a free re-start for ending with positive P&L and not making the profit target. With any program you are, the time expiration is not written in stone rule. If you are good, and need the extra agility, you can be assure to get it from us."
Is The5ers A Scam Prop Firm?
The5ers' allow their traders unparalleled freehand! Viola! There aren't much firms around doing same way! Potential traders are adversely affected by this since it causes them to distrust their credibility and wonder if The5ers is a scam prop company.
The5ers is not, though. Do not worry. In reality, The5ers operate with complete openness, in contrast to the majority of brokers and prop businesses in this market, and you can read all about their experience building the company on their website. Click here
What's The5ers Profit Split?
To their credit, The5ers follow the greatest standards of ethics when it comes to paying traders, operating on a 50/50 profit share with their traders. Every funded trader who has reached level 2 is eligible to withdraw their profit-share on a biweekly basis for a minimum payment of $150. Simply select "Profit Payout" from the trader dashboard.
The5ers Proof Of Payment (Withdrawal Proof)
The5ers is the only prop company that offers rewards at any time! It's quite simple to complete, and you are solely responsible for scheduling. This is undoubtedly more convenient for traders than having a set withdrawal date each month.
It's really that easy to seek payment—just click the button on the trader dashboard! Below is a withdrawal proof: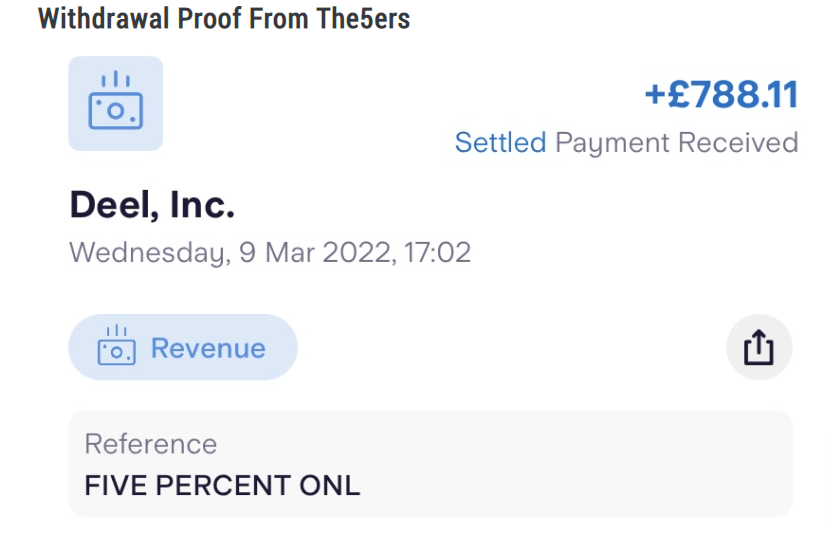 They utilize what trading platform? You enquire?
The MetaTrader 5 Platform (MT5), created by MetaQuotes, is used by The5ers. The most cutting-edge platform for forex brokers and traders globally is MT5. When compared to the venerable Metatrader 4, Metatrader 5 offers a number of advantages: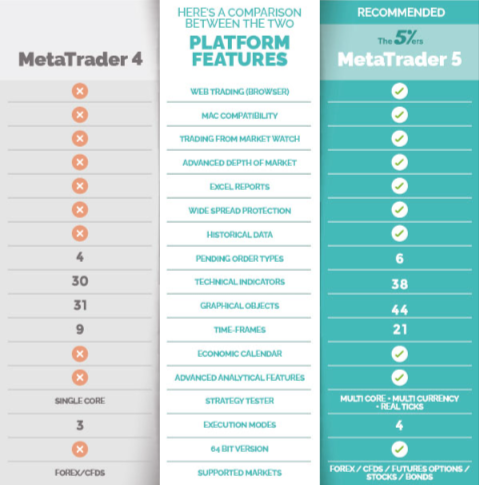 The organization offers a list of possibilities for the topics that their traders may like to be educated on in order to effectively educate their traders. Simply select the "Trading Resources" button on their website to get started. The following is a list of the subjects they instruct their traders on: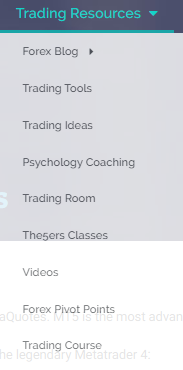 They also have a blog with more than 200 high-quality articles packed with educational resources, a live trading room that operates four times per week, the ability to have an online call with one of the firm's analysts, and they work with Dr. Gary Dalton, the author of the well-known book Trade Mindfully.
These are the primary areas of education and support that the company offers, which is again far more than what many other funding choices in the sector are providing. What else? There always seems to be more material, free resources, and value for merchants being added.
The5ers Scaling Plan
The5ers provide a fantastic, doable scaling strategy. Every level has a realistic milestone target that varies in accordance with the start-up money, and as each milestone is reached, your initial investment is doubled. Easy-peasy! Therefore, whichever package you're on, you can still increase your capital to the maximum level of $4,000,000. This muddles the distinction between subscribers to high- and low-priced packages that other businesses frequently make.
Reviews of The5ers: What are Traders Saying?
Whatever other beliefs a prospective trader may have, they want them to be supported by sincere endorsements from those who have navigated similar waters and succeeded. The best location to get objective reviews is on a website or forum by a third party because these reviews are generally much more difficult to manipulate. This is what the traders are saying on the renowned impartial Trust Pilot website:

The5ers FAQS
On their website, The5ers include a FAQ option under the "About" tab. The commonly asked questions are divided into the following categories: Our Trading Environment, The 5 Percenters' Fund Information, Instant Funding Programs, $100K Bootcamp Program, and Freestyle Program. You can click here to view some of them.
Below is an illustration of what you are likely to find: