Incorporated in 2021 with a head office in London, Fund Your Fx takes the prop market by storm with their instant funding packages as instant as being funded in 24 hours with convenience-motivated trading rules, a scaling opportunity of up to $1,000,000 and an even 50-50 profit split .
This Page Is Created to Give You All the Information You Need to Know About Fund Your Fx – Fund Your Fx Trader Programs, Reviews, Trading Technology, Verification, Payouts Proofs, Profit Split, Subscription, Authenticity, and Other Frequently Asked Questions About FundYourFx Prop Firm
Who They Are and What They Do at Fund Your Fx Prop Firm
Fund Your Fx is one of the new players in the Forex Market, and like other new players introduces an improved chance for traders to trade for them and make their profits in return.
Unlike many of the top prop firms that require intending traders to run a demo account for what could take as long as 3 months without expecting any profits in return, Fund Your Fx lives right up to the tin by offering traders and the rare opportunity of trading a live account almost immediately and a profit entitlement at the end of the very first profitable trading with zero hassles and advantageous trading conditions with a scaling opportunity of reaching all the way to a maximal $1,000,000 trading capital.
In their own words, "Do you have the right strategy, discipline, and mindset to be our next 7 figure trader?"
Co-asking, do you? If yes, then, read on, while I show you how.
How do I get Funded by Fund Your Fx?
Just before getting way ahead of ourselves, lets examine how to get started with Fund Your Fx. Shall we?
Getting funded by Fund Your Fx is quite easy and broken down into 4 simple and quick steps:
Step 1:  Click the Apply tab on their website to begin and  fill in all the details of the required form
Step 2: Attend the interview and display your trading expertise by providing adequate responses to their questions to prove your trading skill, experience and knowledge
Step 3: Under 24 hours you will receive a mail containing the result of your interview and the decision of the firm about hiring you or not. If you demonstrated enough knowledge and skill to trade for them during the interview, the mail will contain the contract and official agreements with all the necessary documents to get underway.
Step 4: The login parameters into a created funded account will be sent, and that settles it. You can begin trading in 24 hours! It hardly gets any faster and easier than that.

Apart from an instant funding opportunity, Fund Your Fx does intending traders one better by providing them with an option of choosing between their three packages which all come at an unbelievably cheap rate: The Starter; The Standard, and the Professional Packages.
The Starter package with a $6,000 trading capital costs £147
The Standard package with a $15,000 trading capital costs £297
The Professional package with a $30,000 trading capital costs £577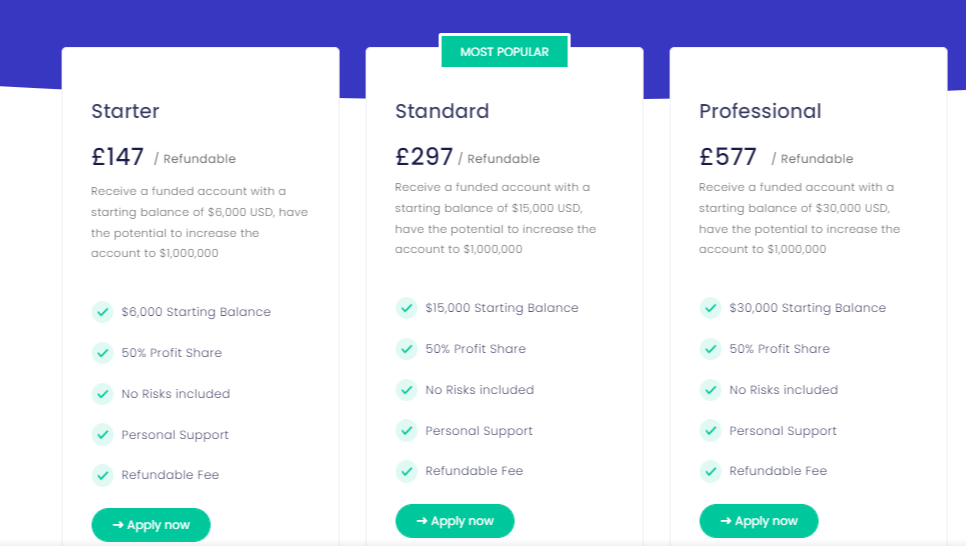 What Are Fund Your Fx Trading Rules?
With the very option of immediate funding with zero requirements for a demo account, one would normally expect the company to have stringent and difficult trading rules. Fortunately, that is not the case!
Fund Your Fx offers an easy platform for all traders to thrive and as such designed just 3 rules that allow traders to trade with ease and maximum flexibility:
The account balance determines the maximum trading size, which is 0.1 Lot for every 2,000 USD. Traders are expected to put this into full consideration as they must not surpass the maximum position size.
A maximum drawdown of 10% on the initial trading capital is to be maintained across all account sizes
A Stop Loss is necessary for every trade and even though traders can commence trading without setting the Stop Loss, the Stop Loss must be put in place within the first 30 minutes of trading.
It should be noted, however, that if any of those rules are violated, the trader's account will be closed down without any compensation whatsoever.
Nothing guarantees the genuineness of a firm than what her traders have to say. While that would be examined in the next section, the fact that FundYourFx partners with some of the household names in the business industry make a bold claim on their genuineness. MetaTrader, Fx Blu, Investing.com and Trading View

Reviews of Fund Your Fx: What are Traders Saying?
For a more objective view at the genuineness of Fund Your Fx and the chances of cashing out by trading for them, we take a close look at what other traders are saying, nowhere else than on Trust Pilot, one of the widely used review grounds.
FundYourFX-Reviews
What is Fund Your Fx Profit Split?
Fund Your Fx offers an even 50-50 % profit split with traders on all profitable trading across all account sizes. That is in contrast to what other prop firms offer. All a trader has to do is hit the 10% profit target as that is the only requirement for a cashing out.
Fund Your Fx FAQS
With an intention to guide you into further enlightenment about the Fund Your Fx, some frequently asked questions have been carefully selected from their website. They are outlined below:
Can I trade news?
Yes, News Trading is allowed.
What is the maximum lot size with Fund Your Fx?
For Forex, a maximum lot size of 0.1 Lot per 2,000 USD is based on the account balance. So if you have a $15,000 account, your maximum lot size will be 0.75 lots and it doesn't matter how many open positions you can have.
For other assets, the maximum lot size is 0.01 lot per 2,000 USD.
If you want to leave pending orders but already have open positions, be sure that the total of all open positions plus potential pending orders does not exceed the maximum position size.
What happens if I violate the rules?
Following the 'trading rules' and risk management are critical components of your success with us. If you violate one of the trading rules using open or limit orders at any time, your account will be terminated and you will not be entitled to the profit share. Any open trades will not be automatically liquidated, but your account will become ineligible for trading. To continue receiving funding, your funded trading account must be reset. The reset costs £197, and it will be reset to its initial sum regardless of your account balance at the time of the breach. If you violate any of the regulations, please notify our team immediately and your funded account will be reset.
You can read about our trading rules here
Fund Your Fx – Which instruments can I trade and what strategies am I allowed to use?
We give our traders more freedom and they are allowed to trade using any trading strategy, trading style, any time of the day. As long as your trade is legal and adheres to market conditions. We allow you to:
Use your own EA
Trade the news
Hedge positions
Leave trades overnight
Leave trades on the weekend
Is there a minimum trading days for Fund Your Fx?
No, there are no minimum trading days.
How to reset the account?
If you violate any Rules or Drawdown Limits, you must reset your trading account to be eligible for funding again.
The reset fee is £197, and regardless of your account amount at the time of the breach, your account will be reset to its starting balance.
We expect our traders to be honest. When a trader meets a profit target, our team will review all trading activity before funding the accounts. Your account will be ineligible for funding if we discover backdated Rule violations.
So, if you violate any rules, you should immediately tell our team and have your funded account reset.
It will spare you a lot of trouble if you meet your profit targets only to be told that your practical assessment account needs to be reset.
You can reset your account by following this link: https://checkout.fundyourfx.com/reset
After you processed the fees, the account will be reset within the new few hours.
Fund Your Fx runs all their trades on the widely used MetaTrader 4  platform
Fund Your Fx provides adequate education for their traders through several blog posts  that contains detailed information on diverse trading subjects. You can click the Trading Guide tab on their website or click here
Requesting payout with Fund Your Fx comes easy for the trader. Once the 10% profit target is met, the trader is expected to simply complete a  form at www.fundyourfx.com/payout. Once that is done, a proper account review is carried out from their end, and the payout is processes in 1-2 business days.
Additionally, the company does not impose any commissions on withdrawals which means traders are entitled to the whole of their profit share. The actual cash-out is processed through the normal bank wire transfer or the popular PayPal, whichever the trader prefers.
The Fund Your Fx Scaling Plan is structured in a trader-friendly way and allows traders to increase their trading account with ease. Since a trader will kick off from the start with a funded account, all there is to do is meet the stipulated 10% profit target. Once that is achieved, their trading capital will be increased by 50% in just two days with no needless delay in contrast to some prop firms that take almost forever to do the account upgrade.
You can contact them at their office address at 128 City Rd, London, EC1V 2NX or send them an email or via their phone line, +44 330 551 9966
For further information, you can visit their website here