Social Trader Tools is a trade copying tool and one of the top leading trade copier tools in the forex market right now. Traders can now manage an unlimited number of MT4/MT5 accounts from any MT4/MT5 broker via Social Trader tool.
Should you add this to your tool box or it is just another scam scheme? That is a major question that this post seeks to answer.
At the end of this post, you will get to know everything about Social Trader Tool, features, pricing and what other traders are saying about this forex trade copier.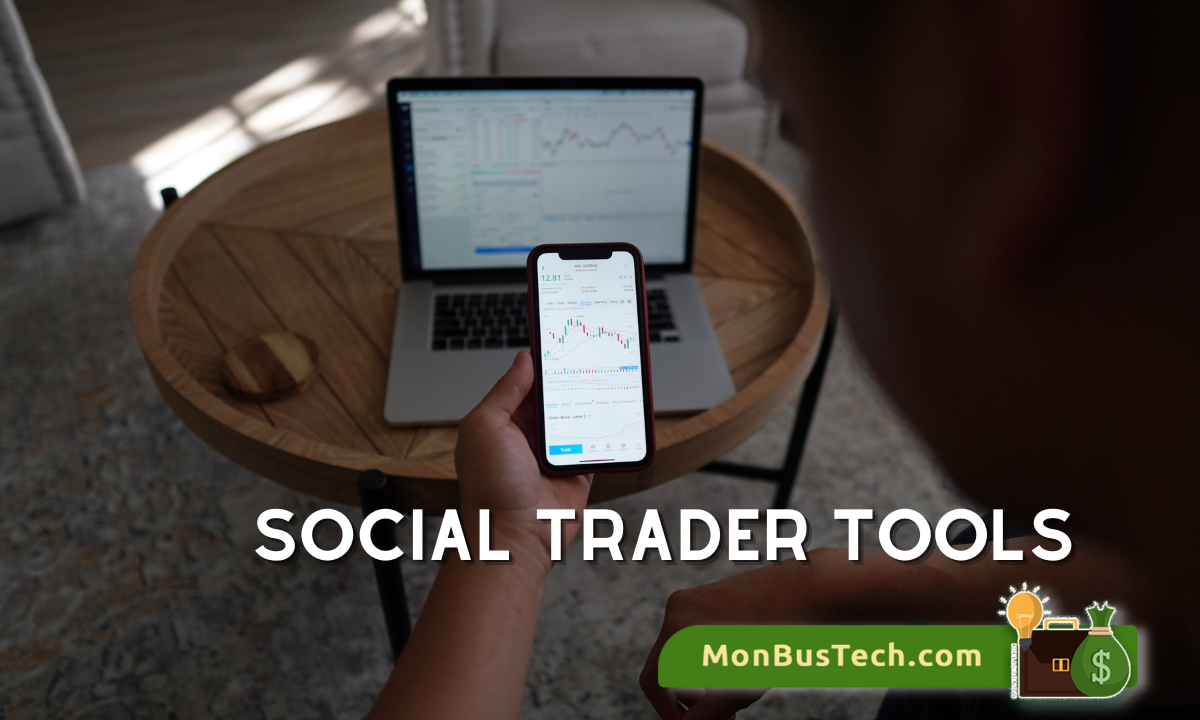 For anyone who utilizes MT4, Social Trader Tools is a web-based tool that enables you duplicate trades to any number of trading accounts and do a lot more with 24/7 cloud hosting without the inconvenience of a VPS. Therefore, Social Trader Tools enable you to manage an infinite number of MT4 accounts from any MT4 broker.
No specialized software, difficult setups, or VPS servers needed.
The Social Trader Tool copier has four core features, which stands them out among other Trade copiers, They are;
Account manager
Trade Copier
Signal Provider
White-label
READ: Duplikium Tradecopier
Social Trader Account Manager/Protection
Social Trader Tools can keep an eye on the equity levels in your accounts in case of any mishaps. Social Trader Tools thus makes it simple to close off trades completely or to receive alerts.
Your accounts will be hosted securely in the cloud 24/7 by just uploading your login information to the platform. Once you've added accounts, there are a variety of ways you can use the site.
Key features of Social Trader Account manager
The Dashboard; The Dashboard gives you a real time picture of your accounts all in one place, avoiding the need to cycle between different terminals to manage your portfolio.
Real time Email alert; Trading a 24 hour market necessitates that you keep track of your exposure and activities. By checking a box, Social Trader Tools allows you to set up real-time email alerts for any trading activity.
One of the main function of the Social Trader tool is to copy trades, and it rightly does so with one of the fastest average replication speed on the market at 50 ms.
Key features of Social Trader (Trade Copier)
Risk setting; Your chosen risk setting determines the lot size used on the copied account. Social Trader assist with four distinct risk kinds;
Risk Multiplier by Balance – Proportional lot size based the balance of both accounts.
Risk Multiplier by Equity – Proportional lot size based the equity of both accounts.
Lot Multiplier – A multiple of the lead accounts lot size.
Fixed Lot – A fixed lot size regardless of the lead accounts lot size
2. Reverse Copy; You can set up a trade copier in reverse mode, which means that the opposite happens for each trade is what it places on your account, such as sell in the case of purchase or purchase in the case of sales.
READ: Auto Fx Pro Trade Copier
Through a signal page, you can utilize Social Trader Tools to offer your own trading account as a signal to other users. You are never in competition with other signals on the platform because signal pages are publicly available urls with a long random code, making it impossible for anyone to predict. They can be used to merely display your trading performance, or you can specify the conditions under which users can follow your signals for a fee or for free.
Key features for Social Trader tool Signal Provider
Analytics; A thorough breakdown of your account's trading performance is available on the signal pages. metrics are present;
Growth, Profit and balance history
Win/loss percentage
Shorts/longs won
Best/worst trades
Daily/monthly/yearly averages
Billing Models; You can specify the conditions under which users can follow your signal on each signal page. It is possible to set up a separate billing model for each term. They accept three alternative payment methods;
Free access – Pretty simple, no cost involved to follow the signal.
Recurring fee – A recurring fee eg Monthly, which requires a payment on a Monthly basis to
maintain access to the signal.
Performance fee – A monthly fee based on a percentage of profit achieved following the signal, on a high watermark basis.
Social Trader White label
Are you running a trading membership group or offer signal service? With social Trader tool, you can whitelabel their platform and provide signals to your own audience if you are trying to launch a trading business or already have an established brand. You can set up whitelabels with a signal leader board to create your own own signal site.
You can add your brand's logo and select from a variety of style alternatives. The brokers that can be utilized on your Whitelabel can also be limited, and you can even include a broker affiliate link to direct users to the broker of your choice.
Features of Social Trader White label
Broker Restricted; Even though Social Trader Tools are compatible with any MT4/MT5 broker, you can limit which broker servers your white label clients can use. This is helpful for brokers and IBs to boost profits.
Broker or IB links; Adding your affiliate link to your whitelabel will strategically display Open Trading Account buttons throughout the whitelabel if you are a broker IB or affiliate.
Other features include:Real time email alerts for any trading activity.
Multiple users
Web based interface
No hosting
Push events
No limits
Peace of mind
READ: Forex Backtesting Software – Everything You Need to Know
The social Trader Tool prices differs according to account type. Social Trader tool has four packages and pricing plan. which are;
STANDARD
$20 –  Up to 2 accounts
POPULARPLUS
$60 – Up to 5 accounts
PRO
$120 – Up to 10 accounts
PREMIUM
$220 – Up to 20 accounts
All major credit cards and PayPal are accepted for payment of the plans, which are based on a monthly subscription.
If your needs are more extensive, Social Trader also provide rolling packages with no upper limit. Multiples of 20 can be used to purchase these plans. To serve as examples, consider the following:
ROLLING 40
$400 – Up to 40 accounts
ROLLING 60
$600 – Up to 60 accounts
ROLLING 80
$800 – Up to 80 accounts
ROLLING 100
$1000 – Up to 100 accounts
Currently, the Social Trader Tool only work with the MT4 and MT5 platforms.
Having said all these, a look at what other traders have to say about Social Trader Tool is very important. However, from the look of reviews on trustpilot platform 4 reviews coupled with poor ratings is quite unimpressive. Take a look below;
Oluwasey Adeniran


15 hours ago
Awful Awful
Awful Awful, Lost a lot of money with these incompetent money grabbers.Go for the traditional copiers that uses VPN.
Customer service is zero as well.
I was being generous by giving One star. They deserve a negative star
Fransisco Samara


Aug 10, 2022
Great Function, Poor Customer Service
TL;DR: the tool itself is great (first of its kind?). Available plans could be improved. But customer service is a joke. We need competitors for this market so they can improve on everything.
Great tool that I use to copy my trade across 3 accounts. Although I am trading on the higher time frames that does not require me being too precise, using this tool saves me a lot of time. Execution is fast; you can even use this for scalping as long as your entry and exit are not within milliseconds.
The plan could be definitely improved.
The lowest plan is for copying between 2 accounts ($20 per month), and then they go straight to 5 accounts ($60 per month). The gap is too wide. I wish there was a 3-account plan.
The customer service, however, is so bad.
Communicated with them several times already through email, and they answered you in short, cold sentences as if we were in a WhatsApp/iMessage conversation.
The last time I asked them about technical solution, I asked them so nicely and the answer was only this:
Po
May 17, 2022


Very unreliable system, can definitely make you loose money and they wont be responsible.
In the middle of copying trades the system suddenly lost connection to my account missing a few trades that has been already placed. Customer service simply said they are not responsible for any losses tho they clearly admitted it was their system that was facing issues. It is also very very difficult to even connect a simple account to the system. Definitely do not recommend, money just thrown into trash tbh.
patrick nalletamby


Updated Feb 21, 2022
A very clever addition to any day…
A very clever addition to any day traders arsenal. Allows an individual to synchronously trade numerous accounts. Ideal for small time fund management (trading other friends/family money) or selling your day trading skills and service to third parties. Also great for prop trading – linking various prop trading accounts to a master account. Highly recommended
All of the juicy details about Social Trader Tools are defaulted by the not so good reviews provided by traders who have traded first-hand with them. You may need to consider other trade copiers to make an objective decision.