How To Backtest With MT4 – An Instruction Manual
It is one thing to know how valuable and important something like backtesting is, but understanding how to approach it is something else entirely. This article provides thorough instructions on how to backtest using MT4 and what to anticipate.
It's more than simply a blog article; it's actually the guide you've been looking for.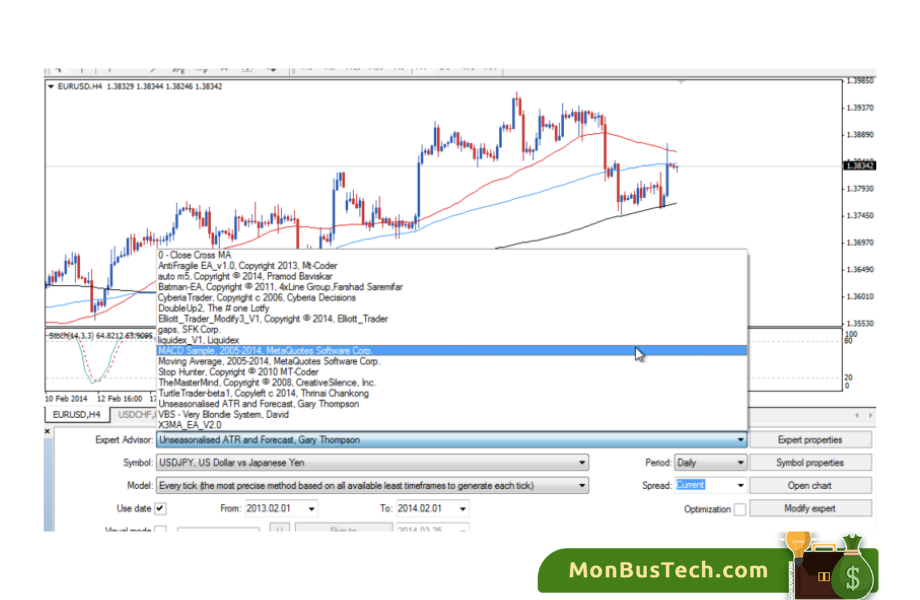 You most likely learnt about backtesting in your quest for more knowledge in being a profitable trader, and like you most likely rightly heard, backtesting is a systematic way of trying, testing and evaluating your trading strategy against market records. In simpler words, backtesting simply uses the records of past market activities (historical records) to answer your question, "Will this trading strategy of mine work?"
Want to read my detailed post about backtesting, what it is, the advantages, disadvantages, how often you should do it and a range of other questions often asked about backtesting? Then you really have to check out this post:
READ: EVERYTHING YOU NEED TO KNOW ABOUT BACKTESTING
MetaTrader 4 – What About It?
MetaTrader 4 also known as MT4 is one of the most renowned and widely used broker. Developed in 2005 by MetaQuotes Software for the exclusive purpose of forex and future trading, user traders can analyze market, perform advanced trading options including Backtesting, Copy Trading and a range of other operations.
The decade surpassing reliability of MT4 has made it a go-to choice for traders. And now, not only is it widely used, but also highly recommended with hundreds of thousands of traders.
You definitely have made a smart choice in using MT4 as your trading platform.
Prerequisites For Backtesting On MetaTrader4
There are a number of things that must have been in place for you to have a successful backtesting on MT4. Let us examine them by breaking them down into steps:
STEP 1: Turn on the "Strategy Tester"
The "Strategy Tester" functionality in the terminal needs to be turned on first.
How? Select the Strategy Tester option from the View menu in the top-right corner of the screen. Activate it and you're only one step away.
STEP 2: Upload your strategy
Since MetaTrader4 may not have the exact strategy it is important that you upload your self-designed strategy or the one you downloaded on the internet on MT 4. To do this, copy or move your strategy document and paste in the MetaTrader data folder in your PC's file. If you have already launched MT4 before doing this, you may need to relaunch the app before it displays your newly uploaded file.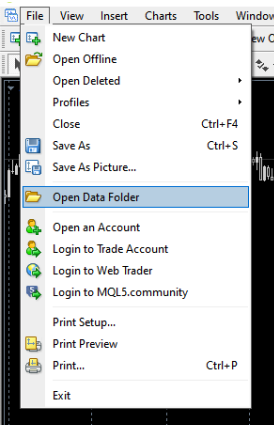 With that you are all ready to begin to begin your backtesting! So, let's get right into it
How to backtest on MetaTrader 4?
Return to the terminal and select Strategy Tester now that you have successfully uploaded the strategy you wish to test. Unfortunately, a phone may not support this feature.
Once clicked, the Strategy Tester window will pop up at the bottom of your screen, containing certain parameters you must fill in the boxes that will be displayed. It looks like this:

Take note of the following:
In the first box, select the strategy you want to backtest from the dropdown list.
Symbol: Select the currency pairs included in the strategy you intend to backtest.
Model: Three models are made available: Every tick, Control points, or Open prices. It is advisable to stick to the "Every tick" default setting, as it is made default because it gives the most accurate reading of the timeframes.
Use Date: Check this box as a way of commanding  the system to consider the date range you are to provide in the successive boxes.
Visual mode: There's no need checking this box yet. The boxes right next to it will also not be available for any modifications just yet.
Period: Select the time-frame chart that you want to test from the dropdown list.
Spread: It is advisable to leave this as "Current".
Expert properties button: Endeavour to click on this button and change the settings as this will direct you to a window where you can enter more specific details about your preferred trading terms including the initial deposit, currency of the your deposit, the type of your position, etc.
Symbol properties button: You won't have to use this button in this just yet.
Open chart: Only click this button after a test has been completed.
Modify expert: This is only used to modify the source code of the indicator.
Optimization: Uncheck this box for now.
Once all that's been said has been done, you can click the Start button to begin the test. Easy!
READ ALSO: 10 THINGS TO CONSIDER IN CHOOSING A PROP FIRM
How To Obtain The Test Result
After clicking the start button, MT4 runs the data in the background after which the results is displayed in the "Result" tab of the Strategy Tester Window. This could take a few seconds or minutes or even more depending on the timeframe you selected, the computing power of your desktop device and the strength of your internet connection.
The results includes a wide range of information including the number of positions with positive and negative outcomes,  the net payout and the loss. These information reveal how good or bad the imputed strategy is. A trader can hence use the results as an instrument to make better decisions.
FAQs On How To Backtest on MetaTrader 4
Here are a few questions people frequently ask about how to backtest on MT4
Why do traders use backtesting MT4?
Backtesting is predominantly used in order to determine the effectiveness of a trading strategy. While traders cannot do that in real time, the ability to simulate certain positions on past economic data can help them achieve more or less the same effect.
So, if the backtesting results show that the current trading strategy would bring payouts in the past, this would give traders more incentive to use that same strategy in real time.
But if the results were negative, traders would be more discouraged from using that strategy in real time. Of course, these conclusions are still speculative as predicting current market conditions at 100% is pretty much impossible
READ: PROP FIRMS THAT OFFER INSTANT FUNDING 
Which elements can traders use to backtest on MetaTrader 4?
There are various elements that can be backtested on MT4. On stock, the software offers two elements – Expert Advisors and indicators – that are available for automatic backtesting.
While we provided information about the EA backtesting, this method also works for indicators pretty much the same way. After entering all the necessary prerequisites, the software will backtest the indicators automatically.
However, this doesn't mean that traders cannot test out their own strategies manually. They can certainly do that, but it will take more time and includes a lot more steps than the automatic backtesting.
What steps do I need to take before running the MT4 strategy tester?
Before jumping right into backtesting a trading strategy, you need to make sure you have taken several steps. First things first, you need to enable the Strategy Tester feature in MT4. You can do that by heading to the View menu and selecting the feature.
After that, you need to have appropriate historical data for your specific trading symbol. Usually, MetaTrader 4 doesn't offer full market data for every instrument, which means backtesting won't be as all-encompassing as it should be.
To avoid that, you may manually download your data to your platform. But it's not as complicated as it sounds: you can go to the Tools menu and select History Center. There, you need to choose your own element, double-click it, and once the appropriate data is visible, import it to the system. These two steps will give you the basic playground for backtesting your trading strategies.
For more forex explanations, you can read the following posts: