The Funded Trader (The Funding Kingdom) is a prop firm created with the aim of helping retail traders have access to funds. The model of the firm is drafted to correct the flaws of the existing prop firm and make funding exciting.
This Page Is Created to Give You All the Information You Need to Know About the Funded Trader – About the Funded Trader Programs, the Funded Trader Reviews, Trading Technology, Verification, Payouts Proofs, Profit Split, Subscription, Authenticity, and Other Frequently Asked Questions About the Funded Trader Prop Firm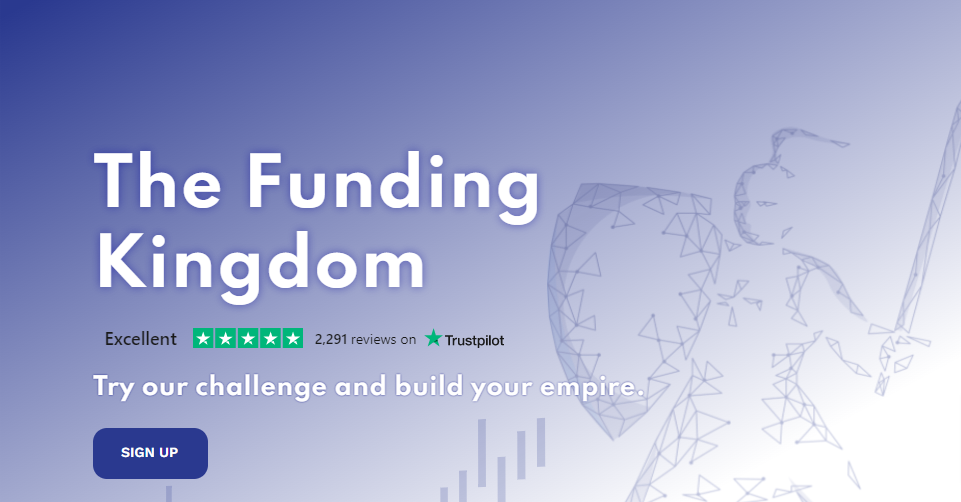 About The Funded Trader
Who They Are and What They Do?
One of the well-known brands in the forex prop business sector is The Funded Trader, which provides traders from all over the world with funding up to a whopping $1,500,000. The Forex League and VVS Academy, two very significant participants in the forex sector, developed The Funded Trader as a response to the several flaws found in a rigorous examination of trading on other prop firms. Therefore, The Funded Trader is created in a way that accommodates all traders and offers a solution to a number of the problems of the forex community.
The organization offers a substantial profit split of up to 90%, several challenges designed to train traders and reward them with funding, a wonderful sense of traders camaraderie and most crucially, excellent leverage. All of these have elevated The Funded Trader to a comparable scale as other leading firms in the prop company sector, making The Funded Trader a legitimate rival.
This could be the finest prop trading company for you!  Let's explore.
How To Get Funded By The Funded Trader Prop Firm
The Funded Trader offers funding through challenge.. unlike 5%ers which offer instant funding, The funded trader requires prospective traders to go through an evaluation phase before being funded. See all the available plans and packages below,
The Funded Trader Challenge Packages (Account Sizes).
With capital up to $1,500,000, a profit split of up to 90%, monthly dividends, a leaderboard, 1:200 leverage, a scaling plan, and weekend holding, the company meet almost every trader's needs. The Funded Trader is a firm that is focused on traders, to put it simply! It is easy to understand why the business has such a positive reputation because what more could you ask for? To this aim, the organization provides three trading challenges, each of which comes in a variety of ranges and account sizes. To ensure seriousness on the side of the traders, participation in any of the package challenges requires payment of a billing cost.
The profit target percentages, drawdown percentages, minimum trading days, leverage, and pricing are the primary variations between these challenge packages. It is vital to remember that each challenge has a billing price associated with it in order to guarantee that traders take them seriously. The packages and crucial information are listed below:
The Standard Challenge Packages
The Standard Packages include account sizes ranging from $50,000 to $400,000, which is much higher than the majority of startup balances at other companies. If the trader succeeds on the challenge and subsequently receives a suitable funding from The Funded Trader, a certain portion of the subscription price, which ranges from 315 to $1798 is repaid. If the trader fails the challenge or the verification process, his billing fees are not reimbursed.
Two phases make up this package:
Phase 1 features a 10 percent profit target, a total drawdown cap of 12 percent, and a daily drawdown cap of 6 percent. The required completion time for this is 35 days.
With a maximum total drawdown of 12 percent and a daily drawdown cap of 6 percent, your phase 2 profit target is 5 percent. This step must be finished within 60 days if you want to get funding.
Below are the available account sizes and payment ranges in the Standard Packages Challenge:
The Rapid Challenge Packages
Essentially, the rapid challenge is exactly what it promises.  This is a quick approach for traders to fill their accounts and cash out. This is primarily due to the challenge's lack of a rigid number of trading days like it exists in the Standard package. This suggests a way for a trader's unfettered desire to manifest itself completely, which suggests that if you're determined and skilled, you can overcome the obstacle and receive funding sooner than the allotted 35 or 65 days.
There are 3 phases:
Phase 1 targets an 8 percent profit with a maximum total drawdown of 8 percent and a daily drawdown cap of 5 percent. Within 35 days, this can be finished, but the sooner the better!
A 5 percent profit target, an 8 percent maximum total drawdown, and a 5 percent daily drawdown cap are all part of phase 2. Although most traders aim to finish this phase in fewer days, you have up to 60 days to do so before you are financed.
Once financed, you have a maximum daily downside cap of 5% and a cumulative drawdown cap of 8% in phase 3, which is the Funded Trader Phase. The payment split begins at 80%, and there are no profit requirements to keep the investment in place. The Rapid Challenge's possible account sizes and payment ranges are listed below:
Royal Challenge
The Royal Challenge also has two phases, however differs from others in terms of the capital the trader uses to make trades and the overall drawdown %.
Phase 1 targets an 8 percent profit with a maximum total drawdown of 8 percent and a daily drawdown cap of 5 percent. Within 35 days, this can be finished, or even earlier.
In order to qualify for phase 2, you must not experience a 5 percent decline on your trading account within a 24-hour window beginning at 5 p.m. EST (calculated using your original balance). Every day at 4:57 p.m. EST, your daily maximum loss will be reset. This phase can take you up to 60 days to finish. The payment split begins at 80%, and there are no profit requirements to keep the investment in place. The Royal Challenge offers the following account sizes and payment ranges:
50K: $289 USD
100K: $489 USD
200K: $939 USD
Is The Funded Trader A Scam Prop Firm?
The very first thing that comes to a trader's mind after the exhilaration caused by potential packages and payouts clears is the legitimacy of the firm. With The Funded Trader, there is no cause for alarm. The Funded Trader is legit.
There are numerous testimonials that support The Funded Trader's veracity. One is that it was established by Angelo Ciaramello, a well-known participant in the forex market and a co-founder of the Forex League.
Another major argument for their already strong authenticity is the flurry of over 1,000 untainted reviews on Trust Pilot. You can check them below.
How Do I Get Funded By The Funded Trader?
Comparing The Funded Trader to many other companies in the sector, getting finance is actually feasible and might even be simpler. The following are the actions necessary to join their trading community:
Navigate to the pricing section on their home page by selecting a program and an account size you would like to participate in.
Review the rules of the program and visit their help center if you have any doubts regarding the rules of any of the programs.
If satisfied with the rules, click the blue "Buy" button at the bottom of your desired program's banner, enter your billing details, and complete your payment.
Within a few minutes (sometimes longer for Coin-base Commerce orders as they have to be first confirmed on the blockchain), you will receive your account credentials in a welcome email and will be able to access the Trading Platform as well as the Dashboard.
What's The Funded Trader's Trader Profit Split?
The initial payout split is set at 80%. With each payout, which occurs after 14 days, the percentage payout increases. You'll end up with a 90 percent profit split on your account after a few months of consistent trading and withdrawals, which is equal to the highest in the sector.
What Are The Funded Trader Trading Rules?
The Funded Trader provides far more liberal trading conditions as compared to their prop firm contemporaries because it was developed to address the flaws seen in other trading firms. The Funded Merchants base their regulations on numbers rather than imposing strict requirements and placing traders in challenging circumstances.
Their trading challenges are allotted more time than other prop firms, and the total loss and daily loss limits are both increased by 1% and 2%, respectively. Although those numbers may appear insignificant at first glance, they have a significant impact when the trading actually starts since every percent matters. The other trade regulations are similarly dependent on statistics, other from this. No matter the package operated or the account value, the rules are the same across board. They are examined below:
First off, all trading styles are accepted because you have access to 1:200 leverage on forex pairs and weekend/overnight holding is permitted. You'll have 35 days to finish the Phase 1 Challenge, next. You must achieve a 10 percent overall gain on the account during Phase 1 without going over a 12 percent overall loss threshold or a 6 percent daily loss threshold. You will move on to stage 2 if you are successful.
You will have 60 days in Phase 2 to turn a 5 percent profit while maintaining a maximum loss of 12 percent and a daily loss of 6 percent. Profitable traders should find this stage simple, and it just serves to sort out those who passed phase 1 thanks to a lucky deal. If you're successful, you'll get money!
Once funded, you'll be able to withdraw money on a monthly basis and keep 80% of your earnings. Depending on your trading success, you may also be qualified for a capital increase of 25% every three months. Additionally, the initial billing charge will be fully covered.
The Funded Trader Reviews – what are Traders saying?
Whatever other convictions an intending trader may hold, they want them to be sealed by genuine testimonials from those who have tried the same waters and come out on the other side with success. The greatest place to find unbiased evaluations is on a website or forum by a third party because these reviews are frequently considerably more difficult to falsify.
The Funded Traders FAQS
The Funded Trader provides a chat engine on their website and an FAQ option with ready blog posts addressing the possible questions that their audience might want to ask. You can ask your questions and view the related blog posts here…
The goal of trading is to make money, hence one of the key considerations for traders when selecting a prop firm is the withdrawal policies of those firms. The Funded Trader is responsible for the greatest payout in the industry to date, which is wonderful news for prospective traders!
Requesting a withdrawal from The Funded Trader is quite easy. Just send the payments staff an email. The refund then occurs within 3–4 business days after they validate your account information with you.
The Funded Trader has partnerships with two well-known names in the sector at the moment. These partnered brokers include Nash Markets and Purple Trading. These two brokers both provide MetaTrader 4 and MetaTrader 5 trading platforms.
The Funded Trader shares various videos of member-trainers who bring their reputable experience to the fore in order to help other traders succeed over the long haul on their Youtube and Instagram accounts. They also offer daily training education and demonstrate their passion for the expanding prop industry in these posts.
When choosing a forex prop firm from whom to seek capital, scaling strategies are increasingly crucial. The Funded Trader has a suitable offer for this quest, which is shared by every dedicated trader who hopes to see growth and have their efforts rewarded.
In other words, the profits are evaluated every three months, which means you can get extra money four times a year. You qualify if you are profitable for at least two out of the three months. Over the course of that three-month period, you'll need to generate a return of 6 or 2 percent on average. You will now be able to take a 90 percent profit split if you are eligible, and your capital will increase by 25 percent! It's also important to note that the total prize pool will be capped at $1.5 million.
Every trader wants to see constant rewards for consistent traders, which is why the scaling strategy is excellent.
below is a display of The Funded Trader dashboard