Traders Central is a proprietary firm founded in 2022,  located in Vancouver, Canada with over 1000  Traders Across the world. Traders Central is on the look out for responsible traders who lack capital to trade with a promising 85%  profit split.
This article you are about to read has a detailed information about traders central, profit split, funding program, package and pricing, maximum allocation and answers to a few faq's.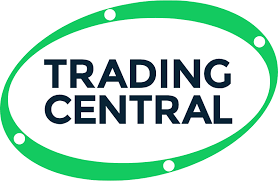 Established in 2022, Traders Central joins the league of the new players in the booming prop market. With the slogan "decentralizing finance for all," Traders Central enters the fray with an intention to extend financial opportunities to traders who know their onions and the ones willing to learn on the job with their offer of a variety of financial products and friendly trading conditions.
Traders Central provides traders with a dual opportunity at getting funded with their Evaluation challenge and instant funding options. While traders are placed on a demo account in the evaluation challenge and given certain stipulations in terms of profit target, trading times, daily and overall maximum drawdown. If traders are able to uphold all of these, they are compensated with a live account.
However, traders who do not want to undergo that process can opt for the instant funding option and commence trading a live account without any wait. 
Traders Central offer an 85% profit split on their evaluation accounts while their Instant Funding account attracts a 60% profit for the traders. For prop firms with high profit splits, use the link below: 
READ: Prop Firms with the highest payouts
Traders Central carryout their trading activities on the improved MetaTrader5 platform which is also renowned.
For traders to scale up to higher accounts, they must meet up with the stipulated 10% profit target on whichever account size they are trading on. Below is an illustration of what the Traders Central scaling policy/account growth looks like:  
$25,000 + 10% = $27,500; growth to $50,000
$50,000 + 10% = $55,000; growth to $100,000
$100,000 + 10% = $110,000; growth to $200,000
$200,000 + 10% = $220,000; growth to $400,000
$400,000 + 10% = $440,000; growth to $1,000,000
 for Traders central, the Maximum drawdown with relation to equity is 5%. (This means that at no point during your trading, the equity of the trading account may experience a loss of more than -5%.) 0.5 percent net of commissions and swaps is the withdrawal goal.
READ: How to become a prop trader
Trading Central, have their Trading Rules which are as follows:
Trading beyond the 1:50 leverage
High Frequency Trading (Manual / EA) i.e: opening several trades with very little time in between them is highly prohibited
Martingale: multipliers in the same symbol and direction as the initial opened position
Automated news-based trading involves using bots that can read news articles and react immediately by trading.
By employing these tactics, you risk having your account being closed by the firm and having all profit withdrawals cancelled (if any).
With a 4.2/5 rating from over 1k reviews of traders who have traded with them first hand, it is correct to  However, it is also safe to see if they will pass the test of time
Knowing what other Traders are saying about the firm you consider trading with is very important.
Here's what Traders are saying: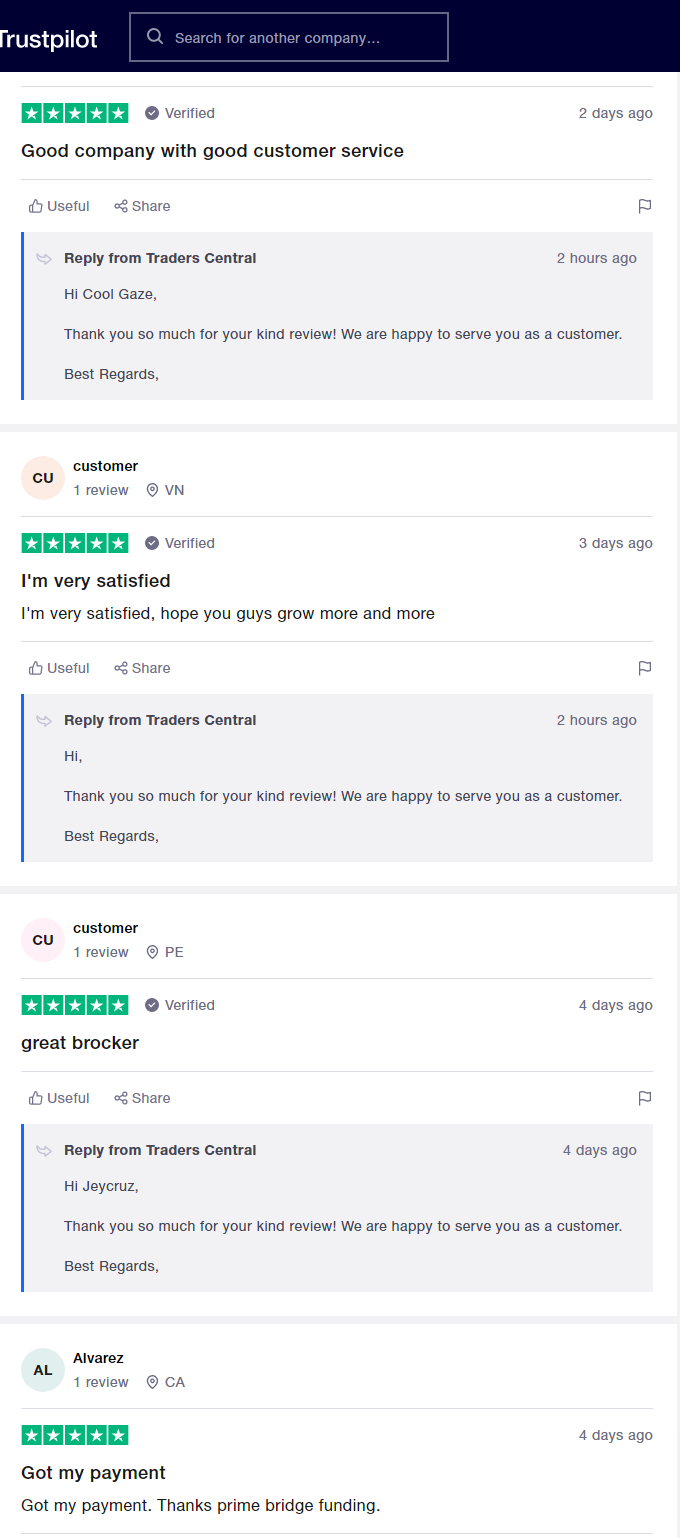 READ: Trader Central Review – An unbiased evaluation of the firm
 Traders central, Trade copiers, EAs, and hedging are all permitted by Traders central prop firm. Traders Central operates All Forex pairs, Crypto currencies, Stocks, Indices, and Metals.
Trader central Trading hours
Anytime during the day, overnight, or on the weekend, trades can be opened.
Traders Central Max drawdown
You will be rolled back to the previous stage once you scale up your account and reach the 5% maximum drawdown.
For instance, your account will be rolled back to $25K if you scale up a $25K account to $50K and then suffer a 2500$ Loss.
Legal Name Traders Central, Inc.
Contact Email info@traderscentralfund.com
Phone Number +1-250-879-2655