Funded Academy is an Australia-based prop firm company that has recently entered the prop market. It has one of the best capital offers in the business, with a maximum capital offer of $2,000,000 reachable and an industry-leading trader profit share of 80%.
Everything you need to know about Funded Academy is available on this page, including answers to your queries about them, their ratings, trading technology, legitimacy, profit split, packages, and other frequently asked topics. I have it covered.
Is Funded Academy funded? Does Funded Academy fund in return?
Yes, Funded Academy is fully loaded and ranks high with the top-tier firms in the forex prop trading industry, and yes, they fund their traders and provide them with a feasible scaling plan that opens a trader up to a potential 2 million dollars capital. Here is a quick glimpse at their impact since coming on the scene:
$15,000+ Paid out
150+ Discord members
4..4+ TrustPilot Rating

A group of seasoned traders founded Funded Academy to address the issue of creating a trading environment that is suitable for all traders with more lenient rules, larger accounts, and life-changing payouts, regardless of their stage in life or their daily realities.
Anyone seeking for a way to complement their 9 to 5 job, a student with a huge financial dream, an active trader, or someone who is just starting out; Funded Academy could be the trading firm that provides the convenience you're looking for.
Do you wish to effortlessly climb the forex ladder? If so, you've just probably found a company that might give you the best chance, as well as a website post that unquestionably satisfies your quests. Being funded by the Funded Trader is a simple process. Let me show you.
Funded Academy prop firm offers six different Evaluation Account packages at varying price points to suit the needs of prospective traders.  Below is an brief walkthrough of the funded Academy Evaluation prices and packages.
$25, 000 Funded balance – the evaluation account package costs $200
$50, 000 Funded balance – the evaluation account package costs $400
$100, 000 Funded balance – the evaluation account package costs $725
$250, 000 Funded balance – the evaluation account package costs $1800
$500, 000 Funded balance – the evaluation account package costs $3550
$1, 000, 000 Funded balance – the evaluation account package costs $7100
It's simple to apply for funding from Funded Academy. There is only a straightforward 2-stage process needed, which is simpler than what many other top prop organizations require.
STAGE 1
No matter which package you select, the first stage's only requirement is that you achieve a required 10% profit in 30 days while using a maximum 10% drawdown and 1:200 leverage. Here, Funded Academy provides a service that is unusual in the forex sector. To better serve their clients and provide them a greater likelihood of success, traders can select between a daily 5 percent drawdown or maintaining 50 percent positive days within the duration of the challenge.
STAGE 2
Stage 2 is much more straightforward than stage 1 because you have more days to generate a lower profit percentage with a maximum drawdown of 10% once more. Other stage 1 trading requirements remain the same. In essence, step 2 would be a breeze for traders who faithfully completed stage 1. Actually, the purpose of this stage is to check for consistency and to see how committed the trader is. Not just Funded Academy but other prop companies like FTMO use this strategy.
Once stage 2 is complete, you will get the funding that accrues to the evaluation package challenge you passed and able to trade on a live account with payout via a profit split. The regulations of a funded account are the same as the evaluation accounts that the trader scaled: a 1:200 leverage access and a daily drawdown of 4% and a maximum drawdown of 10%.
Do you agree with me that getting sponsored scarcely gets any easier than this? You could truly think of Funded Academy.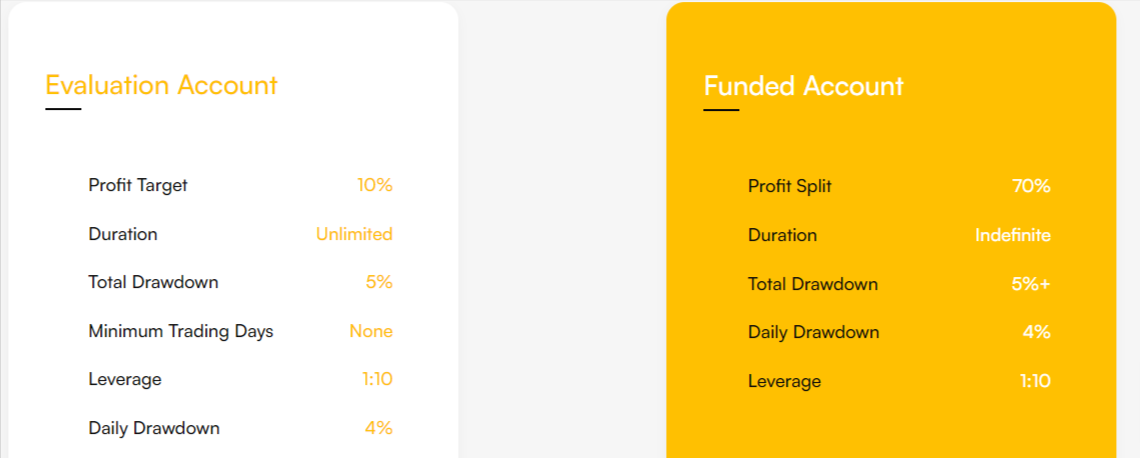 Funded Academy profit split is based on a ratio of 70:30. The trader keeps 70 percent profit of the revenues from their trading while the company takes 30%.
READ: PROP FIRMS WITH HIGH PROFIT SPLITS
The Funded Academy Evaluation Goals / Rules
Duration – Unlimited
Total Drawdown – 5%
Minimum Trading Days – None
Leverage –  1:10
Daily Drawdown – 4%

The Funded Academy Funded Account Goals / Rules
Profit Split – 70%
Duration – Indefinite
Total Drawdown – 5%
Minimum Trading Days – None
Leverage –  1:10
Daily Drawdown – 4%
alphachain Capital – Everything You Need to Know About Alphachain Prop Firm
Is that the question on your mind?
In order to dispel any skepticism, Funded Academy went ahead and added two tabs to their website: Company Registration and Registration Certificate. Prop companies hardly ever go to this extent to prove their authenticity. So scam question answered? I guess yes! You can click the picture below to know more about them.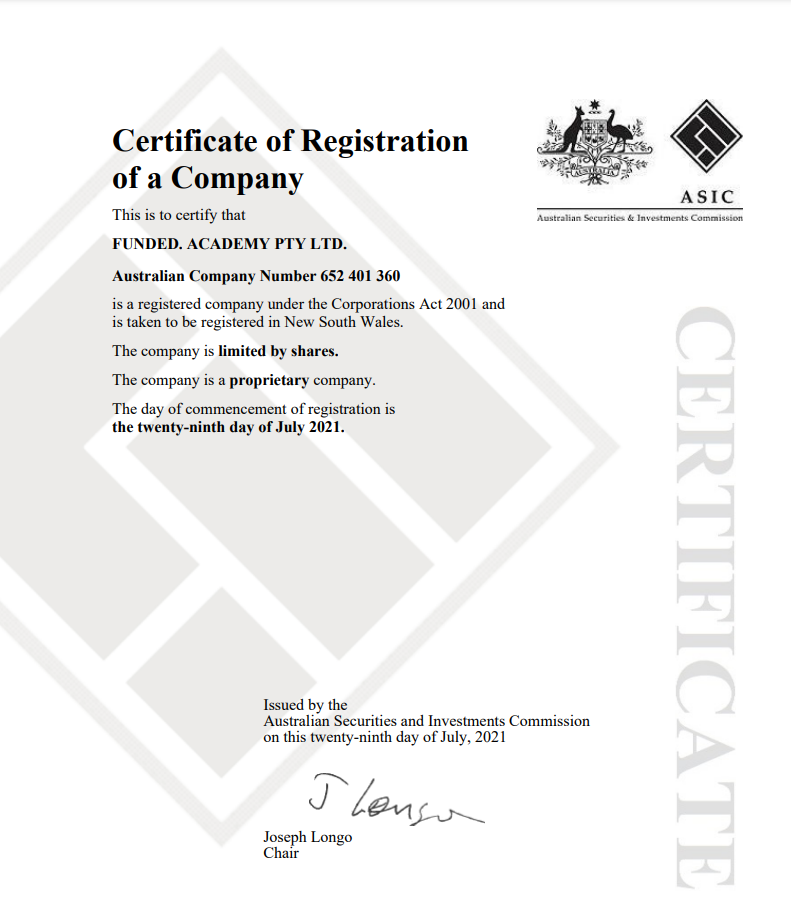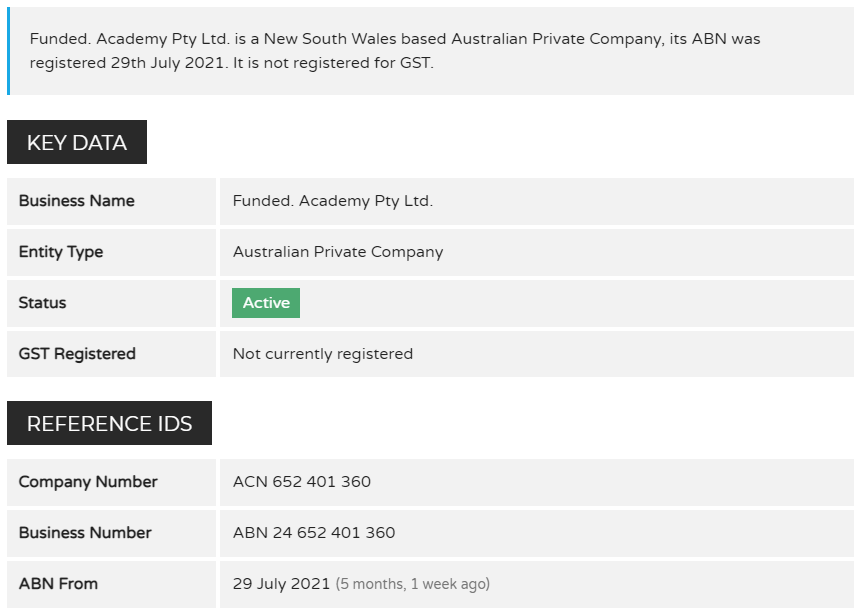 To underscore the already strong case that Funded Academy has made for a trading opportunity with them, let's examine other traders' reviews on the trusted Trustpilot. Shall we?
Read: Funded Academy Review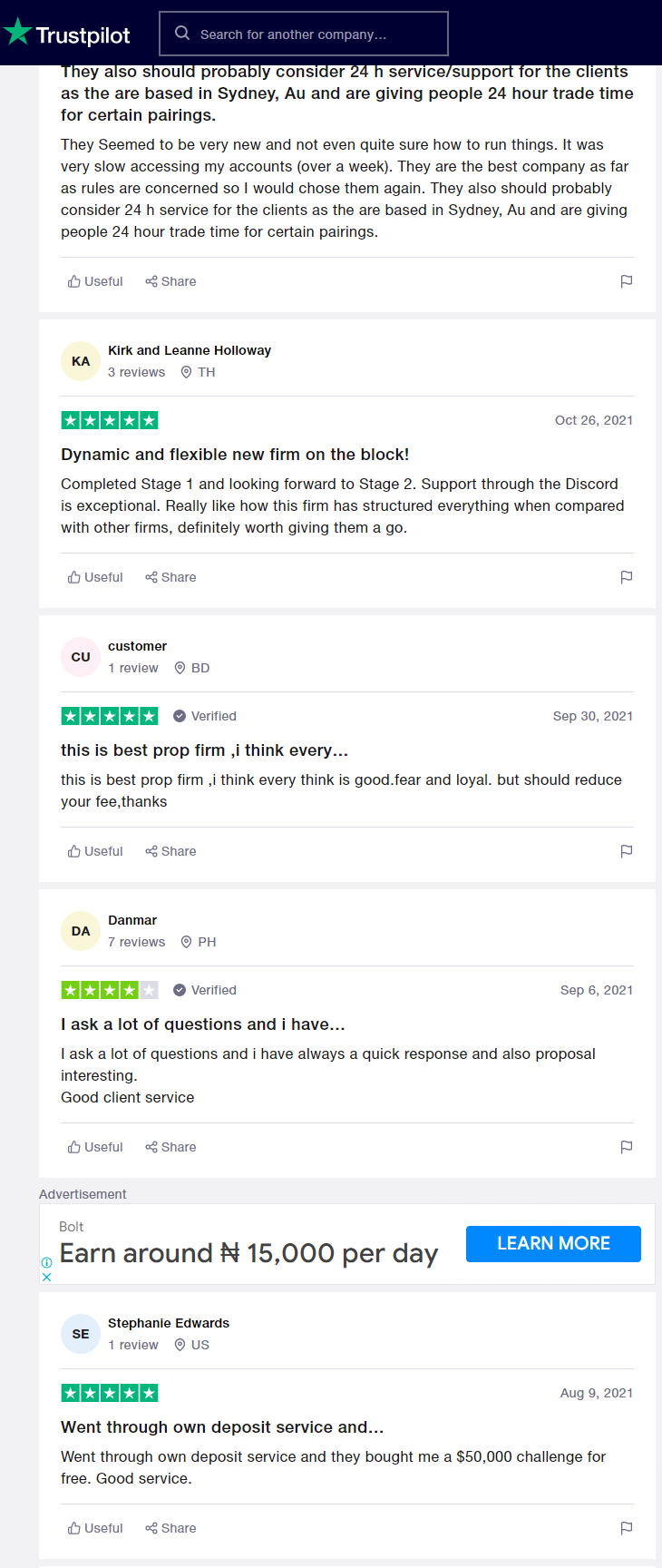 LEVELED UP SOCIETY – THE BEST NEW PROP FIRM?
Got questions? Here are some of the frequently asked questions on their website. I have taken the time to carefully select the ones I bet are probably lurking in your mind. When I said I have it all covered on this page, it wasn't a bluff.
What Countries are accepted?
All countries, excluding OFAC listed countries, can take part in our program.
What is the minimum age I must be to be part of your program?
You must be at least 18 years of age to purchase an assessment.
Where do I track the progress of my account?
Upon purchasing an Assessment, you will receive access to a trader dashboard where you can monitor your Assessment and Funded accounts.  The dashboard is updated every time we calculate metrics, which occurs roughly every 60 seconds. It is your responsibility to monitor your breach levels.
What Platform can I trade on?
Our risk management technology is currently integrated with the MT4 and MT5 platforms. These platforms, along with pricing and execution are provided by our broker, EightCap.
What products can I trade?
You can trade any products offered by EightCap. This includes FX pairs and CFD Indices, Metals, Equity Shares, and Cryptocurrencies.
In line with sound risk management practices, we allow up to 10:1 leverage.
Forex, Metals, and Indices are 10:1. Equity Shares are 5:1. Cryptos are 2:1
READ ALSO: 10 THINGS TO LOOK OUT FOR WHEN CHOOSING A PROP FIRM
What are the trading hours?
Trading hours are set by EightCap.  We do not have any control over the trading hours. You can see the trading hours for each product by right-clicking on any product in the Market Watch window of the MT4 or MT5 platform and selecting Specifications from the dropdown menu.
Please note that holidays can have an impact on available trading hours.
Additionally, pursuant to the no holding trades over the weekend rule, we close all open trades at 3:45pm EST on Fridays.
Do your accounts charge commissions?
We use the RAW accounts from EightCap.  These accounts have commission charges for Forex and Equity Share CFDs.  The other products do not carry a commission.
Can I use an Expert Advisor?
Yes, you can trade using an Expert Advisor.
Can I trade during the News?
Yes, you can trade during the news
When trading a Funded account for our firm, you are treated as an independent contractor. As a result, you are responsible for any and all taxes on your profit share.
You don't believe me? Here's another proof with even more questions and answers
The Funded Academy offer all the instrument EightCap Broker offer. This includes: Major and Minor Forex Pairs, Indices, Crypto Currencies, Stocks & Gold
They offer several blog posts on their website to educate their traders on some of their innovations, trading details, rules, and mode of operations as seen above. You can click their help center tab to view and read more.
Funded Academy offers one of the best scaling plans in the industry. Your initial capital doubles with each 10% funded account milestone, providing you extra money to trade with and the possibility to scale up to $2,000,000! Get real for some real riches, will you?
Your initial funded capital doubles whenever you make a 10% profit on it.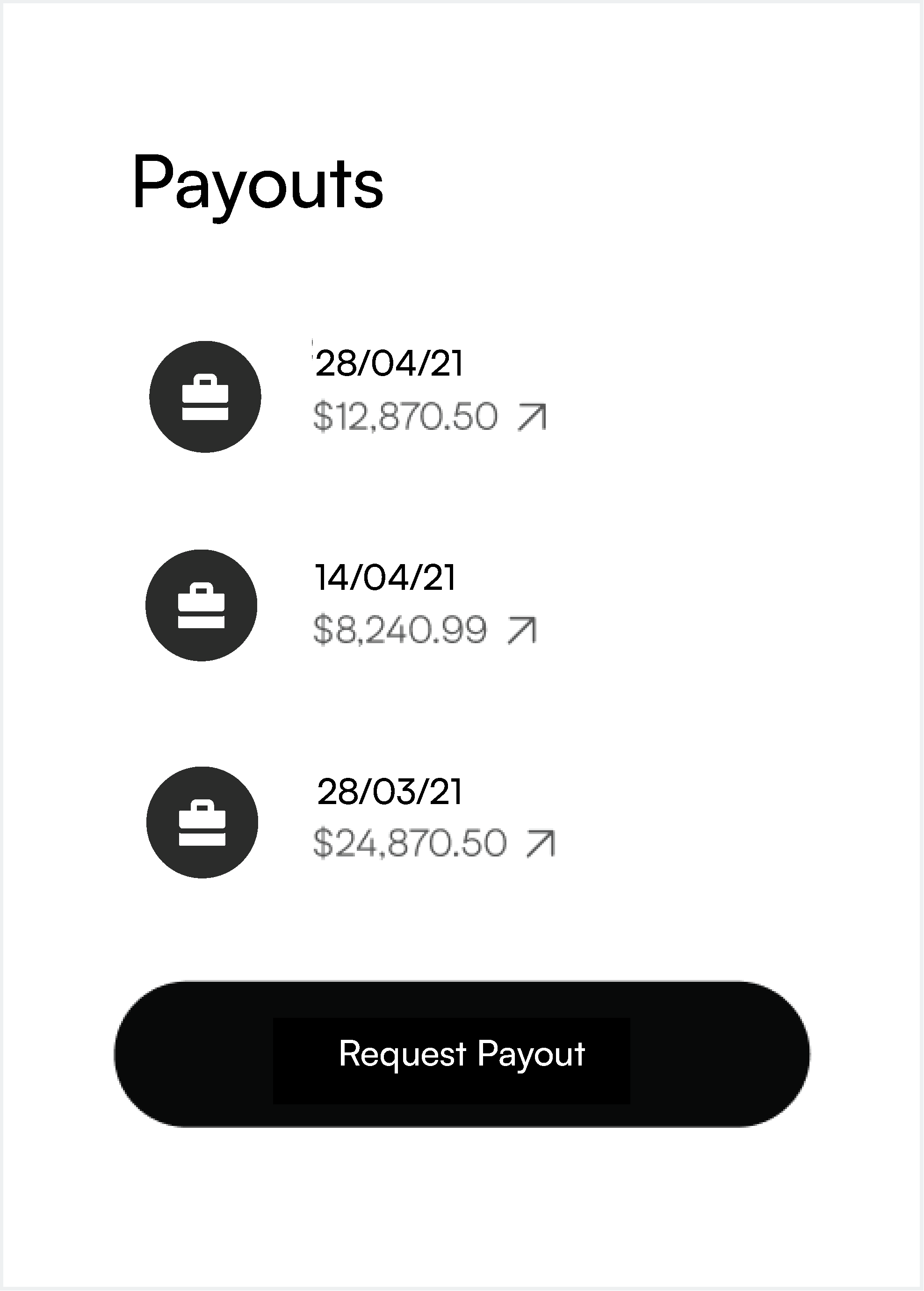 Funded Academy User Dashboard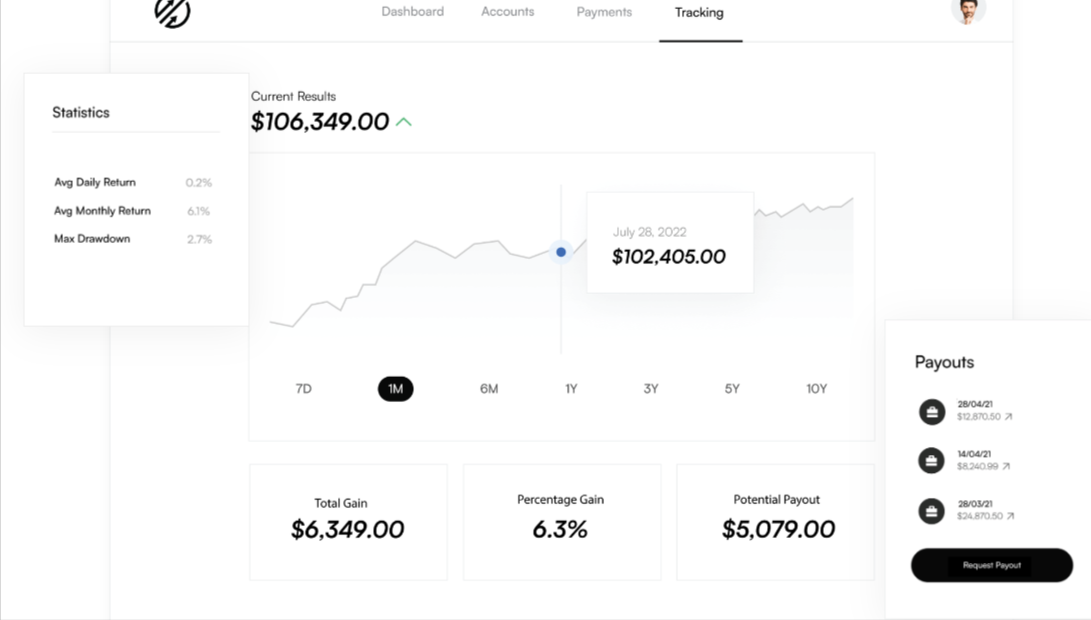 Contact: You can contact them using the following methods, and you can be sure that they provide fantastic customer service:
Email:Hello@funded.academy
Telegram:@funded_academy
Discord: Funded Academy#0001
Tel: (414)456-7890
MORE ON FUNDED ACADEMY: