T4T Capital (Funding4Traders ) is a New York and Dublin-based firm offering financing of up to $1,000,000 million and profit split of up to 80%.
Everything you  need to know about T4T Prop Firm is available on this page, including answers to your queries about them, their ratings, trading technology, legitimacy, profit split, packages, how to get T4T Capital funded account and other frequently asked questions. I have them all covered.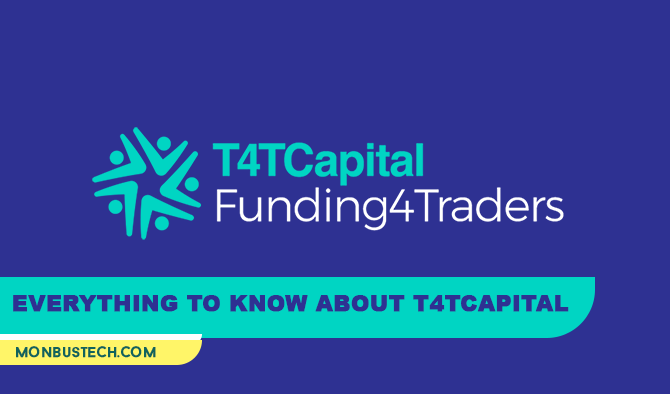 About T4T Prop firm.
T4TCapital is a renowned and well-established proprietary trading firm with a diverse pool of trading talents founded by Brad Gilbert, a professional trader and risk manager of 30+ years who has identified a significant lack of opportunities for everyday people to access trader funding and created T4T Capital as a brilliant fix with a trading capital that can potentially scale up to $1,000,000.
Their mission is to provide an equal leverage to all traders around the globe regardless of their financial power and offer an opportunity of endless values and opportunities for traders through their improved trading styles, scaling plan, pocket friendly challenge entry fee, and detailed education.
Getting funded by T4T Capital isn't so divergent from what you probably should expect. To get funded, you must pass their Practical Assessment challenge.
The Practical Assessment Challenge
The practical assessment is a one-step challenge aimed to ensure and put the trading skills and intelligence of a trader to test in order to determine if they possess the skills to mitigate risks and facilitate profit.
In this challenge, a trader is placed on a demo account and expected to make an 8% profit while avoiding a 5% drawdown limit in a period of 90 with a 45% win rate and a best trade day of 40%, meaning no extreme risk.
READ THIS:>> Top 8 Instant Funding Prop Firm
This is the pricing of each practical assessment account:
The practical assessment for a $25,000 live account costs $125
The practical assessment for a $50,000 live account costs $250
The practical assessment for a $100,000 live account costs $350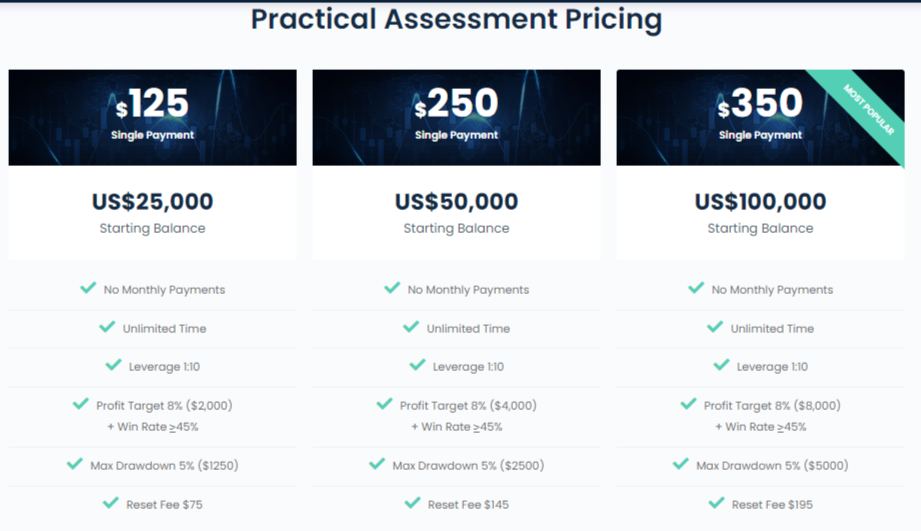 Like it is with several prop firms, the practical assessment test is ran on a demo account, with a few set of rules to follow:
Make 8% profit from your starting balance + Win Rate ≥45%
Adhere to the rules and do not break any limits which you'll read in the next section
Achieve the industry standard trading metrics used across the banking industry.
When you reach the profit target and meet the trading metrics you will receive a Live Trading Account which you will have for life where you will start making real money and if you wish start scaling up to that $1,000,000 live account.
Trading the Live Account
If you pass the Practical assessment, you will be compensated with a live account that accrues to the practical assessment account size you paid for. The live account marks the formal commencement of your profit sharing with the prop firm and regardless of your account size, you can scale up to trade the eye-catching $1,000,000 account.
Read Also: Traderseed- a 4.7/5 Star Prop Firm
Regardless of the account managed by the trader, whether Practical Assessment or Live Account, and the size of the Live Account, the trading rules are constant.
T4T operates two categories of Rules like some other firms are doing now; The Hard and the Soft breach trading rules. The basic distinction between both rules is the punishment meted out to defaulters.
A hard breach rule attracts the terminating of a trader's account while a soft breach rule only means the temporal closure of the trader's account until another trade commences. I've summarized the possible offenses and the class of rule-breach in which they are categorized. You need to read the next paragraphs carefully and probably more than once and your account will never be suspended or closed down:
Rule 1: All trades must have a valid Stop-loss attached to every trade at entry into the market.
A stop-loss order is an order placed with a broker to buy or sell a specific stock once the stock reaches a certain price. This is done with the intention of regulating and reducing the potential loss risk to the barest minimum rather than putting the whole account at risk, and is meant to have been set even before any trading commences. That is what the first rule simply entails.
Failure to set a Stop-loss before commencing a trade is considered a soft breach and so the trade will be automatically closed but the trader's account will still be valid.
Rule 2: Maximum Risk on 1 Trade must not exceed 2% of your account balance & Total Open Risk at any one time must not exceed 3%
This is referred to as the maximum position risk, and what it simply entails is that a trader a trader has just a meager 3% allocation for loss, and must not in fact match it. What that means is that the loss risk to be taken by a trader on every trade must not exceed 2%. So, even though the maximum risk is 3%, the maximum position a trader should maintain is just 2%.
If the trader ventures into a trade that exceeds this rigid maximum risk, their trade will be closed automatically and won't be re-opened until a new trade commences but the trader's account will not be closed, another instance of a soft breach.
Don't Miss out On This:>> MFF – THE BEST PROP FIRM EVER?
Rule 3: Your largest profit day must be below 40% of your total profit made
This rule is set in place to ensure that traders are consistent in their trading and profit making, such that they don't make huge profits once in a while and remain under par for the rest of the time. This is another soft breach instance and is met with the allotted punishment
Rule 4: Your Equity or Account Balance must not drop below The Maximum Trailing Drawdown Limit Level at any time.
This is a rule set in place to safeguard the company's capital and perpetually limit the extent to which a loss can get. Therefore, the Maximum Drawdown on any account is set at 5% of the starting account size. However, the more you make profit, the more the Maximum drawdown trails off, but remains consistent with the 5%. For example, if the starting capital of an account is $100,000, the 5% Maximum Drawdown level is $95,000. However, as you trade profitably and increase your capital, a the Maximum Drawdown balance changes too. For instance, if after trading, you increase your capital to $105,000 the Max Drawdown becomes $100,000.
Rule 5: All trades must be closed before 1900GMT on Friday.
The trading server will be disabled on weekends, and all open or pending trades will be closed automatically at 1900 GMT on Friday as a back stop if a trader has forgotten to close their trades.
Failure to adhere to this is another instance of a soft breach and traders can resume trading when the next trade commences on Monday.
Visit the T4TCapital official website
This is the overall trading restriction placed on all accounts to ensure that the trader's profit and the company's capital are secured. Breaching the account limit is deemed a hard breach and leads to the closure of the trader's account. However, the company offers a second chance depending on whatever state the trader's account is in.
If a trader breaches the account limit during the Practical Assessment, they will need to pay a reset fee and take the challenge all over, but if it is during the Live Account trading, a reset fee is not paid. Rather, the trader is made to retake the Practical Assessment and starts trader all over. This is the saving grace that T4T provided rather than a perpetual ban on ever trading with the firm again.
For more details, you may view the general terms and conditions for trading and website use here.
T4T prop firm offers 60% and up to 80% profit split if a trader consistently makes a 20% profit. What that implies is that the first profit split is 60% for the trader, and the next profit split after profitable trading scales up to 70% and then to 80%
Funded Next- a Prop Firm that Pays from The Evaluation Stage
T4T as at the time of this post has just 3 reviews on Trustpilot with two excellently positive ones and an excruciatingly long negative review. You can take a look for yourself below:
Recommended:>> T4T Capital Review – An Unbiased Evaluation of The Prop Firm

FINOTIVE FUNDING – A REVOLUTIONARY PROP FIRM
With the renown company that trains and offers traders valid certifications, Traders4Traders, as their parent company, every other cloud of doubt immediately clears up. As a matter of fact, T4T is a subsidiary of Traders4Traders.com meant to serve as a field for traders to put the knowledge they've acquired for the certification to use.
In essence, you can be sure that trading with T4T is not a trading with scams.
Where are your offices located? Can I visit your office?
Post the COVID 19 pandemic we no longer have physical offices. All our staff operated form home virtually around the world. We have staff in New York, London and Sydney.
Where are your trading servers located?
T4TCapital's servers are all located in London, United Kingdom.
Is my personal information safe?
Your personal information is highly secured, we do not pass your personal information to any third party, and we do not sell your personal information for any purposes
Leverage is a way to make larger investments than the initial risk capital will allow.
For example: A trader can use 1:500 leverage and can control a $500,000 trade with $1000.
What is the required margin?
The margin requirement is the amount of funds used to hold a position open.
Can I trade outside the trading hours?
>Unfortunately, no. Trades can only be placed during market hours when the market is open.
What currency pairs can I trade?
We currently offer 61 currency pairs, ranging between major currency pairs, minor currency pairs and exotic currency pairs.
Trading Technology
T4T operates and carry out their trading ventures on the renown MT4 Trading Platform with great tools and resources for trading.
They provide a Trading Help Desk on their website with several tabs that provide a vast range of information for traders on whatever they might want to know about the company and their mode of trading operations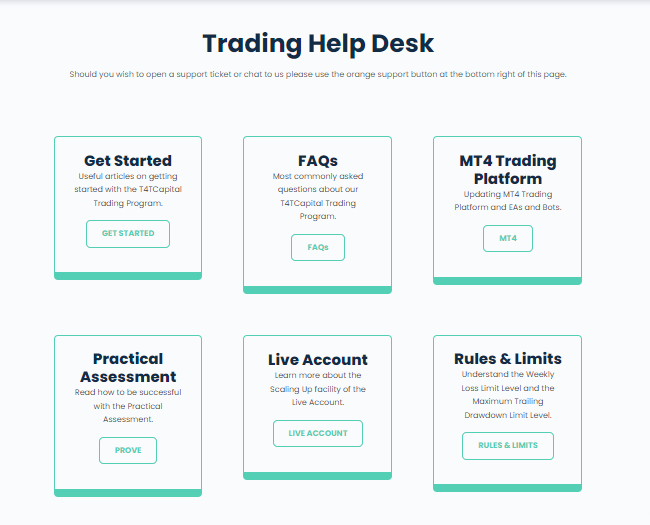 Support:
They provide a chat-box service on their website to attend to their traders' questions and enquiries.
T4T provides a quarterly 20% scaling plan that is user-friendly for traders and changes every three months. This means that a trader can scale higher 4 times a year which by implication means a receiving of extra cash, more capital and ultimately more profit, all on the condition that the trading are met. Below is an illustration of their scaling plan.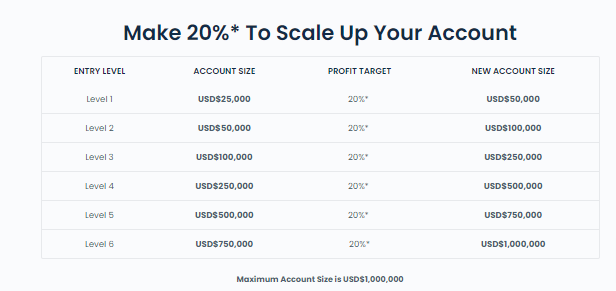 User Dashboard
An image of the T4T trader's dashboard can be viewed below.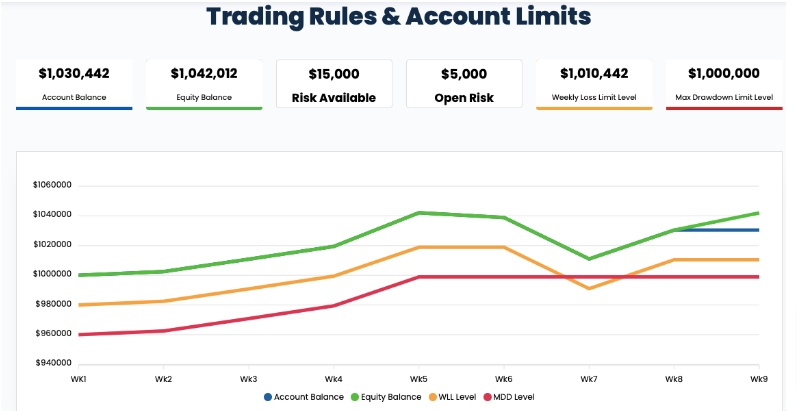 visit the T4TCapital website official website
Recommended:>> T4T Capital Review – An Unbiased Evaluation of The Prop Firm