FTMO VS MY FOREX FUNDS (MFF)
Every sector has it heavy weights. You'd hardly mention the heavy weights in european club football without mentioning the likes of Real Madrid and Barcelona, or the heavy weights in NBA without including Golden State Warriors and Los Angeles Lakers.
In the very same vein, you can barely talk about the best prop firms without mentioning FTMO and MFF. They are not just the best but also the most searched, and most talked about; the very heavy weights in the business.
So what made these two the pick of the bunch? What separates them from the chasing pack, and how do they compare with each other? Which of them has the edge over the other?
This post seeks to objectively examine and compare the trading policies of both prop firms as well as answer the questions above.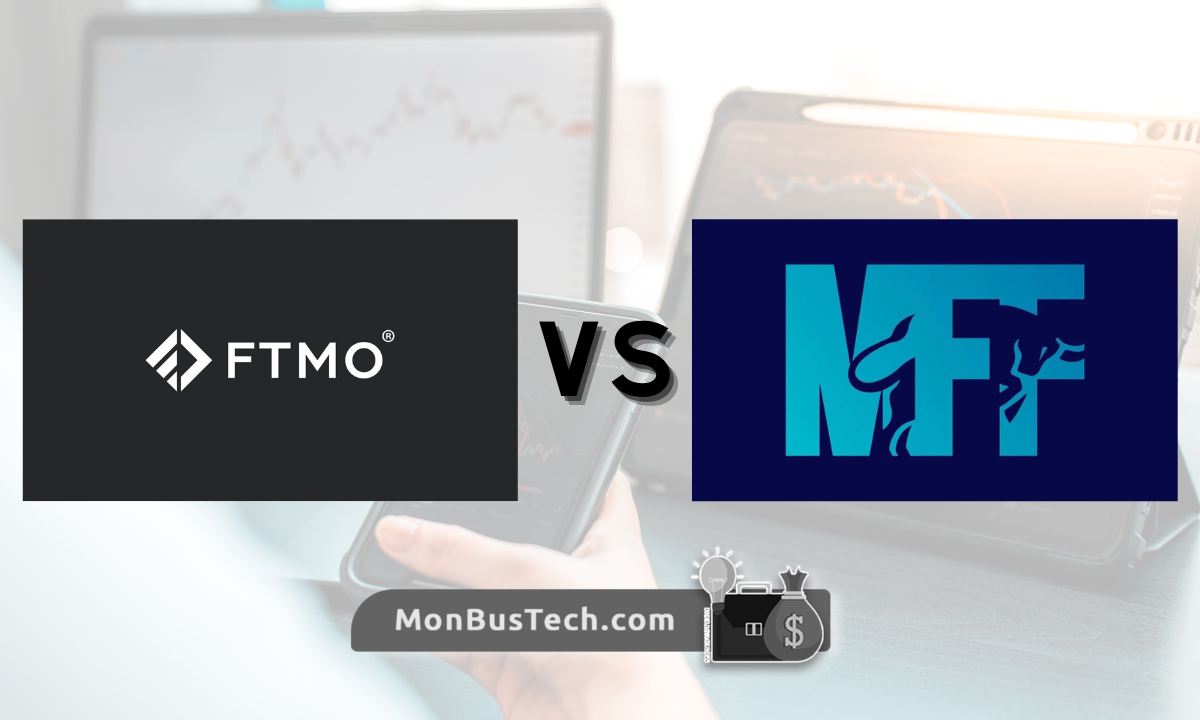 We begin with the comparison table below:
FTMO
MFF
Debut Year
2015
2020
Evaluation Challenge
2 -step challenge
2-step challenge
Trading Instruments
All available instruments on Meta 4, 5 and CTrader
Forex

Commodities

Indices

Crypto

Trading Platform
Meta Trader 4

Meta Trader 5

CTrader

Meta Trader4
Broker
Tier-1 Liquidity Provider with Direct Market Access
IC Markets
Profit Split
90%
75%
About FTMO and MFF
FTMO is one of the leading prop trading companies in the prop industry. It was founded in 2014, became incorporated in 2015, and has since attracted a sizable trading community that doesn't set any restrictions on nationalities and spans across more than 180 nations worldwide. A lot of other prop businesses do not provide the generous 90% profit share, incredible variety of trading tools, trading-assisting leverage, and trader-friendly terms and conditions that FTMO does. That they are among the top prop firms in the business is hardly surprising.
I covered a vast range of what makes FTMO special and different from other prop firms in my exclusive post on the FTMO profile. You can read by clicking the link below:
Read: FTMO, THE BEST PROP FIRM?
My Forex Funds (MFF) is a newer business that was founded in 2020, yet in just a little over 2 years of existence, it has grown to become one of the top prop trading firms. This is hardly surprising given the amazing deals they extend to their traders as well. Not only has MFF advanced in the rankings, but they also boast of having one of the world's largest trading communities, with more than 180,000 satisfied traders in more than 150 nations.
Incredible figures from both firms if you ask me. Taking a closer look at the level of the success of both firms, they share a number of things in common which set them ahead of the chasing pack but also a range of differences for which traders choose one above the other.
Their Funding Challenge: FTMO Vs MFF
Both companies have a similar funding program setup, with a 2-step evaluation process that must be passed under each firm's conditions before traders are funded. It's interesting to see that both companies' evaluation packages have the same criteria.
The two companies provide traders a minimum of 10 days to trade each stage of the challenge and a maximum of 30 days to trade stage 1, during which time traders must aim for a 10% profit with a daily 5% and 10% overall drawdown.
Additionally, their stage 2 criteria are comparable. Here, traders must maintain the same daily and overall drawdown while achieving a 5% profit target in 60 days.
FTMO Vs MFF Funding Programs: 
FTMO offers 2 major funding programs: The Normal Risk and The Aggressive Risk programs while MFF in contrast has 3 basic funding programs: The Rapid, Evaluation and Accelerated accounts.
The fUndamental differences between the various funding programs exist in the numbers: the trading capital, the profit targets and the maximum drawdown limits.
Account Sizes and Pricing:
Each of the prop firms offer various account sizes across their funding programs at different prices which are examined right below:
FTMO ACCOUNT PRICING
The $10,000 Normal risk account costs €155 and €250 for the Aggressive risk account
The $25,000 Normal risk account costs €250 and €345 for the Aggressive risk account
The $50,000 Normal risk account costs €345 and €540 for the Aggressive risk account
The $100,000 Normal risk account costs €540 and €1080 for the Aggressive risk account
The $200,000 Normal risk account costs €1080. This account size is not available on the the Aggressive risk account.
TOP 8 INSTANT FUNDING PROP FIRMS
MFF ACCOUNT PRICING
ACCELERATED (Instant Funding) PACKAGE
The $2,000 account costs $99
The $5,000 account costs $245
The $10,000 account costs $485
The $20,000 account costs $970
The $50,000 account costs $2,450
EVALUATION PACKAGE
The $5,000 account costs $49
The $10,000 account costs $84
The $20,000 account costs $139
The $50,000 account costs $299
The $100,000 account costs $499
The $200,000 account costs $979
READ: EVALUATION CHALLENGE EXPLAINED: THE MEANING, ADVANTAGES AND DISADVANTAGES
RAPID PACKAGE
The $10,000 account costs $99
The $20,000 account costs $189
The $50,000 account costs $399
The $100,000 account costs $749
MFF scored two over FTMO here with their cheaper account prices. You can get an account with MFF for as low as $49. In addition, MFF offers an instant funding option for traders with their Accelerated Package which FTMO does not offer.
FUNDED TRADER VS SURGETRADER HERE
Their Trading Instruments – FTMO Vs MFF
Trading Instruments refers simply to the available range of elements from which traders can make a choice of what to trade.
FTMO surpasses MFF here with the abundance of instruments made available to their traders. As a matter of fact, they allow their traders to trade any of all the trading instruments available on Metatrader 4/5 while MFF offers a meager amount of trading instruments, 4 to be precise.
This is not something to really consider as FTMO having an edge given that only a few number of instruments are popular traded in the traders community. So why include instruments that few or no traders trade?
FTMO Vs MFF Profit Split and Withdrawal Duration
FTMO offers one of the highest profit splits in the entire industry with a massive 90% offer for their traders with a fortnight based withdrawal plan.
MFF didn't trail far behind either with their 75% profit split for their profitable customers which is also bi-weekly based.
This is the first obvious area where FTMO beats MFF. However, given the fact that MFF allows you to scale your account which FTMO doesn't, your 75% could fetch you twice as much as FTMO's in the long run when you scale to higher account sizes.
FTMO Vs MFF Scaling Plan
MFF beats FTMO on this with their 30% boost on the trader's account if the traders meets the 10% profit target for at least two out of the four months stipulated scaling period.
FTMO on the other do not have a clear-cut scaling plan requirements. They, instead, advice traders to think carefully at the onset before making a choice of the account size they would like to trade.
Customer Reviews
Speaking of their ranking on Trustpilot, a company review platform renown for its objectivity, both firms rank 4.9/5 stars, with FTMO having 3,239 reviews of which 94% were excellent while 92% of MFF's total 6,510 reviews were also ranked excellent.
Click here to view more FTMO reviews on Trustpilot
Click here  to view more MFF reviews on Trustpilot
Conclusion
FTMO and MFF are both household names in the prop industry with huge trader communities and similar operations and policies. Their identifiable differences exist only in their packages, account sizes, trading instruments and profit splits.
Deciding which firm is entirely based on individual preference.
ALSO READ: 10 THINGS TO CONSIDER IN CHOOSING A PROP FIRM