SurgeTrader andFunded Trader are two firms bearing the "trader" tag on their names. Does Surgetrader facilitate a financial surging of a trader? And funded trader, do they really fund?
What makes them special, and in the real sense which of them is better?
Those are the questions this post intends to answer objectively by drawing clear proofs from their trading policies, terms and conditions.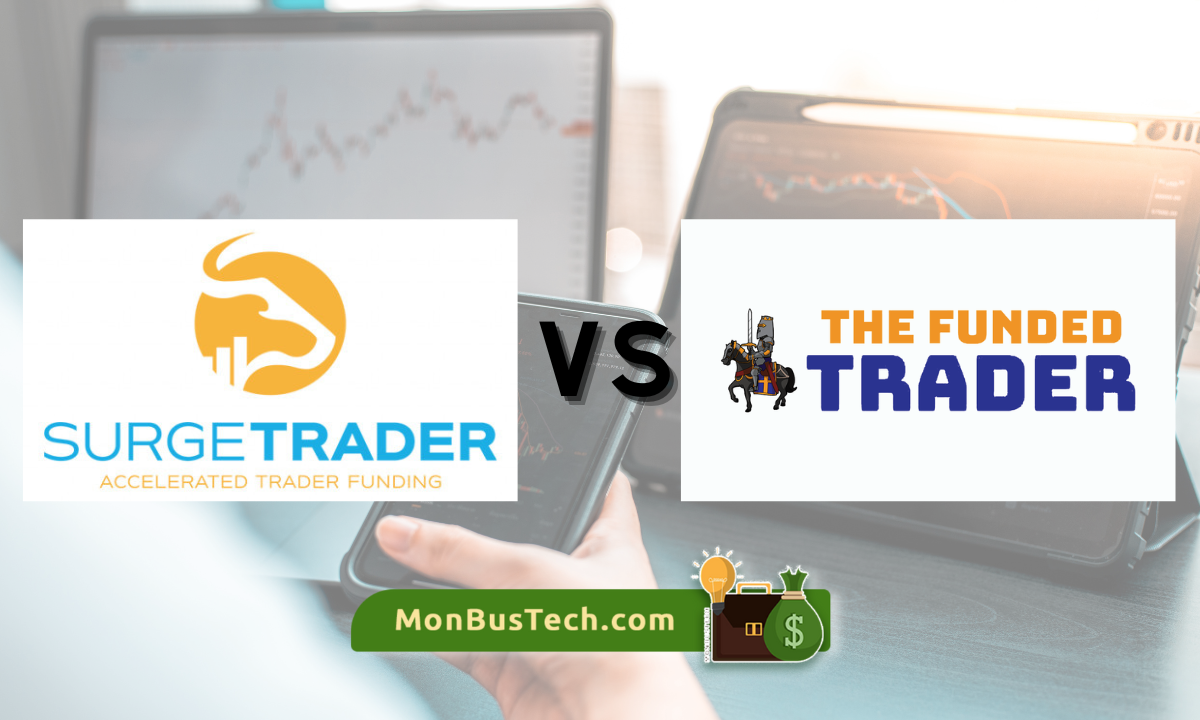 We begin with this table, which summarizes the comparison and is accompanied by clear explanations:
SURGETRADER
FUNDED TRADER
Debut Year
2021
2021
Evaluation Challenge
One-phase Evaluation
2-step evaluation

Trading Instruments
Forex

Stocks

Indices

Oil

Commodities

Cryptocurrencies.

Forex

Commodities

Indices

Crypto

Trading Platform
Meta Trader 4

Meta Trader 5

Meta Trader5
Broker
Tier-1 Liquidity Provider with Direct Market Access
Commercial Liquidity Provider
Profit Split
75%
90%
SurgeTrader is a Florida-based prop firm based in Naples. Despite the fact that they only began operations in 2021, they have quickly risen to become one of the top real estate firms in the world. They have simple, straightforward rules and offer traders a wide variety of financial instruments. And there's more. Surgetrader is still actively seeking competent traders who can demonstrate profitable trading skills and discipline.
Catch a comprehensive account of surgetrader profile here and how to get funded here
The Funded Trader is another well-known forex brand that was founded in response to several flaws discovered in a rigorous examination of trading policy of other prop firms by The Forex League and VVS Academy, two very significant participants in the forex industry. They offer traders all over the world funding of up to $1,500,000 in trading capital.
I discussed a vast range of details you might want to know about them in my post about The Funded Trader Profile here.
READ: FTMO Vs Topstep – The Comparison of The Prop Industry Oldies
SurgeTrader didn't sidestep the conventional evaluation challenge policy which is prevalent in the prop industry. And so, they expect traders to pass this challenge before being placed on a live account. However, they have a unique one-phase model which means traders need not go through another painstaking 60 days wait for the stage 2 of the evaluation challenge as it is common with most prop firms, and is the case with Funded trader.
The Funded Trader like SurgeTrader mandates that traders undergo an evaluation challenge before getting funded unlike the instant funding that other prop firms like the 5%ers offer. The funded trader in contrast to the Surgetrader policy requires a double phase challenge for their intending traders to get funded.
READ: TOP INSTANT FUNDING PROP FIRMS
SurgeTrader offers 6 packages from which intending traders could make a choice. This is in a bid to make a provision for all traders regardless of their pocket sizes. Here are the packages and their pricing:
Starter Package: $25,000 capital for $250
Intermediate Package: $50,000 capital for $400
Seasoned Package: $100,000 capital for $700
Advanced Package: $250,000 capital for $1800
Expert Package: $500,000 capital for $3,500
Master Package: $1,000,000 capital for $6,500
Funded Trader in contrast offers three packages: The Standard, Rapid and Royal Packages with a variety of account sizes and prizes subsumed under each as we will see below:
Standard Package Account Sizes and Pricing
The $50,000 account size costs $315
The $100,000 account size costs $549
The $200,000 account size costs $949
The $400,000 account size costs $1898
READ: FTMO Vs TFF – The Veteran Vs The Newcomer
Rapid Package Account Sizes and Pricing
The $50,000 account size costs $299
The $100,000 account size costs $499
The $200,000 account size costs $899
Royal Package Account Size and Pricing
The $50,000 account size costs $289
The $100,000 account size costs $489
The $200,000 account size costs $939
The $300,000 account size costs $1399
Trading instruments simply refers to the array of elements that are accessible for traders to choose from when deciding what to trade.
SurgeTrader and Funded Trader share a lot in common in terms of their trading instruments. Both firms trade Forex, Commodities, Indices, Crypto. However, SurgeTrader beats Funded Trader with extra instruments including Stocks and Oil.
SurgeTrader offers a handsome 75 up to 90% profit split to their traders which Funded Trader beats with their 80-90% profit split. And while Surgetrader only allows a one-time monthly withdrawal, Funded Trader beats them again on this one with their bi-weekly withdrawal plan.
READ ALSO: PROP FIRMS WITH HIGH PROFIT-SPLITS.
To scale your Surgetrader account, all there is to do is meet the 10% profit target, and your current account balance is scaled to the next available amount.
However, Funded Trader offers a 25% increment which however is based on the condition that traders trade profitably for 2 out of 3 months. Hence, traders have the avenue of scaling higher four times a year.
My verdict? Surgetrader beats Funded Trader on this. Do you also agree?
Regarding their rating on Trustpilot, a business review site renowned for its objectivity, Surgetrader comes in at 4.4/5 stars, while Funded Trader racks up a 4.7/5 stars, with 85% of their 65 total reviews being rated "excellent," as opposed to the 83% of 81 total review for Surgetrader.
Click here to view Surgetrader reviews on Trustpilot
Click here  to view Funded Trader reviews on Trustpilot
Aside their Trustpilot reviews, you can check out my unbiased review and verdict on each firm here: Surgetrader Review || Funded Trader Review
While this may look like a close call, it is best to assess them based on their customer reviews which in my opinion sets Funded Trader ahead of Surgetrader.
For more prop firm comparisons as this, click here >>PROP FIRM COMPARISONS